CHARLES HENRY McLANE
Sergeant, Company "D" 3rd W.Va. Cavalry; Regt'l Hospital Steward
Presented by Linda Fluharty.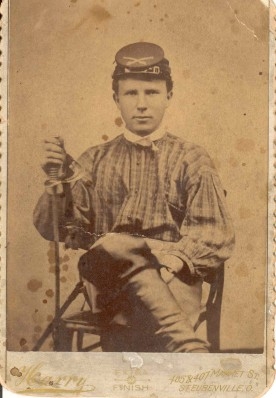 Charles H. McLane, Hospital Steward
(Image owned by Linda Fluharty)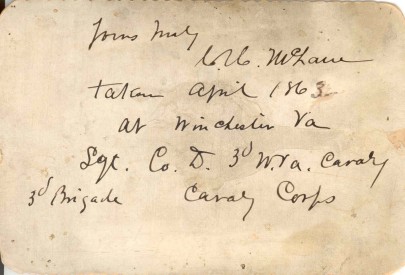 Back of image - Written by Dr. McLane.
Same handwriting as declaration in pension file.
The picture is adhered to a card from the "Harry" studio,
405 & 407 Market St., Steubenville, O.
Dr. McLane practiced in Steubenville after the war.
---
BIOGRAPHY
From: Genealogical & Personal History of the
Upper Monongalia Valley, West Virginia
by Bernard L. Butcher, 1912
McLANE - The family represented in the present generation by Dr. Charles Henry McLane, of Morgantown, is numbered among the most honored and respected in the section of the state wherein they reside. Members thereof have borne well their part in all walks of life, and have performed the duties required of them in an efficient and capable manner.
(I) Dr. Charles McLane, the pioneer ancestor, was born in Tyrone, Ireland, in 1790, died in Morgantown, West Virginia, in 1898. He emigrated to this country in the year 1805, locating first in New York City. He studied for his profession of physician with Dr. Luther at Lancaster, Pennsylvania, and later practiced at Connellsville, Pennsylvania, same state. In 1823 he located in Morgantown, West Virginia, where he practiced medicine successfully for half a century, enjoying the patronage of the best families in that city and vicinity. He married Eliza, daughter of John Kern, a prominent minister of Greensburg, Pennsylvania, and among their children was Joseph Allan, see forward.
(II) Dr. Joseph Allan McLane, son of Dr. Charles and Eliza (Kern) McLane, was born at Connellsville, Pennsylvania, March 26, 1820, died at Steubenville, Ohio, January 5, 1894. He attended the subscription schools of Fayette county, Pennsylvania, and matriculated at Jefferson Medical College of Philadelphia in 1841, graduating therefrom in 1842. He practices his profession in Morgantown, West Virginia. He married, in 1841, Mary, daughter of William and Mary A. (McClure) Lazier, the latter being a member of the McClure family, prominently known as the McClures, of Wheeling, West Virginia. Children: Dr. William, Allan E., Mrs. Lizzie V. Zoller, Dr. Charles Henry, see forward.
(III) Dr. Charles Henry McLane, son of Dr. Joseph Allan and Mary (Lazier) McLane, was born at Morgantown, Virginia, September 2, 1843. He attended the subscription school and Monongalia Academy, of Monongalia county, and later became a student in Starling Medical College in Columbus, Ohio, from which he received his degree of Doctor of Medicine, February 6, 1866. His patriotism and devotion to the interests of his country caused him to enlist in her service during the period of the civil war, and in 1862 he became a member of Company D, West Virginia Cavalry, and served throughout the remainder of the war, being mustered out June 6, 1865, with the forces under the command of General Custer. After the cessation of hostilities Dr. McLane removed to Steubenville, Ohio, where he practiced his profession for many years, winning a reputation for skill and proficiency in his line of work. In 1896 he removed to Morgantown, West Virginia, where he has since continued his work, being in receipt of an extensive and remunerative patronage. Dr. McLane keeps in touch with the progress and improvements of medical science and art by membership in the West Virginia State Medical Society and the Monongalia County Medical Society. He is a member of Hoffman Post, No. 66, Grand Army of the Republic, and of the Episcopal church.
Dr. McLane married, in Cassville, Virginia, August 22, 1868, Mary E., daughter of James and Nancy A. (Finell) Kelly. Children: Mrs. Lizzie N. Christman, Mrs. Louise J. McDermott, Mrs. Virginia McIntosh, Joseph A. McLane. (Note: The marriage place named in the following pension file is Taylortown, Greene County, Pa. One document, not presented, is an affidavit of two witnesses at the marriage.)
---
1860 Census, Morgantown, Monongalia Co., W.Va.
#1736 - 1685
Charles McLane, 69, b. Ireland, physician
Eliza, 67, b. Pa
Joseph A., 40, b. Pa, physician
Charles H., 17, b. Va
William L., 15, b. Va
Lizzie V., 12, b. Va
Nancy A. Rogers, 17, b. Va, domestic


1870 Census, Monongalia Co., W.Va.
#265-265
Charles H. McLane, 27, b. WV, Doctor
Mary E., 22, b. WV, keeps house
Lizzie, 10/12, b. WV

1880 Census, Cass, Monongalia Co., W.Va.
Charles McLane, 36, Doctor, WV PA WV
Mary McLane, Wife, 33, Keeping House, WV WV VA
Lizzie N. McLane, Dau, 10, At Home, WV WV WV
Louise J. McLane, Dau, 8, WV WV WV
Mary V. McLane, Dau, 6, WV WV WV
Joseph A. McLane, Son, 3, WV WV WV

Charles H. McLane was enrolled on 3 Sep 1862 and served with Company "D" of the 3rd Cavalry. He became Hospital Steward for the regiment in October 1863 and continued to serve until 5 June 1865.
---
PENSION APPLICATION - National Archives
(Selections)
Declaration of Charles H. McLane
Steubenville, Ohio
Jan 25/85
Dear Sir:
In answer to query 4 I am sorry to say I have no Hospital record and at the date of my injury we had no Medical attendant as two of our Cos. B, D, 3d W.Va. Cav. were on detached duty at Winchester Va. Under Genl. Milroy, and at the battle of Winchester Va June 1863 I was among the very few of my company that escaped at the retreat, but was afterwards captured at Greencastle Pa where I recd my injury. Was a prisoner several days before I got back in the union lines and got but little medical attention until I got to my Co. near Martinsburg Va. When I found my company attached to the 1st N.Y. Cavalry (Lincoln Cavalry) I applied to the Asst Surgeon of the Regt. I do not remember his name. He only gave me local treatment, ordered a ---- to my ear &c. I never did any more active duty until I was appointed Hosp. Steward of the Reg. in Oct. 1863 by Dr. Thos. Morton who examined and treated. At different times during my term of service I have been suffering from the effects of my injury for years from vertigo and other complicated troubles, also what has been diagnosed Angina Pectoris, since my discharge. My first severe attack was in Camp near Winchester Va in Nov, 1864, was treated at that time by Dr. Morton Asst Surg. and have never been free from the trouble since the above date. In the years 1879, 80, 81, I had to nearly give up my business entirely and for the last year I am scarcely able to attend to my work. My friends wanted me to apply for assistance years ago but I always felt a delicacy in the matter. I was perfectly sound in --- at my enlistment in the Co. Aug. 22, 1862.
Very Rspy,
C. H. McLane
---
Deposition "A" Case of Charles H. McLane, No. 528.206
On this 5 day of NOV, 1888, at STEUBENVILLE, County of JEFFERSON State of OHIO, before me, W. N. Pickerell, a Special Examiner of the Pension Office, personally appeared CHARLES H. McLANE, who, being by me first duly sworn to answer truly all interrogatories propounded to him during this Special Examination of aforesaid pension claim, deposes and says:
His name is as above his age is 45 years profession PHYSICIAN and SURGEON and post office address is STEUBENVILLE JEFFERSON COUNTY OHIO
I entered the US Service as a p(?) Co "D" 3d West Va Cav. In the war I was first duty sergeant - I went into the company Vols(?) organization in August 1862. I must. fr Morgantown Monongalia County West Va - I was born and raised in that county. My father was a physician there and I had studied medicine but was only 18 when I went into the service. I served in this Co in all its campaigns up to the retreat of Genl Milroy at Winchester Va in June 15 1863 and then in that retreat I was taken prisoner by Jenkins rebel cavalry in the town of Greencastle Franklin Co Pa a few miles below Gettysburg and ten miles below Chambersburg and there is where I incurred the trouble for which I claim pension: When I was first taken my captors took off my coat vest and hat and -----(illegible) off my boot and one of them struck me on the left ear with a big Navy revolver and knocked me down and when I came too he had one boot off and I handed him my other foot and he pulled off the other boot. This happened right in the middle of the main street of the town - They kept me several days and at Falling Water Md I escaped. During my imprisonment I was in my sock feet. I was a prisoner all the time during the battle of Gettysburg and with Lees army. This blow on my head affected my hearing of left ear and has produced vertigo and anginal trouble that I have never been rid of and has affected my circulation. James B. Craig a private in the company was present at the time I was struck. He escaped and got back to the co and reported that I was killed - said he saw me fall. - He is at Delaware, Delaware County Ohio. - I was with Captain Fitch QuarterMaster of General Tylers command. We were falling back and the rebels were driving us. The regiment was scattered and the men were getting away in squads. I knew Captain Fitch at home and he invited me to go along with him and let me have a horse - I had been home on furlough and was getting back to my command and the fight was in progress - Milroy was being driven(?) fr Winchester and I got no further than Bunker Hill and did not get to my company at all - At Bunker Hill I found our men falling back & with them ------- across the Potomac. At Martinsburg I got in with Captain Fitch - There were a number of men of different commands - there artillery infantry and cavalry. There was no organization when I was - It was every man for himself and all were getting out the best he could. The man Craig was the only man I knew who saw me struck. When I escaped from the rebels I reached my command in the coves(?) near Mercersburg Pa. When I came to a part of my co under command of Lt. McGill Clark of Co "D" the squad and only 17 men fit for duty - A great many of my co -- on down and crossed the Potomac at Shepherdstown - and were attached to the 1st NY Cav at Martinsburg Va. I reported at sick call to the surgeon of that regiment and he treated me and excused me for duty - and I never did any duty after that and was shortly after detailed as hospital steward of the 3d West Va Cav and held that place until the end of the war and during that time I was associated with Dr. Marton Surgeon of the 3d West Va Cav and he treated me for head and --- trouble and Dr. A. W. Davis Asst Surg was also with me and he treated me also and he was instrumental in my getting a furlough in the spring of 1865 to go home on account of my head trouble. I came back to the Co after my furlough was out and stayed with the regiment until its time was out. Dr Davis was assistant surgeon as far as I remember continued in the regt until I msutered out and I think he would remember my condition up to the time of my discharge. Dr. Morton is dead - died at Mt. Pleasant Iowa(?) and Dr. A. W. Davis is of Lone Cedar Jackson County West Va. I never served with my company after I was detailed as hpl steward. Joseph S. Pearce of Clinton(?) P.O. Ohio Co. WVa says he remembers of seeing me in camp with my head tied up just shortly after I returned fr capture. G. W. McVickers was captain of our co but was of Cumberland Md with another squad of our men and was not with our squad at the time I was hurt. After my discharge I came back to Morgantown WVa to my folks house and he knew all about my condition. He is still living there and is an Examining Surgeon for that county. After I came back a short time I had an attack of this head trouble at the house of Mrs. Margaret Chaddock and she would know all about it - The attack would be numbness of left arm and shoulder and pain in left chest and I have been having those attacks ever since I came out of the service and am liable to have them at any moment. I was there in that neighborhood up to 1882. When I came here I practiced medicine there fr the close of the war and had to give up a good paying paractice there on account of not being able to ride at night or do heavy work and that was the cause of my coming here to take a city practice. I was associated with my father in the practice; not as partners but we worked together. I am not able to take a laborious case of any kind for instance in labor delivery a female --- there is a continual strain - This kind of work brings on severe attacks of vertigo and I have to go home and go to bed and the older I git this trouble increases on me. I no perfectly well when I went into the army - and up to the time I was injured in the service as I have told you and I have not seen a well day since I practiced at Cassville, ---- West Va 7 miles from Morgantown. I use no stimulants as tobacco in any form or opiates of any kind and have to live on a certain plain diet and if I go aside of that, I am done.
C. H. McLane
---
Deposition "B" - Dr. Joseph A. McLane
Case of Charles H. McLane, No. 528.206
On this fifth day of February, 1889, at Morgantown, County of Monongalia State of W.Va., before me, Wm Hughes, a Special Examiner of the Pension Office, personally appeared JOSEPH A. McLANE, who, being by me first duly sworn to answer truly all interrogatories propounded to him during this Special Examination of aforesaid pension claim, deposes and says: My age is 68 years. I am a physician and an Examining Surgeon of the Pension Office and P.O. address is as given above.
I am the father of claimant CHARLES H. McLANE and was his preceptor in the study of medicine.
He always made his home with me until the time of his enlistment and continued to do so after his army service and until he was graduated but I can not now remember in what year he did graduate.
The first time that I knew claimant to suffer from any disability was when he was home here on furlough during the war.
He was at the house of Mrs. Margaret Chadwick, then of this town, on a social visit when at home on furlough when he was seized with sudden pain in the region of the heart but did not lose consciousness nor the power of locomotion although he complained of great numbness of the extremities a the time.
But before this time he had told me that he had been taken prisoner of war at Green Castle, Pa., when returning to his regiment from furlough and that at the time of his capture he was struck over the head by a pistol in the hands of one of his captors and injured about the head.
I do not know that any mark or wound was made on his head or that I ever made an examination of the injured part although I may have been so and cannot now locate the injury further than that it was on the one side of his head.
After the service claimants cardiac trouble became more marked and severe and he had to be very careful as to his diet.
He was also troubled with a buzzing sound in one of his ears and was partially deaf in one ear but I can not remember which one and am not now certain whether I first knew of his ear trouble when he was at home on furlough or soon after his army service.
Neither do I know now whether I attributed his cardiac trouble to a blow on the head received when he was taken prisoner of war nor have I any theory as to the origin of that trouble at the present time.
Q. Do you know to what cause claimant himself attributed his cardiac trouble?
A. I think he attributed it to injury - the blow on the head - but I can not remember so well as I used to do but my memory ws better when the affidavit which you show me was made which affidavit is in my own writing.
But if his cardiac trouble is not due to the blow on the head I do not know to what cause it is due.
---
Department of the Interior,
Bureau of Pensions,
Washington, D.C., January 15, 1898.
Certificate No. 458154
Name, Charles H. McLane
Sir: In forwarding to the pension agent the executed voucher for your next quarterly payment please favor me by returning this circular to him with replies to the questions enumerated below.
Very respectfully,
H. Clay Evans
Commissioner
First. Are you married? If so, please state your wife's full name and her maiden name.
Answer. Mary Elizabeth McLane. Mary Elizabeth Kelly
Second. When, where, and by whom were you married?
Answer. August 22d 1868 Taylortown Pa. George Howard Esq.
Third. What record of marriage exists?
Answer. The only record is the certificate from the squire at marriage.
Fourth. Were you previously married? If so, please state the name of your former wife and the date and place of her death or divorce.
Answer. No.
Fifth. Have you any children living? If so, please state their names and the dates of their birth.
Answer. Lizzie N?. McLane born Oct 22d 1869
Louise J. McLane born February 20, 1872
Mary V. McLane born April 24 1874
Joseph A. McLane born August 20 1876
C. H. McLane
Date of reply, June 4th, 1898
---
Deaths
Information on the Death Certificate of Dr. Charles H. McLane shows that he died in Wheeling, W.Va. on April 18, 1922 of Senile Degeneration with the secondary cause of Exhaustion related to starvation. He was 78 years, 6mos and 18 days of age. His body was removed to Morgantown and was buried April 21, 1922.
Mary E. McLane received a pension until her death on November 26, 1933.
---