PART OF THE FAMILY IS FOR SALE
Soldiers, Alexander (2) & George Craig (2); Sybilla (Kern) Morris Craig;
Samuel Leas Carpenter; tintype of Louisa Craig Moore; Unknown Minister [See PHOTO]
Price: $200 [Will consider selling others.]

Presented by Linda Cunningham Fluharty
Copyright © 2005.
[All CDV images are owned by Linda Fluharty.]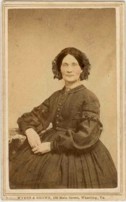 Sybilla (Kern) Morris Craig
SYBILLA (SIBILLA) KERN, the daughter of Joseph Kern and Margaretta Steinbach, was born 30 Dec 1808 and was Christened 5 Feb 1812 at the First Lutheran Chuch, Greensburg, Pennsylvania. Her first husband, Daniel Carpenter Morris (#1), was probably the Greensburg school teacher of that name mentioned in Chapter 36, Volume 1, of the History of Westmoreland County, Pennsylvania: "Other old school teachers were Samuel Carpenter, Daniel C. Morris and John Armstrong, the former of who afterwards became the county surveyor, state senator, sheriff and associate judge of the county. They were probably the last to teach in the old log school house in 1823 and 1824."
Daniel Carpenter Morris (#1) and his wife, Sybilla Kern, had the following children:
(1) Kisiah C. Morris, born abt 1830.
(2) Margaret Cecilia Morris, b 12 Dec 1831.
(3) Daniel Carpenter Morris (#2), born Apr 1834.
Daniel Carpenter Morris (#1), a member of the Greensburg bar, and the Treasurer of Westmoreland County, died 8 Dec 1834*. [*Westmoreland Republican and Farmers' Chronicle, 12 Dec 1834]
Kisiah C., Cisylia (Margaret Cecilia) and Daniel C. Morris (#2) were residing with Samuel L. Carpenter and his wife Kisiah (Irvine), in the 1850 Census of Greensburg, Westmoreland, County, Pa. Samuel Carpenter was the grand uncle of the children. Their father, Daniel Carpenter Morris (#1), was the son of Samuel Carpenter's sister, either Mary or Elizabeth Carpenter; her husband was William Morris. Samuel Carpenter's parents were Daniel Carpenter and Mary Leas.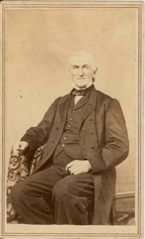 Samuel Leas Carpenter
b 10 Jun 1794 - d 1876
Samuel Leas Carpenter was a school teacher, county surveyor, state senator, sheriff and associate judge.
On 27 Feb 1838, Mrs. Sybilla (Kern) Morris, a widow, became the second wife of Alexander Craig. His first wife was his half-cousin, Rebecca Moorehead, whom he married 9 Jun 1826. With his first wife, Alexander had three daughters, Elizabeth, Nancy and Rebecca.
Alexander and Sybilla Craig are found in the 1850 and 1860 census records of Derry Twp., Westmoreland County, Pa., with their children Alexander, Louisa and George. Also in the home is Elizabeth Craig, Alexander's unmarried daughter from his first marriage.
Alexander Craig and his second wife, Sybilla (Kern) Morris, had the following children:
(4) Alexander Craig (Jr.), b 22 Dec 1838; d 16 Aug 1899.
(5) Louisa Sybilla Craig, b 24 Dec 1840.
(6) George Gorgas Craig, b 26 Oct 1845.
Alexander Craig, the son of Samuel Craig, Jr. and Elizabeth Shields, was born 13 Aug 1794 and died at Hillside, Westmoreland County, Pa., 10 Sep 1869. Samuel Craig, Jr., a Revolutionary War soldier, died 28 Aug 1808 of hemorrhage following a tooth extraction. He is buried at Congruity Cemetery, Westmoreland County, Pa. Samuel Craig, Sr. also served in the Revolutionary War.
Two court cases related to Alexander Craig and family, reached the Supreme Counrt. (These links were provided in Jan 2015 by Kay Blaha) - Craig vs. Moorhead Executor -- Graham et al vs Craig et al
Sybilla Craig and step-daughter, Elizabeth, were living together in the 1870 census of Derry Twp., Westmoreland County, Pa. Living with them were Sybilla's three orphaned grandchildren, Morris, Hanson B. and Nathaniel "Nattie" Pigman. Their deceased mother was Margaret "Cecilia" Morris, Sybilla's daughter from her first marriage.
In 1880, Sybilla was still in Derry Twp., and her daughter Louisa (Craig) Moore and her husband, James, and their two sons were living with her.
Sybilla died 21 Jun 1888 at the residence of her son, Dr. Alexander Craig, in Columbia, Lancaster County, Pa.
CRAIG FAMILY
From History of Westmoreland County:
Craig Family 1
Craig Family 2
Craig Family 3

KISIAH C. MORRIS
Kisiah was residing with her grand uncle, Samuel Leas Carpenter, in 1850, along with her siblings.
Soon after the 1850 census, Kisiah C. Morris married John Hasson, a physician, and is found in the 1860 census of West Newton, Westmoreland County, Pa. "Kesia" was 30 and her husband, born in Maryland, was 53. Their son Samuel was 8. Another child in the home was Mary Totten, age 10.
The family was still in West Newton in 1870. John Hasson, 60, physician; Kezia, his wife, 40; son, S. L. C. Hasson, 18, at school; Hester, 8; Jane, 14.
According to History of Westmoreland County, (Pa.) 1882, "Dr. John Hasson settled here in 1836 and died in 1873."
K. C. Hasson appears in 1880 census of Kansas City, Jackson County, Missouri. She is residing with her son, S. L. C. Hasson, 17 (27), an attorney, born in Pa. With them are Morris, 25, and Hattie Pigman, 18, two children of Kisiah's sister, Margaret "Cecilia" Morris, who died in 1866.
The 1900 census of Kansas City, Jackson County, Missouri shows Samuel Hasson, 48, born Aug 1851, a lawyer, born in Pa., father born in Md., mother born in Pa. He had been married for five years. His wife was Eva D., 30, and his son was John, age 3, born Oct 1896.

MARGARET CECILIA MORRIS
Margaret "Cecilia" Morris, born 24 Dec 1831, married Nathaniel Pigman on 20 Oct 1853 at Hillside, Westmoreland County, Pa. They settled in Wheeling, (W.) Va. and had six children: Daniel "Morris" Pigman, born 16 Nov 1854; Samuel Carpenter Pigman, born 24 Jan 1857; Harriet "Hattie" Sybilla Pigman, born 26 Mar 1859; Hanson Briscoe Pigman, born 1861; Mary Cecilia Pigman, born 12 Aug 1863 & died 18 Jan 1864 (Obit in Wheeling Intelligencer says "Mary Cornelia Morgan Pigman"); Nathaniel Pigman, born 19 Jun 1865 & died 11 Jan 1895 in Cumberland, Md.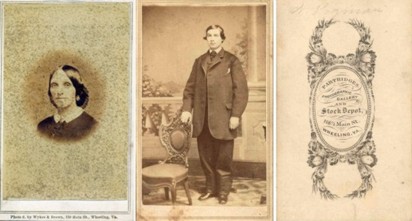 Cecelia (Morris) Pigman & husband, Nathaniel Pigman
Opened office of Adams Express Company, Wheeling, 1854.
Was the company's agent until his death in 1865.
Nathaniel Pigman, age 44, died on 10 May 1865 of consumption at Wheeling, W. Va. The funeral was from his residence on Hamden St.; interment at Cumberland, Md. [Wheeling Daily Register 11 May 1865] (Buried at Rose Hill Cemetery, Cumberland, Allegany County, Md.)
Mrs. N. Pigman (Margaret Cecilia Morris Pigman) died 7 Nov 1866 on board the steamer Bayard near Rochester, (Beaver County), Pa. Funeral from residence of J. R. Greer on Quincy St. [Wheeling Intelligencer & Wheeling Daily Register 9 Nov 1866] - See OBITUARY.
At the time of the 1870 census, Morris, Hanson and Nathaniel Pigman were residing in Greensburg with their grandmother, Sybilla Craig. Samuel Pigman was living with his mother's half brother, Dr. Alexander Craig.
As stated above, Harriet "Hattie" Pigman and Daniel "Morris" Pigmen were residing with their aunt, Kisiah C. (Morris) Hasson, at the time of the 1880 census.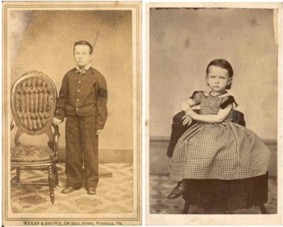 Daniel "Morris" Pigman & Harriet "Hattie" Sybilla Pigman
The back of Hattie's image says, "Harriet Pigman Seeley." She was the wife of H. J. S. Seeley of Kansas City, Missouri.
More about the Pigman family is found in the biography of SAMUEL CARPENTER PIGMAN, M. D., from Biographical History of Cloud County, Kansas, by E. F. Hollibaugh, 1903:
"As a representative of the medical fraternity and as a progressive citizen Dr. Samuel C. Pigman is entitled to a prominent place in the annals of Concordia. He was born in Wheeling, West Virginia. He studied medicine in the Jefferson Medical College and graduated from that distinguished institution in 1879. Dr. Pigman began the practice of his profession in the east, but three years subsequently emigrated west and settled four miles south of Jamestown. In 1888 he removed to Concordia, where his success as a general practitioner is apparent.

Dr. Pigman descends from an old and eminent Maryland family, several of his ancestors being patriots and brave defenders of the colonial honor. On the maternal side he is transcended from a race of medical men, there having been eight or nine in the profession during the same period. He is from a long line of legal lights on the paternal side. His paternal grandfather was a noted attorney and numbered such men as Calhoun and Webster among his colleagues. He was a member of the Maryland upper house for a dozen years. He married Cloe Hansen, a sister of John Hansen, president of the Continental congress.

Dr. Pigman treasures a package of letters written by his distinguished grandparent. They are scholarly productions, replete with the thought of the age, and from their transmission it is definitely determined he was a Whig and disfavored bond-service or the subjection of one person to the will of another, for he writes: "I prefer western Maryland, for there are no slaves there." Our subject's father, Nathaniel Pigman, was born in western Maryland, but early in life removed to Wheeling, West Virginia, and opened the office of the Adams Express Company in that city in 1854, and remained the company's agent until his death in 1865.

Dr. Pigman was married in 1885 to Miss Mary Moore, a daughter of Dr. D. B. Moore, who was a resident of Cloud county for several years and during its early settlement. He is now a citizen of Osage county, Kansas. Mrs. Pigman was born in the Sac and Fox agency, while her father was stationed there as government physician. Three children have been born to Doctor and Mrs. Pigman, a daughter and two sons, Eleanor, Craig and Nathaniel.

Politically Dr. Pigman is a pronounced advocate of solid Republican principles. He was appointed coroner by Governor John A. Martin to fill a vacancy, and was later elected to that office one term. Being interested in educational progress, Dr. Pigman was a worthy member of the board of education in Concordia for a period of four years. He was appointed secretary of the board of examiners for pensions by President McKinley, during his first administration, and continues in that capacity. He is a member of the American Medical Association, of the State Medical Association and of the Cloud County Association. He has been prominent in Masonry for seventeen years, belonging to the Chapter, Commandery, Knights Templar, Royal Arch and has passed through all the chairs of the order with the exception of past commander. Dr. Pigman is not only prominent in his profession, but he has advanced the interests of his fellow citizens and the progress of the city. During the active years of his life he has been a thoughtful student and has acquired a broad fund of knowledge, and this, coupled with his humorous, jocose manner and witticisms, make him a companionable and popular fellow."

DANIEL CARPENTER MORRIS (#2)
Daniel Carpenter Morris (#2) was born 22 Apr 1834 and a note in the photo album indicates he died 1 June 1909.
In 1850, Daniel C. Morris (#2), 16, was residing with his grand uncle and aunt, Samuel and Kisiah Carpenter. In 1860, a Daniel Morris (#3), age 6, was living with the Carpenters; the older Daniel Morris (#2) is not found. The younger Daniel (#3) is still in the Carpenter home in 1870. The obit (below) seems to indicate that the younger Daniel, actually Daniel #3 rather than Jr., was the son of Daniel #2. Perhaps he was Daniel's son from a previous marriage. For some reason, Daniel #2 and his family are not found in the 1860 and 1870 census records.
Daniel C. Morris (#2), 46, a Surveyor and Justice of the Peace, appears in the 1880 census of Westmoreland County, Pa. with wife Annie E., 46, and the following children: Emma C., 18; Anna S., 16; Charles C., 13; James E., 11; Bessie B., 7; Josephine M., 2. Also in the home was Kezia Carpenter, 80, Grand aunt.
Kisiah/Kezia Carpenter died 27 Dec 1884 and her obituary is included in the book, Newspaper Accounts of Births, Marriages and Deaths, 1808-1929, compiled by Mary Jane Mains and published by the Westmoreland County Historical Society, 1994.
CARPENTER, Kezia nee IRWIN, widow of Hon. S. L. died in Greensburg Dec 27, age 83 yrs 7 mo 3 days; b in Blair Co. May 24, 1800 and m. Samuel Feb 2 1819 & came to Greensburg in 1823; member of Christ's Episcopal church; had no children but reared upwards of 20 orphans, prominent among them were Daniel C. Morris, father of D. C. Morris of this place, member of Greensburg bar & d in 1834; Mrs. Dr. Hasson, nee Morris now of Kan. City, Mo.; Celia PIGMAN, nee Morris, dec'd; Mrs. Louisa Johnston now of Knoxville, Iowa; Christopher Denlinger formerly of Hempfield Twp., now of Iowa & Daniel C. Morris Jr of Sharon. [The Press 1 Jan 1884]
By 1900, Daniel was a widower, living with his daughter, Annie S., 36, in Greensburg Borough, Westmoreland County, Pa. At that time, Daniel was 66 and worked as a clerk. Annie's date of birth was Sep 1863.

DR. ALEXANDER CRAIG (Jr.)
Alexander Craig
Hospital Steward, Co. F, 135th P. V. I.
Biographical Annals of Lancaster County
J. H. Beers, & Co., 1903; pages 183-184
ALEXANDER CRAIG, M.D. (deceased). The entire medical career of this eminent physician of Columbia belongs to that city. His practice extended over a period of thirty-four years, beginning immediately after graduation and continuing until death closed his usefulness in the summer of 1899. During that time he was one of the prominent figures in the medical history of Lancaster county, contributing largely to the current professional literature, eminent as a surgeon, honored repeatedly by the various medical societies, of which he was a member, and exerting a wide influence in the community where his mission was cast. The medical career was preceded by a term of military service during the Civil War.

Dr. Craig was born at Hillside, Westmoreland Co., Pa., Dec. 22, 1838, the son of Alexander and Sybilla (Kern) Craig, and grandson of Samuel Craig, a soldier of the Revolution. The family were of Scotch-Irish extraction. Alexander Craig, the father, was a woolen manufacturer and a land owner of Westmoreland county, Pa. He died in 1869, aged seventy-four years. Sybilla, his wife, survived until [June 21] 1888, passing away at the age of eighty years, at the residence of her son, Alexander, in Columbia. To Alexander and Sybilla Craig were born three children: Alexander, the subject of this sketch; Louisa S., who married James B. Moore of Wheeling, W. Va.; and George G., a physician of Rock Island, Illinois.

Alexander Craig, the subject of this sketch, was educated in the public schools of Westmoreland county, and at Eldersridge Academy. The pathway to learning was rugged, and he continued his studies at night while engaged in teaching school. Choosing medicine as his profession, he began a course of reading in 1859, in the office of Dr. Eli Ferguson, at New Derry, Pa., and continued after his army service with Dr. C. D. Hottenstein, then of Columbia. In 1862 he patriotically abandoned his studies to enter the service of his country. In that year he enlisted as a private in Co. F, 135th P. V. I., and was soon afterward appointed hospital steward of the regiment, in which capacity he completed his nine months term of service. He then joined the 57th Regiment State Militia, serving as second lieutenant of Co. A.

The young student then attended two courses of lectures at Jefferson Medical College, Philadelphia, from which he graduated in 1865. On May 1st, of that year, Dr. Craig entered upon his long medical practice in Columbia. His military service gave him a predilection for surgery, and, while a general practitioner, he was especially recognized by his colleagues as an authority in surgery. His practice increased steadily and in a few years he became one of the most successful physicians of the city. His abilites were recognized by the profession throughout the State and even beyond its borders. In 1890 he was honored with the presidency of the Medical Society of the State of Pennsylvania, having previously filled the offices of vice-president in 1870, and of corresponding secretary in 1880-81. He was in 1878 elected president of the Lancaster City and County Medical Society, of which he had for many years been an active and prominent member. In 1879 he was also honored by election to the presidency of the Pennsylvania and Maryland Union Medical Society. Among other professional organizations with which he was actively associated was the National Association of Railway Surgeons. In an honorary capacity he was a member of the York County Medical Society and of the Grand Rapids Academy of Medicine of Grand Rapids, Mich. From 1869 he was surgeon at Columbia for the Pennsylvania Railroad. He prepared many papers and reports of surgery, which were presented at the various medical societies with which he was connected.

Dr. Craig was identified with a number of fraternal and social orders, including the G. A. R. and I. O. O. F., the K. of P., and the Scotch-Irish society of America. He served as a member of the town council of Columbia from 1869 to 1878, and in the latter year was president of that body. He was one of the organizers of the Columbia Electric Light & Power Co., in 1883, and two years later was elected its president. From 1887 and until his death he was a director of the First National Bank of Columbia.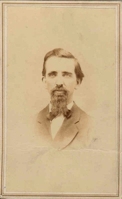 Dr. Alexander Craig
At Columbia, Oct. 29, 1867, Dr. Craig married Miss Eleanor M. Righter, a native of Lancaster, and the daughter of Washington and Elizabeth Mayer (Cottrell) Righter, granddaughter of Jacob and Edith (Evans) Righter, and great-granddaughter of a Revolutionary soldier, who was taken prisoner by the British in Philadelphia, and died on board one of the prison ships. Washington Righter, the father of Mrs. Craig, was born Dec. 9, 1799. He was by trade a tanner, and became one of the pioneer lumber dealers of the Susquehanna Valley. In 1827, he removed from Chester county to Columbia, where he engaged in the lumber trade. For four years, 1843-46, he resided in Lancaster, serving during that period as clerk of Orphans' Court. His death occurred at Columbia, Sept. 22, 1879. His widow, who was born in January, 1810, survived him many yers, dying in her ninety-second year, Sept. 1, 1901, at Columbia. To Washington and Elizabeth Righter were born five children, namely: July E., who married Rev. Joseph Gregg, and died at Columbia, Nov. 7, 1881; Thaddeus Stevens, who died aged two years; Eleanor, widow of our subject; Washington, a lumber merchant of Philadelphia, who died July 16, 1902; and Joseph C., a lumber merchant in Williamsport. The children born to Dr. and Mrs. Craig were five: Alexander R., whose sketch appears below; Washington, a graduate of Rensselaer Polytechnic Institute, class of 1893, and now resident engineer on the Pittsburg, Shaumut & Northern Railroad, stationed at Bolivar, N. Y; Elizabeth, who graduated with the degree of B. S. from Wellesley College in 1891; Eleanor Sybilla, who attended Wilson College for one year, and completed her studies in music at the Musical Academy in Philadelphia; and John J., a graduate of Jefferson Medical College, Philadelphia, afterward resident physician at the Philadelphia Polyclinic Hospital. Dr. Alexander Craig died August 16, 1899.

DR. ALEXANDER RIGHTER CRAIG, the eldest son of Dr. and Mrs. Alexander and Eleanor M. Craig and now a rising young practitioner at Columbia, was born at Columbia July 31, 1868, and graduated from Columbia High School at the age of seventeen years. Entering Franklin and Marshall College of Lancaster, he graduated in the class of 1890. His collegiate studies ended, he began the study of medicine and received the degree of M. D. from the University of Pennsylvania, in 1893, having been honored with the presidency of his class. He served for a year as resident physician of the Philadelphia Polyclinic College Hospital, and in February 1895 began the practice of his profession at Columbia. He has attained a very large and lucrative practice and enjoys the professional confidence of an unusually large acquaintanceship. In politics Dr. Craig is a Republican, and in religious affiliation is a member of the Presbyterian Church. He is a Mason and is prominent in the social life of the city. He was married at Port Deposit (Cecil County), Md., Oct 17, 1899 to Miss Florence C. (Coulson) Bromwell, daughter of R. E. and Josephine (Evans) Bromwell, her father being a prominent physician residing near Port Deposit. To this union two children have been born, Josephine Bromwell, on Nov. 15, 1900, and Margaretta, Sept. 3, 1902.
FROM
The Bromwell Family
H. E. Bromwell, 1910
FLORENCE COULSON BROMWELL, b. Sept 10, 1871; m. Oct. 17, 1899, Dr. Alexander Richter Craig, Phila., who is connected with the Medical Dept. of the University of Pa. She was educated at the Southern Home School in Balt. Had issue: Josephine Bromwell, b. Nov 18?, 1900 and d. April 12, 1901; Margaretta, b. Sept. 3, 1902, and Roberta, b. Feb. 24, 1905.

LOUISA SYBILLA CRAIG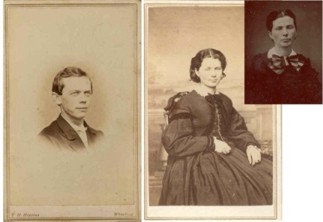 James Brown Moore & Louisa Sybilla Craig
During the Civil War, James B. Moore served as Lt. & Adjutant in the Ohio County 4th Militia
James B. and Louisa Moore, married about 1865, had two sons, John Alexander and James Craig Moore. In the 1880 census of Cokeville, Derry Twp., Westmoreland County, Pa., the Moores were residing with Louisa's mother, Sybilla. The Moore family is discussed in detail in the following biographies of John A. Moore.
History of Wheeling City and Ohio County, West Virginia and Representative Citizens.
Edited & Compiled by Hon. Gibson Lamb Cranmer.
Biographical Publishing, 1902; pg. 358.
John A. MOORE, one of the prominent young business men of Wheeling, West Virginia, is secretary and general manager of the Warwood Tool Company, of this city. Mr. Moore is a native of Wheeling, and is a son of James B. and Louisa S. (Craig) Moore, who are now retired, and living in Wheeling.

John Moore, the grandfather of John A. was born in Ohio, came to Wheeling about the year 1820, and died here in 1862. He married Sarah Irwin, whose grandparents settled in Ohio county, Virginia, about the time of the Revolutionary War. Her father, William Irwin, was one of the incorporators of Wheeling. John A. Moore has one brother, J. Craig, who is engaged in the hardware business with Greer & Laing.

The plant of the Warwood Tool Company is located on Market street, between Twenty-eighth and Twenty-ninth streets. It is the only manufacturing establishment of its kind in Wheeling, and compares favorably with any similar manufactory in the country. This business was originally started by Henry Warwood in 1854, at Martin's Ferry, Ohio, where a complete line of miner's tools were manufactured. The late Daniel L. Heiskell purchased the business in 1893, incorporated it under its present name and removed it to its present location on this side of the Ohio River. The officers of the company are: B. Walker Peterson, president; John A. Moore, secretary and general manager; and Samuel Tyler, superintendent. A space of 14,000 square feet is now occupied to accommodate the business, which has quadrupled in volume since the incorporation. The company still makes a specialty of manufacturing miners' tools, but the line has been largely increased. Sixty people are employed and are under the supervison of Mr. Moore. Mr. Moore is a man of much executive ability, and is thoroughly competent to care for and manage such a large business.

Politically, Mr. Moore is a Republican. He is a member and officer of Wheeling, Lodge, No. 5, A. F. & A. M., and belongs to the A. O. U. W. He lives at Woodsdale. His family have always been members of the Presbyterian church.
History of West Virginia.
American Historical Society, Chicago, 1923 (vol.2, pg. 24)
JOHN A. MOORE is a native son of the City of Wheeling and has become an influential figure in the industrial and commercial life of this metropolitan district of West Virginia, where he is secretary, treasurer and general manager of the Warwood Tool Company. The modern manufacturing plant is established in the suburb of Warwood.

Mr. Moore is a scion of one of the sterling pioneer families of Wheeling, in which city his father, James B. Moore was born in the year 1838 and died in 1907. William Moore, great-grandfather of the subject of this review, was born in the north of Ireland, came to the United States in the early part of the nineteenth century, resided for a time in Western Pennsylvania, and thereafter became a pioneer settler in Tuscawaras County, Ohio, where he passed the remainder of his life. His wife, whose maiden name was Martha Purviance, likewise was born in the north of Ireland, and she was a resident of Wheeling, West Virginia, at the time of her death, her remains being interred in a cemetery here.

John Moore, grandfather of him whose name initiates this review, was born in Greene County, Pennsylvania, in 1810, and died at Wheeling, West Virginia (then Virginia), in 1860. He came to Wheeling about the year 1827, learned the plumbing trade, and owned the leading plumbing shop of the town in the early days. He established the first waterworks of Wheeling, and continued as superintendent of the same a number of years. In the '30s and '40s he served as steamboat inspector, and later he became the owner of a machine shop, to the conducting of which he game his attention until his death. He married Sarah Irwin, who was born at Wheeling, and they reared a family of two sons and three daughters, of whom only one is living in 1921 -- Elizabeth Irwin, who is the widow of Rev. J. R. Moore and who resides at Morgantown, Monongalia County. Rev. J. R. Moore, a clergyman of the Presbyterian Church, attained distinction in educational work in West Virginia. As a young man he was a member of the faculty of Linsly Institute at Wheeling, and later conducted the Monongalia Academy at Morgantown, from which was eventually developed the University of West Virginia.

Mrs. Sarah (Irwin) Moore, paternal grandmother of the subject of this sketch, was a daughter of William Irwin, who settled at Wheeling when the future metropolis and capital of West Virginia had only thirty houses. He was born in what is now Harrison County, this state, and was one of the incorporators of the village of Wheeling, besides which he served as a member of the Virginia House of Burgesses, as representative of Ohio County in what is now West Virginia. He was prominent and influential in connection with business, civic and political affairs in this section of Virginia in the pioneer days. He reared a large family of children, and many of his descendants still reside in Wheeling and vicinity. His wife, whose maiden name was Elizabeth Snodgrass, was a daughter of John Snodgrass, who came to Ohio County in the pioneer days and settled in the Short Creek District, where he reclaimed and developed a farm. He came to this county from the vicinity of Philadelphia, Pennsylvania. His daughter Elizabeth was born on this old homestead on Short Creek, and both she and her husband were residents of Wheeling at the time of their deaths.

James B. Moore, who passed his entire life in Wheeling, was a skilled mechanical draftsman and was actively associated with business activities in his native city for many years. He was a republican, and he and his wife were zealous members of the Presbyterian Church. He served as a member of the State Militia in the period of the Civil war, but was not called to the front. He married Louisa S. Craig, who was born in Westmoreland County, Pennsylvania, in 1840, and whose death occurred at Wheeling in 1910. Of the children John A., of this review, is the elder, and the younger son, J. Craig Moore, is in the employ of the Warwood Tool Company, of which his brother is general manager.

In the public schools of Wheeling John A. Moore continued his studies until he was seventeen years old, and he then entered the employ of J. A. Holliday & Sons, lumber dealers, with whom he remained until 1893. He then became associated with the Warwood Tool Company in the position of bookkeeper, and he has continued his connection with this concern to the present time, in the meanwhile having become its secretary, treasurer and general manager. The plant and officers of the company are situated at the foot of Nineteenth Street in Warwood, and here are manufactured picks, mattocks, hoes, wedges, sledges, crowbars, drills and other tools used in coal mines. The concern is the largest of its kind in the state, its products are sold in all sections of the Union, and for fully a quarter of a century its foreign trade has been of appreciable volume. The officers of the company are as here designated: B. W. Peterson, president; and John A. Moore, secretary, treasurer and general manager.

Mr. Moore is staunchly aligned in the ranks of the republican party, and he is a communicant of the Protestant Episcopal Church. He is a past master of Wheeling Lodge No. 5, Ancient Free and Accepted Masons, and is affiliated also with Wheeling Chapter No. 1, Royal Arch Masons; Cyrene Commandery No. 7, Knights Templars, of which he is a past commander; West Virginia Consistory No. 1, Ancient Accepted Scottish Rite, in which he has received the thirty-second degree; and Osiris Temple of the Mystic Shrine. He also hold membership in Welcome Lodge, Ancient Order of United Workmen, the Fort Henry Club and the Wheeling Chamber of Commerce. He is treasurer and general manager of the Warwood Water & Light Company. In the World war period he was a loyal and vigorous supporter of patriotic agencies, was chairman of the tool industry committee for war production and devoted much of his time and energy to the perfecting of this important part of war service. Mr. Moore's name remains on the roster of eligible bachelors in his native city.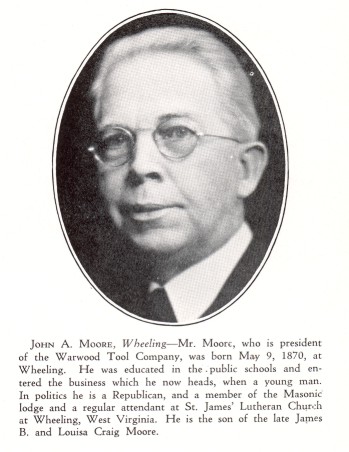 GEORGE GORGAS CRAIG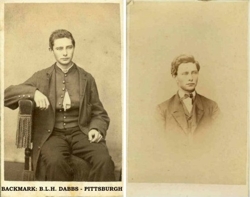 George Gorgas Craig
53rd Penna. Infantry
Portrait and Biographical Album of Rock Island County, Illinois
Biographical Publishing Co., Chicago, 1885; pages 408-409
DR. GEORGE G. CRAIG commenced the practice of medicine in Rock Island city April 14, 1869. He was born in Westmoreland Co., Pa., Oct. 26, 1845. His parents, Alexander and Sybilla (Kern) Craig, were natives of Pennsylvania, where they resided and reared the subject of this notice until he attained the age of 15 years.

Dr. Craig remained under the parental roof-tree assisting the father in the maintenance of the family and attending the common school, and also spent two years at Elder's Ridge Academy, in Indiana Co., Pa., where he received a good English education. At 17 years of age he enlisted in a three-months regiment of Pennsylvania militia and went to Ohio, wher he was engaged in guarding the fords on the Ohio River between Wheeling and Pittsburg, and had the pleasure of assisting in the capture of John Morgan. After the expiration of his term of service he enlisted in Co. K, 53d Pa. Vol. Inf., and from January, 1864, until the close of the war was an active participant in all the battles in which the company was engaged. He received a slight wound at Spottsylvania, and during the first day's fighting at Petersburg was again wounded and captured March 31, 1865. He served in Gen. Hancock's corps.

Dr. Craig studied medicine in Columbia, Pa., and subsequently matriculated at Jefferson Medical College, Philadelphia, and, after following the curriculum of the same, graduated and received a diploma on March 12, 1869. He then came to Rock Island, in April, 1869, and engaged in the practice of his profession, and has followed the same with signal success.

the marriage of Dr. Craig to Miss Nellie Cleland occurred Aug 4, 1874. She was the daughter of Rev. Samuel and Ellen Cleland and was a native of Rock Island, in which place she was born. Three children have been born of their union, namely: George G., Nellie and Alexander. Dr. Craig resigned as City Physician to accept th appointment of Commissioner of Health for the city of Rock Island. As Health Commissioner Dr. Craig first met with some opposition in carrying forward his plans in regard to the proper method of placing Rock Island in a good sanitary condition After the authorities and citizens came to understand, however, and with the hearty co-operation of the Rock Island Union and Argus, his plans for the general health of the sity were readily adopted by the authorities and endorsed by the good citizens. The Doctor's plan may be most succinctly stated in one word, Cleanliness. -- of course, with the necessary adjuncts of a thorough system of draining and a constant general removal of all decomposing matter from the city. This has been heretofore either buried or thrown on the surface. Another great benefit derived from his plan was the establishment of abattoir, which was done largely through the efforts of Dr. Craig. By the following statistics the reader will readily observe the substantial benefit derived from the adoption of Craig's ideas in regard to the sanitary measures of the city:

Year - Deaths - Ratio Per 1,000
1881 - 288 - 24-7
1882 - 225 - 19-2
1882 - 154 - 13.2
1884 - 170 - 14.5

It has been observed by those competent to judge that the inhabitants of the city, since the beginning of 1883, are saving annually in expenditures for physicians' fees and medicine at least $20,0000, besides a large saving which would otherwise result from a loss of time.

As an illustration of economical management, we mention the year 1882, when small-pox was quite prevalent in Illinois. In Rock Island there were 15 cases, representing eight different outbreaks in as many different localities. In no instance did the disease spred from any house after being discovered. The total cost of each case, including city and county expenses, was $45.22. This included medical attendance, quarantining, vaccination, disinfecting, etc. As compared with Moline, the neighboring city, where they had 20 cases, the cost was $8,000 in Joliet, Ill., 30 cases cost $12,000, or $400 a case in each city. This of itself will attest the economy and rare executive and medical ability brought into requistion for the city's benefit at a critical time.

Dr. Craig held the position of City Physician for a period of 12 years, a fact of itself which is sufficient to demostrate the high esteem in which he is held by the citizens, not only as a practitioner, but as a genial, social and straightforward , honest and fair dealing man. Socially, he is a member of the Order of Masonry and of the A. O. U. W. Politically he is a Republican. His residence is located on 18th Street and 7th Avenue.
The children of George G. Craig and Nellie Cleland were: George G. Craig, Jr., born 1875; Eleanor Bryant Craig, born 1878; twins, Samuel Craig and Elizabeth Craig born in 1888. Samuel Craig was profoundly retarded and required total care.
Dr. George Gorgas Craig died 12 March 1911. His wife died December 4, 1926. Following the death of the latter, George G. Craig became the Conservator of his brother, Samuel, and Elizabeth was the vice-conservator. They applied for and received a pension on behalf of Samuel for his continued care.
1927 -- Samuel Craig, aged 38 years, whose post-office address is 1720 Seventh Avenue, Rock Island, Ill., is the helpless and dependent son of George G. Craig, late a corporal, Company K, Fifty-third Regiment Pennsylvania infantry, from January 29, 1864, to May 25, 1865, and who died March 12, 1911.
The parents of this claimant were married August 4, 1874. The mother of the claimant was pensioned under certificate No. 722462, to the date of her death, December 4, 1926.
The evidence indicates claimant is the legitimate son of the soldier and that he has been a totally helpless and dependent person all his life, a cretin. His walk and other movements are incoordinated. he has never been able to dress or otherwise care for himself. He requires constant aid and supervision at all times, both day and night. He is a twin, the other being Elizabeth, who was practically never sick in her life until she entered the late World War as a nurse and was invalided from the American Expeditionary Forces.
It is recommended his name be placed on the pension roll at the rate of $20 a month.
Samuel died October 7, 1928.
From
REPUBLICANS OF ILLINOIS
Dr. George G. Craig
(Click Here)
Lewis Publishing Co., 1905; pg. 218




Scoby Scribe
Vol. 6 , Issue 3, Aug 1988, Part 2
MRS. NELLIE CLELAND CRAIG - Born in Rock Island County, Illinois, Wife of Dr. George G. Craig, descendent of James Scobey. Daughter of Samuel Cleland and Ellen Bryant Castner, his wife. Granddaughter of Peter Castner and Mary Scobey, his wife. Great granddaughter of James Scobey and Catherine Brown, his wife. James Scobey served as private and ensign in the 3rd Battalion New Jersey Continental Line. He was born in 1745.

See Charles H. McLane, 3rd W. Va. Cavalry - Related to Sybilla Kern.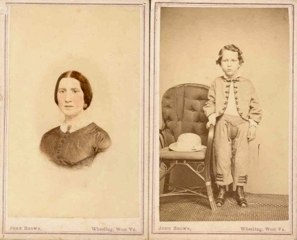 Mrs. Virginia White (and son), friend of Cecilia Pigman
Andrew White, Esq., married Virginia E. Harrison, daughter of George Harrison, Esq., of Wheeling, by Rev. William Armstrong at St. Matthew's Church on April 26, 1853. - Wheeling Intelligencer April 28, 1853.
In the 1860 census of Wheeling, Ohio County, (West) Virginia, Andrew White, a banker, with wife, Virginia, son, C. Harrison, 6, and daughters Sallie A., 4 and Mary Steenrod, 2.
Andrew White, Esq, died 15 Dec 1867, 54th yr, funeral from his residence on Hampden St, died suddenly at his residence in Wheeling. Mr. White was born in this City, his father, John White, was one of the foremost merchants of Wheeling in the early days of its history and his son, Andrew White was reared and educated in a manner that well fitted him to take a prominent position in the walks of business life. Was connected for many years with the North Western Bank in Wheeling. Mr. W. was married about 15 years ago and leaves a wife and 5 children [Long obit Daily Register and Wheeling Intelligencer]
Virginia White is not found in the 1870 or 1880 census records but is found in 1900 in Cumberland Maryland, residing with her daughter Mary S. Wilson, a widow, born September 1858. The obituary of Virginia's mother (See Album #2] states that Virginia was living in Washington, D. C. in 1886. Virginia, born Jan 1835, died in November 1909 and was interred near her husband at Mt. Wood Cemetery, Wheeling, on November 11, 1909.

SAMUEL CARPENTER MELLOR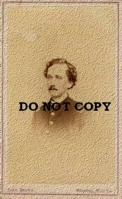 Lt. Samuel Carpenter Mellor
Corporal, Carlin's Battery "D" 1st West Virginia Light Artillery
Commissioned Lt & Q.M, 3rd West Virginia Cavalry
Samuel Carpenter Mellor, apparently named after Samuel Leas Carpenter of Greensburg, Westmoreland County, was the son of Levi Mellor. Levi was the son of James and Hannah (Sykes) Mellor, who emigrated from England and eventually settled in Wheeling, (West) Virginia. Levi Mellor married Mary Ann Irwin on November 30, 1837 in Pittsburgh PA. Some genealogies say Samuel's mother was Mary Lambing but Irwin/Irvin is the name on both the marriage record and the death record of her daughter, Hannah Mellor Fritz.
The exact connection of the Carpenters, Lambings and Mellors is not known yet.
Samuel served in Battery D, 1st WV Light Artillery Regiment and was considered a good candidate to be an officer. He resigned from Battery D in December 1864 and accepted a position as Lieutenant & RQM of the 3rd West Virginia Cavalry. He is the subject of a sketch in the book, "Carlin's Wheeling Battery - A History of the First West Virginia Light Artillery."
An identical image was also found in an album of the family of JAMES FORSYTH HARRISON. That album will be presented later.
The above VIRGINIA E. WHITE is a member of this HARRISON family.