COLLIN (CALVIN) MINOR
Company "A" 18th Pennsylvania Cavalry
Company "B" 3rd Provisional Cavalry
Presented by Linda Cunningham Fluharty.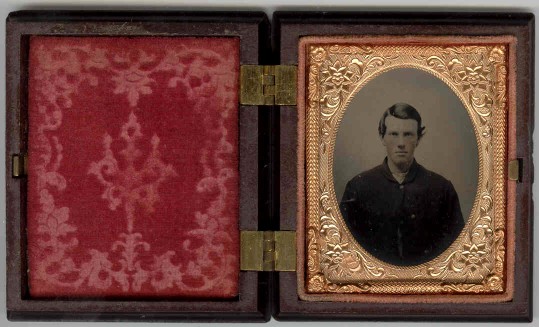 Collin (Calvin) Minor
(Tintype sold to Candice Lynn Buchanan, 5/2004.)
The THOMAS MINOR SOCIETY had no record of CALVIN MINOR, the name attached to the tintype image shown above. They suggested he must be from another MINOR family. However, the pension file of COLLIN MINOR revealed the identity of this soldier.
COLLIN MINOR was born about 1844 in Greene County, Pennsylvania. He was the son of Lawrence Lewis Minor, a Lawyer, and Maria C. Hayes, daughter of William T. Hayes and Mary McKibben. Lawrence Lewis Minor was the son of Greene County Pioneer and Revolutionary War soldier, Colonel John Minor, and his 4th wife, Jane Wilson Hawkins.
Collin Minor served in Company "A" 18th Pennsylvania Cavalry and was transferred to Company "B" of the 3rd Provisional Cavalry.
Collin was also known as "Calvin." A piece of note paper behind his picture says "Calvin Minor" and his Service Record from the National Archives shows that, indeed, he was known by both names.
According to the book, "The Tenmile Country and Its Pioneer Families," by Howard Leckey, JOSEPH MINOR, brother of Collin/Calvin, was Killed in Battle at Winchester during the Civil War.
This family is found in the 1860 & 1880 Censuses of Greene County, PA:
1860 Census, Greene Co PA :
L. L. Minor, 58, Lawyer, $500, $300, b PA
Maria C., 52, Housekeeper, PA
George W., 34, Farmer, PA
William P., 31, Printer, PA
Edwin H., 29, Day laborer, PA
Jane L., 26, Housekeeper, PA
Minerva, 23, Housekeeper, PA
Joseph C. H.. 21, Printer, PA
Collin W., 16, Printer, PA
Lawrence L., 10, PA
Laura L., 8, PA

1880 Census Greene Co PA
L. L. Minor, 78, Gentleman, b PA VA VA
Maria C., wife, keeping houe, PA PA PA
George, 53, son, Laborer, PA PA PA
Manerva, 42, dau, at home, PA PA PA
Edwin H., 48, Clerk in gov office, PA PA PA
Lawrence, 30, son, Tailor, VA PA PA
Fanny, 25, dau, at home, VA PA PA
Collin, 36, son, Home and Buggy Painter, PA PA PA
MINOR LINEAGE
THOMAS MINOR b. 1608 England m. Grace Palmer
CLEMENT MINOR baptized 1639 m. Frances Burcham Willey
WILLIAM MINOR b. 1670 m. Sarah Beckwith
STEPHEN MINOR b. 1708 m. Atheliah Updike
COL. JOHN MINOR m Jane Wilson Hawkins
LAWRENCE LEWIS MINOR m Maria C. Hayes
COLLIN/CALVIN MINOR
---