Presented by Linda Cunningham Fluharty
EMILY H. ROSE
Taken about 1862-1863
[All CDV images owned by Linda Fluharty.]
NOTE: This page started out with only the picture of Emily H. Rose. The rest of the photo album was subsequently purchased and includes pictures of WHEELER, ROSE and BARCLAY family members of Brooke County, W. Va. and Louisville, Ky. These families are connected in many ways. - The owner of the album was SALLIE V. BARCLAY, daughter of JOHN R. BARCLAY and MARY H. ROSE. The latter was probably the sister of Emily's father, ALBERT WHEELER ROSE.
EMILY HOOPER ROSE was born about 1858 in (West) Virginia, probably in Ohio or Brooke County. She was the daughter of ALBERT WHEELER ROSE and ANN HOOPER CHAPLINE.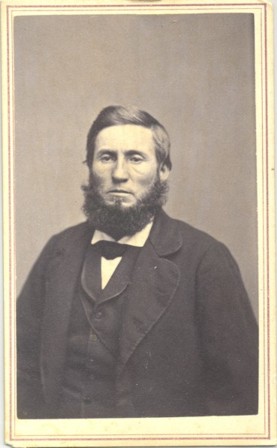 ALBERT WHEELER ROSE
[Partridge Gallery, Wheeling]
In 1850, Wheeler Rose, 20, was listed in the Ohio County, (W) Virginia census as a Clerk, residing with many others in the home of William Irwin, a Tavern Keeper. He was probably the son of ULYSSES ROSE and MAHALA WHEELER of Brooke County, (W) Virginia.
A daughter of Ulysses and Mahala (Wheeler) Rose - MARY H. ROSE - married JOHN ROWAN BARCLAY of Louisville, Ky. He was the son of JOSHUA G. BARCLAY and SARAH "SALLY" WHEELER. "Sally" may have been the daughter of JOHN HANSON WHEELER and DEBORAH HARDING of Kentucky - and somehow related to the Brooke County Wheelers.
A picture of DR. ALBERT P. WHEELER in the photo album was taken in Louisville, Ky. He must have been the brother of MAHALA WHEELER. Therefore, he would have been be the uncle of MARY H. (ROSE) BARCLAY. - In addition, Dr. Wheeler was married to OPHELIA DUVAL, the daughter of ISAAC DUVAL and SARAH HARDING (Harden in the marriage record, Wheeling, Ohio County, W.Va.). Ophelia's brother was General Isaac Hardin (Harding, according to the Biographical Directory of the United States Congress.) DUVAL. -- Dr. Wheeler served as a surgeon in the Civil War. His story is here: Dr. Albert Perry Wheeler.
Another picture is that of Captain John Shallcross. It is not known if he is related to the Wheeling Shallcross family but his wife, Mary Zane Lewis was from Wheeling. (See Captain John Shallcross.)
The BARCLAY family branch is best explained with a biography of John Rowan Barclay found in "Kentucky: A History of the State" by Battle, Perrin, & Kniffin, 6th ed., 1887, Trimble Co.
JOHN R. BARCLAY is a native of Louisville, Ky., and was born January 26, 1822, the third of ten children born to Joshua G. and Sarah (Wheeler) Barclay, natives of Maryland. Joshua Barclay came to Kentucky at an early date, and settled in Bardstown, and later moved to Louisville and engaged in mercantile business. He remained there until 1832, when he removed to what is now Trimble County, settled near Milton, and followed farming until his death, which occurred in 1851. His widow died in 1862. When our subject was about ten years of age he moved with his parents to Trimble County. He was educated in the common schools, and later engaged in farming until 1878. He then removed to Milton, where he now resides, and owns some valuable town property. He was united in marriage, December 7, 1843, with Mary H. Rose, daughter of Ulysses and Mahala (Wheeler) Rose, natives of Brook County, Va. Four children were born to their union: Mahala, Sallie, Mary and Albert; Sallie and Albert are deceased. Mrs. Barclay died January 3, 1851, and September 9, 1859, our subject married Lucy Gossom, daughter of Henry and Lucy (Wood) Gossom, natives of Virginia and Kentucky. Mr. Barclay is at present deputy county court clerk, and has for one year been a notary public. The family are members of the Methodist Episcopal Church South. Mr. Barclay is a member of the I.O.O.F. and F. & A. M. Politically he is a Democrat.
The first husband of Emily's mother, ANN HOOPER CHAPLINE, was BENJAMIN FRANKLIN RIDGELY, whom she married in Wheeling, Ohio County, (W) Virginia 30 Dec 1845. Benjamin was the son of ABSALOM RIDGELY and DRUSILLA MILLS, married in Ohio County 10 Nov 1799. Absalom had come to Wheeling from Maryland with his brother, PARAGON RIDGELY. Both were wealthy slave owners who freed their slaves before the Civil War.
Two sons of BENJAMIN F. RIDGELY & ANN HOOPER are shown in the 1860 census below. WILLIAM C. RIDGELY - [PHOTO] - married MARY V. HUSTON in Brooke County on 23 Jun 1868. ABSALOM MILLS RIDGELY married EMMA JANE MAXWELL, daughter of JOHN & ALICE (DEMENT) MAXWELL, about 1873.
1860 Census of Brooke County, (W) Virginia:
(Bethany Post Office):
A. Wheeler Rose, 29, Farmer, $4800, $1057, b VA
Ann H. Rose, 35, b VA
Wm. C. Ridgely, 13, b. VA
Absalom M. Ridgely, 11, b VA
Emily H. Rose, 1, b VA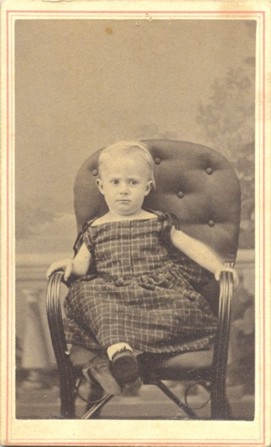 ABRAM PRICE ROSE, Emily's brother.
Taken in Wheeling about 1862-1863, probably when Emily's picture was taken.
On the back the name is spelled "Abram" and it says, "For Uncle Price."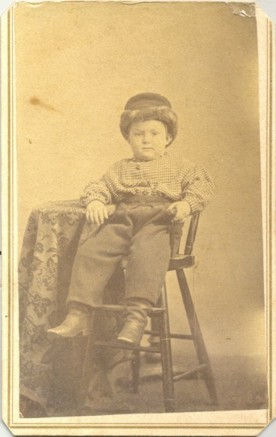 ALEXANDER ROSE, Emily's brother. (See 1870 Census)
Taken about 1867.
The parents of ANNE HOOPER CHAPLINE were WILLIAM CATON CHAPLIN(E), born in Ohio County in 1785, and ANN HOOPER WHEELER, who were married in Wheeling 28 Jan 1813.
The father of WILLIAM CATON CHAPLIN(E) was MOSES CATON CHAPLIN(E), 1754-1812, a Revolutionary War Captain from Maryland and one of the earliest residents of Wheeling, Ohio County, (W) Virginia . The wife of Moses was MARY CALDWELL, born in Ireland.
MOSES CATON CHAPLINE was the son of MOSES CHAPLIN(E) and JENNETT CATON of Maryland. MOSES served as a militia Captain in the French and Indian Wars.
---
In the 1870 census, the family of ALBERT WHEELER ROSE and ANN HOOPER CHAPLINE was residing in Milton, Dodge County, Minnesota:
A. W. ROSE, 49, Farmer, $7000, $2225, b VA
Ann H., 45, b VA
Emily H., 12, At School, b VA
Abraham P., 8, b VA
Alexander, 6,
Albert B., 3?, b Minn.
A. P. ROSE, 47, Farmer, b. VA
N. Z. CHAPLINE, 55, Farmer, b VA
S. OLSON, 26, Domestic Servant, b Norway
John B. OLSON, 21. Farm Laborer, b Norway

A. P. ROSE, in the census above, was possibly ABRAHAM PRICE ROSE, probably the brother of ALBERT WHEELER ROSE. A. P., born Aug 1821, was found as "Price Rose" in the 1850 census of Ohio County. He was in Dodge, Minnesota in 1900, with his wife of 46 years, Susan M., born in Connecticut. At that time, Susan had given birth to 4 children, one living.
N. Z. CHAPLINE in the 1870 census is NOAH ZANE CHAPLINE, the brother of ANN HOOPER CHAPLINE. He served as a Corporal in Company "I" of the 6th West Virginia Infantry. His death occurred 10 Mar 1890 in Jefferson County, Ohio and he is buried at Greenwood Cemetery, Wheeling. His story is here: Dr. Noah Zane Chapline.
By 1880 the A. WHEELER & ANN ROSE had moved to Warren, Jefferson County, Ohio:
ROSE, Wheeler, 50, Farmer, WV MD MD
Ann, 50, wife, Keeps house, WV MD MD
Emily, 21, daughter, WV WV WV
Price, 18, Son, Laborer, WV WV WV
Alexander, 16, Son, Laborer, WV WV WV
Barclay, 13, MINN WV WV
CHAPLINE, Zane, 67, brother-in-law, Laborer, WV, MD, MD

Emily married JOHN LESLIE WELDAY, Sr. on 2 Jun 1882. Their children are shown in the
1900 Census of Smithfield Twp., Jefferson County, Ohio:
WELDAY, John L., b May 1859, 41, Married 18 years, Farmer, OH OH OH
Emily R., Wife, b Aug 1859, 40, 5 children/4 living, OH VA VA
Wheeler J., Son, b Dec 1883, 16, OH OH OH
Earnest H., Son, b Jun 1885, 14, OH OH OH
Wilber A., Son, b Sep 1899, 10, OH OH OH
J. Leslie, Son, b Sep 1893, 6, OH OH OH


1910 Census of Lincoln Precinct, Jefferson County, Ohio
WELDAY, John, Head, 50, Married (1) 27 years, Farmer, OH OH OH
Emily, Wife, 5 children/4 living, 50, WV OH VA
Wheeler, Son, 26, Banker, OH OH OH
Ernest, Son, 24, No occupation, OH OH OH
Wilbur, Son, 20, Teaching school, OH OH OH
Leslie, Son, 17, OH OH OH


1920 Census of District 207, Smithfield, Jefferson County, Ohio
WELDAY, John W., Head, 60, Farmer, OH OH OH
Emily H., Wife, 60, OH WV WV
Ernest, Son, 34, Electrician, OH OH OH


1930 Census of District 22, Smithfield, Jefferson County, Ohio
WELDAY, John L., Head, 70, $4800, Farmer, Married 23 years (obviously an error) OH OH OH
E. H., Wife, 70, WV WV WV

---