Calhoun, Marshall & Ohio County History Heroes - 2005

THE HISTORY HERO AWARD
The State of West Virginia has asked that every county designate a "History Hero" to honor individuals who have contributed to the preservation of history in West Virginia. The winners of this award, initiated by former Governor of West Virginia, Cecil H. Underwood, are honored at an annual event in Charleston.
History Hero Award, WV Archives & History
---
CALHOUN COUNTY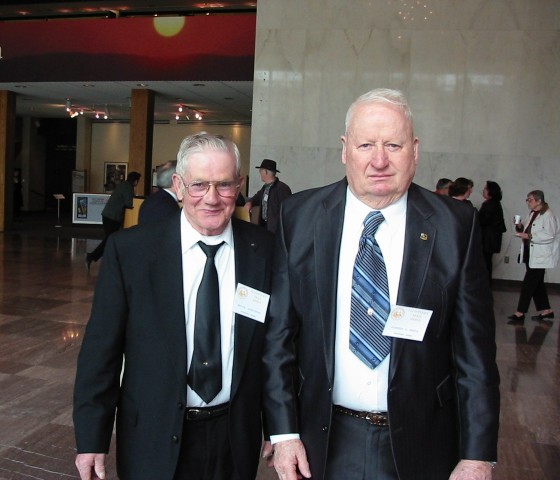 Donald R. "Duck" Stevens & James A. Bell
Nominated by the Calhoun County Historical & Genealogical Society
Donald R. "Duck" Stevens & James A. Bell have dedicated themselves to making the Calhoun County Historical Society's Heritage Village a reality. In the past four years they have spent hundreds of hours relocating historic structures to the Village at Calhoun County Park, organizing work parties to make necessary repairs, locating supplies and materials, and scouring Calhoun and surrounding counties to acquire period furnishings. Additionally, they have donated their time and equipment to construct benches for public seating and to landscape the Village. Jim and Donald are truly heroes in the eyes of the society and the community.
---
MARSHALL COUNTY
Judy and Lonnie Kiger
Nominated by the Marshall County Historical Society
Lonnie and Judy Kiger are active members in the Marshall County Historical Society and have served as officers. During his first term as president, Lonnie completed the task of establishing the MCHS Museum and upgraded the facility with a new restroom, sidewalks, steps, computer and security systems. He has designed brochures and advertising materials, and began publication of the society's newsletter. Kiger is also in charge of writing grants. His hard work led to the acquisition of the old schoolhouse at Pleasant Valley for renovation into a museum. Judy is in charge of the genealogy files and takes care of the annual picnic and Christmas party. She was also involved in creating a cookbook as a fund raiser for the society. Together, they designed a calendar of old Marshall County photos for the society.
---
OHIO COUNTY
Brent Carney & Linda Fluharty
Brent Carney - Nominated by the Wheeling Area Historical Society
Brent Carney of Wheeling is a consultant and researcher for the Wheeling National Heritage Area Corporation, which is currently completing a project to place historic signage along Wheeling's Walking Trail. He is the author of Bethany College, and co-author of Images of America: Wheeling and Wheeling in Vintage Postcards. An instructor in history at Wheeling Jesuit University, Carney presents programs for local historical and genealogical groups and generously shares his knowledge with other researchers.
Linda Cunningham Fluharty - Nominated by the Wheeling Area Genealogical Society
Wheeling native, Linda Cunningham Fluharty, a resident of Baton Rouge, Louisiana, created and maintains the website of the Wheeling Area Genealogical Society, as well as the West Virginia GenWeb sites for Marshall, Pleasants and Calhoun Counties. These sites contain an abundance of historical and genealogical information. She also has websites for four complete West Virginia Civil War regiments, all related to the Wheeling area. Linda has compiled three Civil War books: On the Way Home... West Virginia Soldiers on the Sultana; Civil War - West Virginia, Union Lives Lost and The Civil War Letters of Lt. Milton B. Campbell, 12th West Virginia Infantry.
Jeanne Carter (no photo) - Nominated by the West Virginia Independence Hall Foundation, Inc.
Jeanne Carter has been an active member of the West Virginia Independence Hall Foundation, Inc., for more than 15 years. She has participated in the planning and execution of numerous interpretive programs at WVIH Museum. Carter has researched and developed the living history characters of Lydia Boggs Shepherd and Laura Jackson Arnold, which she has presented to many groups and organizations throughout the state. She has also been an active volunteer at Jackson's Mill for many years.
MORE PHOTOS
Mary Coss Staley & Linda Fluharty
Phyllis Dye Slater & Linda Fluharty
Ed & Gail Yoho
Nila Chaddock & Sharon DaRe
Bob & Eileen Harness
Linda Fluharty, Clarice Stanley & Naomi Lowe Hupp
Jim & June Campbell with Lonnie Kiger
Tom James
Henry Hupp
Reception at Senator Jeff Kessler's Office
Reception at Senator Jeff Kessler's Office [2]

---