LYDIA WILSON HOLLIDAY
Civil War Nurse

Worked in Army Hospitals of the U. S. Volunteers.
Lydia Wilson Holliday
[Photo from the Carol Scott Collection; submitted by Gary Timmons.]
---
Lydia Wilson Holliday was nearly sixty years old when she answered President Lincoln's call and volunteered her services as a nurse during the Civil War. She worked in Wheeling, Winchester and other military hospitals, caring for both Union and Confederate soldiers.
William and Lydia Holliday came to Wheeling with their family in 1833 and spent the remainder of their lives there. Lydia was commonly known as "Mother Holliday."
1850 Census, 44th District, Ohio County, W. Va.
#1092/1129
HOLLIDAY, William, 49, Glass Packer, $1200, b Pa.
HOLLIDAY, Lydia W., 49, b. Delaware
HOLLIDAY, William W., 24, Moulder, b. Ohio
HOLLIDAY, Thomas, 19, Nailor, b. Ohio
HOLLIDAY, Harry C., 17, Glass Blower, b. Ohio
HOLLIDAY, John, 10, b. Va.
HOLLIDAY, Mary F., 8, b. Va.
CORBLEY, Clarinda, 16, b. Pa.
STEEL, Edward, 27, Glass Cutter, b. Eng.
McCLEARY, Robert, 19, Moulder, b. Eng.
HUTCHESON, William, 19, Glass Flutnor?, b. Ohio
FORBES, John, 30, Glass Blower, b. N.J.
CONLEY, William E., 30, Tailor, $300, b. Md.
CONLEY, Sarah Ann, 27, b. Ohio
CONLEY, Sophia, 3, b. Va.
CONLEY, Lydia V., 10 mos., b. Va.

Note: Sarah Ann Conley was the daughter of Wm. & Lydia Holliday.

1860 Census, 1st Ward, City of Wheeling, Ohio County, W. Va.
#1034/1038
HOLLIDAY, Wm. R., 60, Grocer, $1200, $500, b Pa.
HOLLIDAY, Lydia, 57, b. Delaware
HOLLIDAY, Mary F., 19, b. Va.


1870 Census, 1st Ward, City of Wheeling, Ohio County, W. Va.
#143/139
HOLLIDAY, Wm., 70, Col. of Customs, $6000, $150, b Pa.
HOLLIDAY, Mary [must be Lydia], 68, Keeps House, b. Delaware
HOLLIDAY, Harry, 38, Carpenter, b. Va.
HOLLIDAY, Amanda, 25, b. Va.

Note: Harry C. Holliday married Amanda J. Fortney 19 Oct 1869 in Ohio County, W. Va..

1880 Census, Enumeration District 206, Ohio County, W. Va.
#92/113
HOLLIDAY, Wm., 80, Deputy Surveyor, Pa. Ire. Ire.
HOLLIDAY, Lydia, 78, Keeping House, Del. Del. Del.
HOLLIDAY, Harry C., 47, Son, Carpenter, Ohio, Pa. Del.
HOLLIDAY, Amanda, 40, Wife, Keeping House, Va. Baden Hanover
HOLLIDAY, Augusta, 9, attending school, W.Va. Ohio Va.
HOLLIDAY, Harry J., 2, W.Va. Ohio Va.
William R. Holliday died in March 1883 and is buried at Mt. Wood Cemetery, Wheeling.
---
NATIONAL ARCHIVES PENSION FILE
(Selections)
Declaration for a Nurse's Pension
Act of August 5, 1892
State of West Virginia
County of Ohio
On the 5th day of January, A.D. one thousand eight hundred and ninety 3 personally appeared before me, a Notary Public within and for the county and State aforesaid, LYDIA W. HOLLIDAY aged 90 years, a resident of Wheeling, county of Ohio State of West Virginia, who, being duly sworn according to law, declares that she is the identical LYDIA W. HOLLIDAY who was accepted as a VOLUNTEER NURSE on the 2 day of April, 1862 in WINCHESTER, VA, also in MILITARY HOSPITAL WHEELING, VA, at BULL RUN and WASHINGTON, D.C. anbd ISLAND HOSPITAL, VA in the service of the United States, in the War of the Rebellion, and served at least six months, and was honorably released at the close of the war in 1865.
That she is now 90 years old and unable to earn a support by reason of old age and debility.
That said disabilities are to the best of her knowledge and belief of a permanent character. That she is not a pensioner ... THAT SHE HAD 3 (the word "four" is scratched out) sons in the War, one was killed, one entirely disabled and the others more or less disabled.
That she has NOT been employed in the United States service as a nurse otherwise than as stated above.
That she makes this declaration for the purpose of being placed on the pension roll of the United States under the provisions of the Act of August 5, 1892.
Lydia W. Holliday
(Claimant's signature)
Attest: R. S. Taylor & Burk Watson
---
General Affidavit
State of West Virginia, County of Ohio, ss:
In the matter of pension of Lydia W. Holliday, late Army Nurse of U. S. Volunteers in War of 1861-65.
On this 11th day of March, A.D. 1893, personally appeared before me a Notary Public in and for the aforesaid County, duly authorized to administer oaths Dr. John Frissell aged 83 years, a resident of Wheeling, in the County of Ohio, and State of West Virginia, whose Post Office address is #52 - 14th St. Wheeling, West Va..... well known to be reputable and entitled to credit, and who, being duly sworn, declared in relation to aforesaid case, as follows:
Soon after the beginning of the Civil war, I Dr. Frissell, was appointed by Gov. Peirpont medical superintendent of the military prisners & sick soldiers of Wheeling & the surgeon-general of the Unites States Army, continued? me at the ---- with the rank of Assistant surgeon up to the close of the war.
I hereby certify that Mrs. Lydia W. Holliday was nurse in the Sprigg House Hospital for several months and also in the Atheneum Hospital for many months, during the war. She was probably over two years in actual service.
She was also called away for a time to serveral other places, one was to help take [care] of wounded soldiers at the battle of Winchester. - She was regarded the best nurse in Wheeling, & in that service most of the time during the war.
John Frissell, R.M.? M. D.
Assistant Surgeon at the Port of Wheeling During the war
I further declare that I have no interest in said case and I am not concerned in its prosecution.
John Frissell M.D.
---
Wheeling Nov -- 1893
Dear Sir:
I had intended to answer no more inquiries but you a stranger a gentleman I will answer some of your demands in the first place I was a volinter at the first tap of the Drum - for Lincoln call I threw myself into the work..... a city Sanitary fair and I was apointed Matron of the Hospital.. I worked 4 weeks and in that time I found out ------------------ the Doctor was a bad man he brought women of his own sort and I could not stand that so I left I could not (tell all?)
I was never --- month in one place I went wherever I was sent I was at Winchester first fight and -------- untill there was so many come I come back I was sent to ----- to take care of some sick that was left there when the regiment was called away we had a Hospital hear with a great many sick boath Union and Rebs the doctor in charge was apointed by the government his name was John Friezel he was buried last Sunday at the age of 84. I worked with him over two years when I was in town I had spend 3 days and nights at hard work and come home to rest before I got time to eat Col Hornbrook come with a dispatch from Gove Pearpont for me theay was fighting at Bull Run it being near car time I could not wait to eat I stayed thear and done what I could helping in the ---Hospital until? the one was plinty and I always thought Uncle Sam had enough to do without dead? heads? to keep my husband was in the Legislator and --- all inlisted and went after Morgan? my oldest son was with Col. Thoburn on business and was kild by a spy before he got home my Second son was at Fort Delaware loking after the governor? my 3 son is blind of one eye he was on the ---- my 4 Baby Boy was in two regiments in Ohio and was called home by the gov because he was a Virginia and was agetant of the 15th West Virginia and was luetont Col when came home he was in poor health He is dead His wife drew 25 pension until she was married now --------- the officer did not ----- much whin we went to work as theay do now I find it is not how much work you done or how --- was don But whear it was don.
Well I have pass my 91 mile stone and it will not be long that I would ned it but if you gentalmen think I am not worthy you know best.
So I supose this is the end of the Chapter and I am left out in the cold.
I fear you cannot read my Poor Scratch now may God Bless you and yours in the service of your old friend
Lydia W Holliday
You aske me if I got pay I never received on sent not even my expence paid but once
---
National Woman's Relief Corps Home
Madison, Ohio
Office of Chairman
Sanatoga, Pa., Nov 18th 1893
Hon Wm Lockren:
Commissioner of Pensions
Dear Sir: I am in receipt of a letter from Lydia W. Holliday Wheeling West Va No claim 1.143.758 enquiring as to why her pension does not come.
This woman who did service work in the war and gave three or four sons to the service is now 90 years old. If any thing is done for her it must be done quickly. Nearly every body in Wheeling is interested in her case and want to know why it is that she don't get her pension. I can not answer them.
Will you be kind enough to look into this case.
The Woman's Relief Corps and the GAR are helping her and they justly feel that what is done for her must be done quickly.
These old nurses have but few years before them. May they not look to you to do what you can to help them.
Yours With Great respect
Anie Wittenmyer
---
General Affidavit
State of Pennsylvania, County of Monroe, ss:
In the matter of Mrs. Lydia Holliday of Wheeling West Virginia
On this Eighth day of August A.D. 1894 personally appeared before me a Justice of the Peace in and for the County duly authorized to administer oaths, INDIA H. KELLEY aged 50 years, a resident of Philadelphia in the County of Philadelphia and State of Penna. whose Post Office address is the same... well known to me to be reputable and entitled to credit, and who, being duly sworn, declared in relation to aforesaid case as follows:
My father Col. Jacob Hornbrook was State Agent for the care of the sick and wounded in West Virginia soldiers, and I assisted him in his duties, and am personally cognizant of the fact that Mrs. Lydia Holliday of Wheeling West Virginia was a volunteer nurse giving her time, services and private means to help the sick and wounded union soldiers, serving without compensation. She was known to all sick or wounded soldiers as their devoted nurse.
This affidavit is written by me in my own handwriting.
I further declare that I have no interest in said case and am not concerned in its prosecution.
India H. Kelley
---
Affidavit
Moore's Windsor Hotel
Philadelphia, Dec 10/94
In answer to an enquiry about Mrs. Holliday, I saw her at work at Wheeling and at Winchester Va., after the Winchester or Kernstown fight. I had no means of knowing how she was appointed but presume she was one of the patriotic Volunteer nurses giving her time & services without pay for the love of country, & I am sure more deserving than many of the regularly paid nurses who made it a business and were only actuated by a desire for pay. Undoubtedly she must have had some authority, most probably from Gen. Kelley but of this I cannot speak positively. I can at this time only recall the fact of her service.
I am respectfully
John G. Kelley
Lt. Col. Commdg
7th W. Va. Infty
---
---
Nurse Orig. 1143758
[Private-No. 266]
An Act Granting a pension to Lydia W. Holliday.
Be it enacted by the Senate and House of Representatives of the United States of America in Congress assembled, That the Secretary of the Interior be, and is hereby, authorized and directed to place the name of Lydia W. Holliday, of Wheeling, Ohio County, West Virginia, late army nurse in the army hospitals of the United States Volunteers, in the late war, from eighteen hundred and sixty-one to eighteen hundred and sixty-five, on the pension roll, at twenty dollars per month from and after the passage of this Act.
Approved, March 3, 1897.
Department of the Interior,
March 10" 1897

---
Pensioner Dropped
U. S. Pension Agency,
Washington, D. C.
May 28, 1900
Certificate No. 927775
Class ARMY NURSE
Pensioner LYDIA W. HOLLIDAY
Service NURSE MED. DEPT. U.S. VOLS.
Hon. Commissioner of Pensions:
SIR: I have the honor to report that the above-named pensioner who was last paid at $20, to 4 Sept 1899 has been dropped because of DEATH Oct. 24 - 1899.
Signed by Pension agent, name illegible.
---
Lydia's Sons in the Civil War
In her letter to the Pension Commissioner, Lydia refers to her four sons. In another document she says three served in the Civil War.
Lydia Holliday's oldest son, W. W. Holliday, was a Wagonmaster for the 1st W. Va. Infantry and was apparently killed while serving in that capacity. However, he is not officially a soldier.
A Wheeling Intelligencer reporter with the 1st Infantry wrote on May 24, 1862: "I heard one of our Wheeling men remark that he had complained of paying taxes to build these roads, but was now glad that he had done so, as we were now getting the benefit, without paying toll. I know the prince of Wagonmasters, W. W. Holliday, has had no occasion to regret the turnpikes of Eastern Virginia....."
In 1873, Annie D. Holliday, widow of William W. Holliday, applied for a government Widow's Pension, based on his service with the 1st Infantry. However, the Adjutant General's Office, Washington, D. C., reported, "The name of William W. Holliday is not borne on any rolls of the Field & Staff of the 1st W. Va. Vols. on file." The widow received no pension certificate.
In her application, Anna D. Holliday stated that her husband was "a Wagon Master in Company commanded by ... Wm. T. Singleton Qr. Master, in the First Regiment of West Va Infty Vols, commanded by Joseph Thoburn, in the war of 1861. That her said husband died at Wheeling, in the State of West Va, on the 3' day of July A.D. 1862 from the effects of a wound recd in the line of his duty." He was serving as the Wagon Master but was not officially enlisted. - The Regimental History book of the 1st Infantry, compiled by C. J. Rawling, is presented by this writer, here: http://www.lindapages.com/wvcw/1wvi/1wvi.htm - Chapter 15 (XV) states: "In passing through the Gap, the wagons being in rear of the regiment, Wagon-Master Holliday, on horseback in rear of the train, was very much annoyed by the driver of a team in the train behind him, belonging to Robinson's Ohio Battery. This man repeatedly drove the tongue or pole of his wagon into the flanks of the wagon-master's horse. Holliday finally warned him that if he repeated it he would knock him out of the wagon. The warning did not serve to prevent it, for shortly afterwards he repeated it. Holliday thereupon jumped off his horse, and, picking up a good-sized stone, hurled it at the driver, just missing his head. The man sitting with the driver, Bollman by name, said at the time to be from Portsmouth, Ohio, pulled out an old-style holster pistol, and, taking deliberate aim, fired at Holliday, striking him fair on the temple, inflicting a mortal wound. Holliday was taken to Markham Station, placed in a car, and, in charge of a brother-in-law, taken to his home in Wheeling, where he died a few days afterwards. This was a great loss to the regiment, as Mr. Holliday was possessed of great energy and excellent judgment; the men never suffered for subsistence or supplies of any kind if it depended upon him. There were but two or three witnesses to the affair, the column just ahead of the wagons having been halted to afford the men an opportunity to gather wild strawberries, which grew in great abundance thereabouts. The man (Bollman) escaped to the woods, and though Company A scoured the country he got away. It was well for him that he was not caught."
Anna D. Holliday states that her maiden name was BALTZELL. She was married to William W. Holliday, 12 Dec 1850, by J. F. McClure, a Minister of the Gospel, in Wheeling. Their children were: William P., born 28 Sep 1851; Charles, born 9 Jul 1855; Eva, born 28 May 1858; Wils. Anna, born 8 Jan 1861.
According to Lydia's letter, her second son, which would be Thomas, "was at Fort Delaware looking after the governor." No other details of his service are known at this time.
Lydia stated that her third son, Harry C., was blind in one eye, so he may not have served. According to Carol Scott, a descendant, there was an inherited form of blindness in this family.
Lydia's fourth son, John W. Holliday, was a Lt. Colonel in the 15th W. Va. Infantry. He enlisted 5 Sep 1861 and served as a Sergeant in Company "G" of the 2nd Ohio Infantry Volunteers. He was "discharged to date September 19, 1862 for promotion to 1st Lieut. & Adjt. 15th W.Va. Vols." ... "was injured at the battle of Cedar Creek on the 19th day of October 1864, by being beaten over the head and heart by a rebel soldier during an engagement at said place causing weakness of his lungs of which he continued to suffer until date of his death.. he had while in the service a sever [sic] attack of Typhoid Fever & he died from the effects of said sickness on the 27th day of November A.D. 1882 at Steubenville, Ohio." - The G. A. R. Post in Wheeling, W.Va. was named in his honor. His wife was Marinda C. Patton, whom he married in Sardis, Monroe County, Ohio on 10 Jan 1865. They had one child, a daughter, Elvira J., born 13 Sep 1866.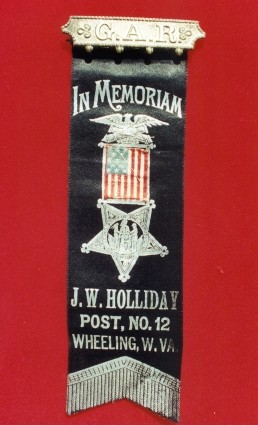 From the Civil War Collection of Linda Fluharty.
---
OBITUARY
From "Wheeling Register" - Oct. 6 (?), 1899 [Pension file gives 24 Oct 1899 as death date.]
"MOTHER HOLLIDAY DEAD"
(Submitted by Phyllis Dye Slater.)
She was probably the oldest resident of Wheeling.
Passed away peacefully yesterday morning at the age of ninety-seven -- something of her useful and active life -- possessed an excellent memory -- the Holliday generation.
Mrs. Lydia W. Holliday, well known to many as "Mother" Holliday, died from the infirmities of her advanced age at the residence of her son, Harry C. Holliday, of South Eoff street, yesterday morning at 8:15 o'clock. The deceased observed the ninety-seventh anniversary of her birth on the 15th of last month, and was therefore probably the oldest resident in the city. It may be truthfully said that she possessed all the traits of true womanhood, endearing her to the hearts of all with whom she became acquainted. She was taken ill on Wednesday of last week, and from then on became worse gradually. Early Wednesday morning she went to sleep and remained in this condition until yesterday morning, when she passed peacefully away. The news of her demise soon became known and occasioned a profound sense of regret among her many friends.
Mrs. Holliday was born in Columbia county, Delaware, on September 15th, 1802, and was the daughter of Mr. and Mrs. Samuel Wilson. It was in 1811 that, in company with her parents, she went to Freeport, Harrison county, O. to reside. At the latter city in 1822 she was married to W. R. Wilson [Error: Holliday]. In 1833, accompanied by her husband, she came to Wheeling, and here spent the remainder of her life. Her husband, who has been dead for some years, was in the service of the government, being surveyor of this port for two successive terms under President Grant. Her father, Samuel Wilson, was a wood contractor. She was the mother of seven children, only three of whom are living. The surviving children are Harry C. Holiday, Mrs. Sarah Connolly, mother of Hon. Benjamin Connolly, and Mrs. F. H.[error: Thomas H.] Higgins, mother of Will and Miss Bessie Higgins and Mrs. A. L. White, all of this city. Mrs. Connolly, who is the oldest of the children seventy-eight years of age.
The four children that have died were Mrs. Rebecca Lancaster, W. W. Holliday, T. J. Holliday and John W. Holliday. The latter was colonel of the Fifteenth West Virginia regiment during the Civil War, and died in 1884, at the age of forty-five. He has one daughter living in Steubenville, Ohio. W. W. Holliday died here in 1863 and was thirty-six years old. T. J. Holliday died at Columbus, Ohio, three years ago, in the sixty-fourth year of his age. He is survived by a daughter, Mrs. Mary Give, of Cleveland, Ohio, who is the mother of two children. Mrs. Rebecca Lancaster, who was forty years old, at the time of her death, left two daughters, Mrs. Analisa Moore and Mrs. Mary Blair. The former resides in California and has a son and daughter,, and the latter lives at Denver, Colo., and is the mother of three children. Mrs. Holliday was a sister of W. P. Wilson, who died here in 1875, aged seventy-five years. It was for Col. John W. Holiday that Holliday Post, G.A.R., of this city was named.
Mrs. Holliday became quite prominent in this section during the civil war through her untiring efforts to alleviate the hardships and sufferings of the soldiers. She rendered aid to many veterans in their hour of need and they in expressing their appreciation of her kindness, fittingly termed her "Mother". Her life was a most useful and active one.
Unlike many others who attain a great age, "Mother" Holliday maintained full possession of her faculties and she was ever able and delighted to recount to those about her many incidents of interest of her early life, manifesting a remarkable memory. She was a member of the First Christian Church and was its oldest member in this city.
The arrangements for the funeral will be completed to-day. The interment will likely be made at Mt. Wood cemetery and members of the Grand Army will act as pall-bearers.

---
BIOGRAPHY OF WILLIAM R. HOLLIDAY
From HISTORY OF THE PAN-HANDLE, West Virginia, 1879,
by J. H. Newton, G. G. Nichols, and A. G. Sprankle; page 263
WILLIAM R. HOLLIDAY came to Wheeling in 1833. He was born near Carlisle, Cumberland county, Pa., in 1800. His parents were Robert and Rebecca H., who settled in Jefferson county, Ohio, in 1808. The former died in Belmont county, Ohio, in his ninety-fourth year; the latter died in 1826, at the age of sixty-two. Our subject, prior to his arrival at Wheeling, was a farmer, but since that time has been associated with the manufacturing and government interests. He was connected with Ritchie and Wilson and Sweeney's establishments for over fourteen years. He acted as United States inspector of tobacco and cigars for four years. For eight years he served as surveyor of customs. He is now the deputy surveyor of the port, retiring from the former position on account of age. He was married in 1822, to Lydia, daughter of Samuel and Sarah Wilson, of Harrison county, Ohio.
---
BIOGRAPHY OF W. H. HIGGINS
From "History of Wheeling City and Ohio County,
West Virginia and Representative Citizens,"
by Hon. Gibson Lamb Cranmer, 1902; pp. 468, 471
W. H. HIGGINS, assistant secretary and treasurer of the Wheeling Steel & Iron Company, has filled that office for the past three or four years. He was originally employed at the Benwood Iron Works, which were afterward consolidated with the Wheeling Steel & Iron Company. He began to work as a clerk in the Benwood Iron Works in 1881.
Mr. Higgins was born at Wheeling, West Virginia, and is a son of T. H. and Mary (Holliday) Higgins, and grandson of Bernard and Ann Jane (Rankin) Higgins.
Bernard Higgins was a native of Ohio county, where he was born in May, 1809. He was engaged in many different lines of business during his life of seventy-two years. He was united in marriage with Ann Jane Rankin at Wheeling. She was a native of Ireland, and died at the home of her daughter in Richmond, Virginia, in 1890, aged seventy-nine years.
T. H. Higgins was born in Ohio county in 1838, and was reared and schooled in Wheeling. When but a boy he became interested in photographing, and engaged in 1856, with A. C. Partridge, with whom he remained four years, and then commenced business for himself. He was engaged in this business until 1898, when he retired, and since the spring of 1900 has occupied a position as bookkeeper in the office of White & White, brokers. He was joined in marriage with Mary Holliday, a daughter of W. R. and Lydia (Wilson) Holliday. Mrs. Lydia Holliday, a descendant of James Wilson, who signed the Declaration of Independence, was very prominent during the Civil War, and belonged to one of the earliest families of Wheeling, having come to this city in 1830 or 1832. She lived to the very advanced age of ninety-seven years and was familiarly known during life as "Mother" Holliday. W. H. Higgins' mother was born at Wheeling, and she and her husband resided, until 1893, in the fifth ward, but at present live on the Island. To their union were born three children, - W. H., Mrs. A. L. White and Bessie M. In political opinions, Mr. Higgins has always been a Republican. Fraternally, he is a member of Virginius Lodge, No. 2, I. O. O. F., having joined that lodge over twenty-five years ago; he has passed through all the chairs, and has been treasurer since 1876. He and his family attend services at the Christian church.
Mr. Higgins was reared in Wheeling, and obtained his early mental instruction in the common schools of the city. He married Emma V. Johnson, a daughter of W. D. Johnson, a tinware dealer in Wheeling. He and his wife have been blessed with two children, - William and Virginia. The family reside at No. 135 South Penn street, on the Island. In political opinions, Mr. Higgins is Republican, and has served as a member of the city council from the seventh ward. Fraternally, he is a member of Wheeling Lodge, No. 23, A. O. U. W., of which he is a past master, and of Wheeling Lodge, No. 6474, Modern Woodmen of America. He is also a member of the grand lodge of the Ancient Order of United Workmen, of West Virginia, filling the office of grand receiver, which he has occupied since April, 1898. Mr. Higgins is an honest and dutiful citizen, and is highly esteemed by his employers and his friends.
---