EZEKIEL ASHCRAFT, Company "G"
---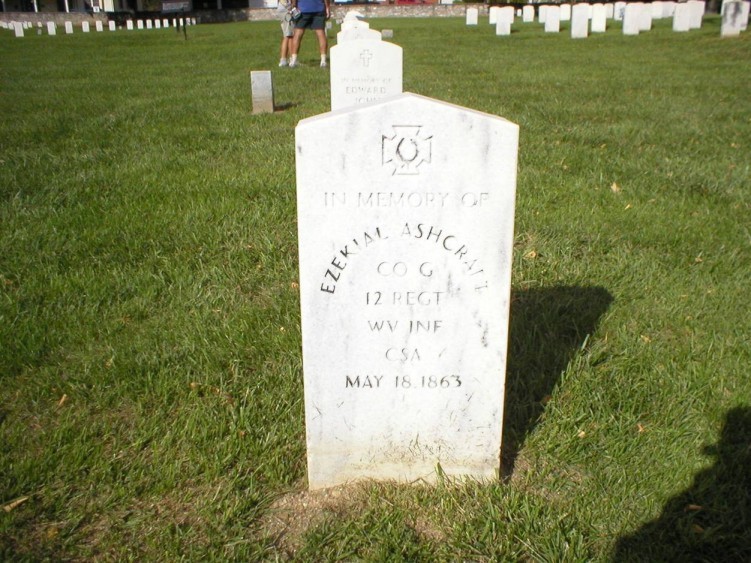 Grave at Winchester National Cemetery.
Photo submitted by Darl Stephenson.
NOTE: According to Darl Stephenson, this grave marker is relatively new. It is fine except for the fact that it says "CSA," which is CONFEDERATE. The 12th West Virginia Infantry was a UNION regiment, so this soldier is not being properly memorialized with a CSA inscription on his stone.
---
Submitted by Dorothy Nay & Sherry Symmons.
Ezekiel Ashcraft, born in 1836, was the son of Ezekiel Ashcraft, born April 21, 1799 in Marion County, W.Va., and Jane Nay, born 1789 in Culpeper, Va. Ezekiel Sr. and Sarah Nay were married May 1, 1823; he died June 16, 1880.
Ezekiel, Jr. married Eleanor Drane February 17, 1853 in Harrison County, W.Va. Eleanor was the daughter of Azariah and Polly (Nay) Drane. Levi Shinn performed the marriage.
The children of Ezekiel Ashcraft and Eleanor Drane:

Mary Jane, b 12-18-1854; m 2-9-1871 Richard Owen Martin; d 11-17-1919
John Fletcher, b 11-8-1856; m 9-23-1877 Martha Miller; d after 1900
Louisa V, b 6-8-1858; m 7-1-1875 Arthur A. Hagerty; d 12-14-1929
George W, b 10-30-1860; m 1-4-1880 Alice Louisa Harvey; d 8-14-1899
Francis S., aka Francis M (Marion), b 2-23-1862; m 7-4-1884 Melvina Miller
Following Ezekiel's death, Eleanor applied for a government pension. The following information was gleaned from the file:

Mr. Bryan, late surgeon of the 12th WV Regt, certified that Ezekiel died in hospital of disease contracted while a soldier in military service.

Application of Guardian of Minor Children May 1, 1869 - filed by Elam F. Pigott
Eleanor was living in Lumberport, Harrison Co, W.Va.

Minor children were:
Mary Jane b 12-18-1854
John Fletcher b 11-8-1856
Louisa V b 6-8-1858
George W b 10-30-1860
Francis S. b 2-23-1862

Eleanor (Drane) Ashcraft married Albert N. Crim on February 9, 1869. She died April 29, 1911.
---