JOHN A. CHRISMOND, Company "A"
---
National Archives Pension File
(Partial) - Obtained by Linda Fluharty.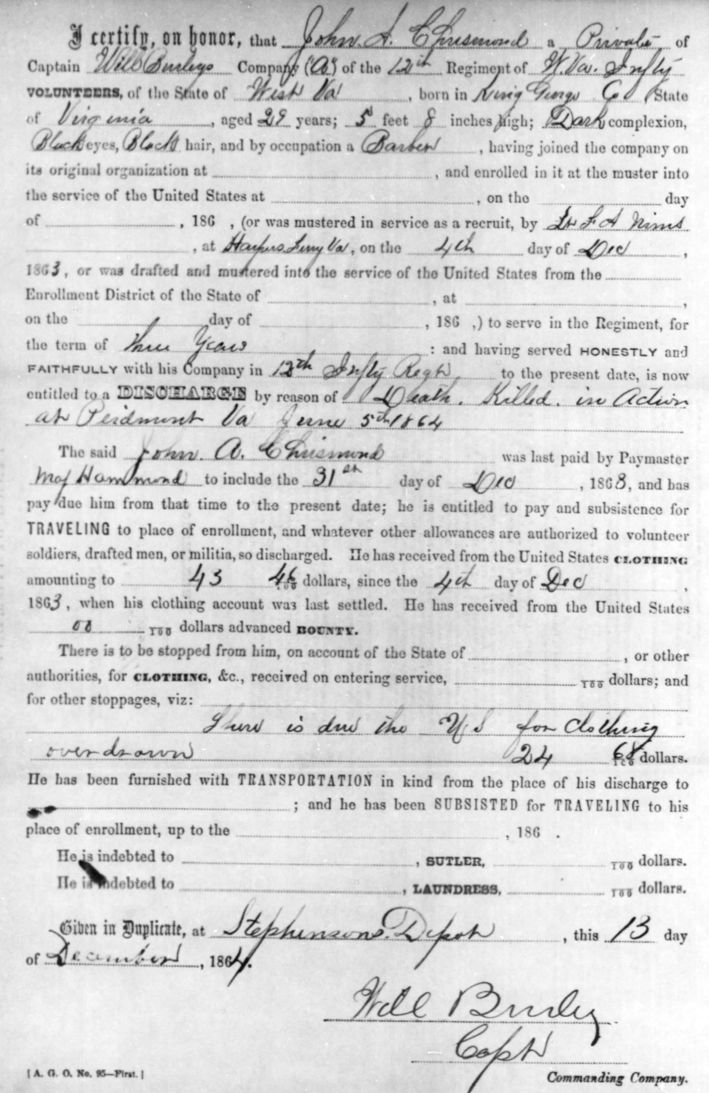 He was actually KIA at New Market on May 15, 1864.
John A. Chrismond, a barber, was born in Alexandria, Virginia. He enlisted in Company "D" of the 7th Maryland Infantry at Baltimore on 10 Nov 1862 and then deserted 11 June 1863. It appears he was arrested in Washington, D. C. in Nov 1863. He might have also been in the 7th New Jersey Infantry early on, unless that is an error. However, he ultimately joined Company "A" of the 12th West Virginia at Harper's Ferry in Dec 1863. He lost his life at New Market on May 15, 1864. [His Service Record lacks details and contains conflicts, and the complete pension file was not obtained.]

The wife of John A. Chrismond was Mary Finley, whom he married on May 11/12, 1857 at Arlington, Virginia.

At the time of the 1860 Federal Census, John and Mary Chrismond lived in Alexandria, Virginia with their son, Arthur, age 2.
Original Pension of Minor Children
Arthur Mason Chrismond child of John A. Chrismond, Rank: Private, Company "A", Reg. 12th W Va. Vols. claimant. Residence of clmt. Mt. Pleasant, County and State of D. C. Post office Mt. Pleasant, D. C. Widow remarriage.

Arthur M. born Oct 25, 1858 will be sixteen on Oct. 24, 1874

Enlisted Dec 4, 1863
Death May 15, 1864
Cause of death: killed in action
Place of death: New Market
Last marriage May 12, 1857

---

Marriage License of Widow.

Virginia, Alexandria County, to wit:
To any person licensed to celebrate marriage:
You are hereby authorized to join together in the Holy State of Matrimony according to the rites and ceremonies of your Church, or religious denomination, and the laws of the Commonwealth of Virginia, James Wm. Haywood and Mary Ann Chrismond.
Given under my hand, as Clerk of the County Court of Alexandria County, on this 24 day May 1869.

Time of Marriage, May 24, 1869
Place of Marriage, Alexandria, Va.
Full Names of Parties Married, James William Haywood & Mary Ann Chrismond
Age of Husband, 28 years
Age of Wife, 24
Condition of Husband, widowed
Condition of Wife, widowed
Place of Husband's Birth, Alexandria, Va.
Place of Wife's Birth, Alexandria, Va.
Place of Husband's Residence, Alexandria, Va.
Place of Wife's Residence, Alexandria, Va.
Names of Husband's Parents, Nathaniel & Mary Jane Haywood
Names of Wife's Parents, Unknown
Occupation of Husband, laborer

Given under my hand this 24 day of May, 1869.
---