JOSHUA D. FORTNEY, Company "G"
---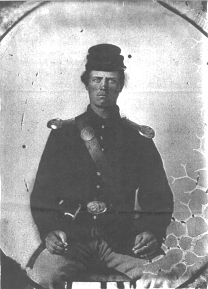 Joshua Dale Fortney
(Photo from Dept. of the Army)
---
According to the marriage and census records of Harrison County, W.Va., Joshua D. Fortney was the son of Jacob D. Fortney and Mary Shreves, who were married 23 Dec 1841. On 30 Jul 1863, Joshua D. Fortney, 20, married Mary J. Gifford, 19. She was the daughter of John Gifford and Melinda Stout who were married in Harrison County on 18 Dec 1836.
1860 Census:
Jacob D. Fortney, 39, Laborer
Mary, 39
Joshua D., 17
Nancy H., 16
Elihu T., 12
Mary A., 10
Ellis R., 7
Winfield S., 6
Martha, 3
Jacob S., 2.

1870 Census:
Joshua D. and Mary J. Fortney, both 27
Franz M., 6
John W., 4
Jacob D., 4
Mary M., 1.

1880 Census:
Census Place: Eagle, Harrison, West Virginia
Source: FHL Film 1255403 National Archives Film T9-1403 Page 152B


Joshua D. FORTNEY, 42, farmer
Mary J. FORTNEY, Wife, 43, Keeping House
Franz M. FORTNEY, Son, 16, Works on Farm
John W. FORTNEY, Son, 14, Works On Farm
Jacob D. FORTNEY, Son, 13, Works On Farm
Mary M. FORTNEY, Dau, 11.
Nancy H. FORTNEY, Dau, 9.
Ellis E. FORTNEY, Son, 6.
Taylor P. FORTNEY, Son, 4.
Ward B. FORTNEY, Son, 2.

1890 Special Census, Harrison County, WV
Fortney, Joshua D., Pvt., 12 West Virginia Infantry, 8/63 - 3/64. Disability incurred: heart Disease.

---
Submitted by Dorothy Nay & Sherry Symmons.

From The Fortineux-Fortinet Family in America

Joshua Dale Fortney was born 11-17-1842 Harrison Co., WV, the first son of Jacob Dale Fortney and Mary Polly Shreves.

Facts:
Joshua was a Farmer, Timber Rafter, Hunter and Fisherman
Died 9-8-1901 in Little Rock, Ark. Buried on his farm.
He married Mary Jane Gifford b. 8-5-1843.
Married on 7-30-1863 Harrison Co, WV.
He was a veteran in the Union Army.
He was a Baptist in faith and a Republican in politics.


Joshua lived on a number of farms in Harrison County, WV, the first two being Isaac Creek and Ten Mile Creek. The last one in Harrison County, was on Wolf's Pen Run. This run was known as Denhorn Hollow, two miles southeast of Lumberport. He enlisted in the Union Army on 12-12-1863 at Wheeling under the command of Captain Moffit and was in several battles. Joshua was high tempered and fearless, as well as a good hunter. When he aimed at a squirrel's eye with his muzzleloading riffle, he usually got his game. He was also a good fisherman and caught many pike in the West Fork River.

Joshua moved to a farm near Little Rock, Arkansas on April 15, 1901. He farmed that summer, then he suddenly became ill and died September 8, 1901. Jacob Dale, his son, was notified of his sickness and he went down but his father was dead when he arrived. Joshua was buried on the farm on which he lived.

Jacob sold all the belongings and brought Mary Jane, his wife, and the two small children, back to Harrison County, WV, where they lived among relatives. They had 11 children.

The Civil War Service Medal, issued by the state of West Virginia, was claimed by his great grandson, James Darrell Fortney.
---
Retrieved, transcribed & submitted by Nanci Headley Kotowski
THE FORTNEY TRIAL.
The Clarksburg Telegram, Clarksburg, W. Va. - 19 May 1893
The important case of this term of our circuit court was the prosecution of Mr. Joshua D. Fortney for the shooting of Austen A. Swiger on July 2, 1892. The details of the affair appeared in the columns at the time of the shooting. It grew out of a general row in which several parties participated. Fortney was stabbed several times and retaliated by shooting Swiger in the bowels, producing a wound that came near being fatal - in fact, Swiger's recovery is regarded as a miracle. Ex-prosecuting attorney Clifford, Hon. Ben. Wilson and Melville Sperry, represented the State and Hon. B. B. Dovener, Hon. J. J. Davis and Mr. E. G. Smith, appeared to defend Mr. Fortney. Thus it will be seen that the ablest legal talent of the State was employed on both sides.
Large crowds attended the trail, which lasted almost seven days.
The jury brought in a verdict of "guilty of assault" on Thursday morning. This practically is an acquittal but the defense not being satisfied with this seemingly lenient verdict have moved for a new trial based on the ground that one of the attorneys for the state had "shaken hands" with two of the jurymen.
JOSHUA D. FORTNEY DEAD.
The Clarksburg Telegram, Clarksburg, W. Va. - 23 Aug 1901
Jacob D. Fortney, of Lumberport, received a telegram at noon Tuesday from his mother, announcing the death of his father, Joshua D. Fortney, in Purdy, Arkansas, and he left for that place Tuesday night. Mr. Fortney went to Arkansas the first of last April with his wife and two youngest children on a vacation and a prospective tour, expecting to locate there if the country pleased them. The cause of his death has not been learned but he probably died from heart trouble, an affliction he has had for years. He was born and reared near Lumberport and resided there until he went last spring. He was one of Harrison county's very best citizens, a very substantial farmer and a loyal republican. He was 59 years of age. A large family survives him.
CAUSE OF JOSHUA FORTNEY'S DEATH
The Clarksburg Telegram, Clarksburg, W. Va. - 6 Sep 1901
Joshua D. Fortney, of Gypsy, West Virginia, died at Purdy on August 19, of fecal impaction which produced appendicitus [sic] and fatty degeneration of the heart. Doctors Youngblood and Massie, of Huntsville, and Hill, of Marble, held a post mortem examination which confirmed the above diagnosis. Mr. Fortney was a respected citizen in the community in which he lived, was a soldier of four years' service in the late war, and came to Purdy last March with the intention of residing there one year on trial, and if he was sufficiently satisfied at the end of that time he would locate permanently. We regret the loss of a valuable citizen, and extend sympathy to his family, who we understand will return at once to West Virginia.--Huntsville, Ark., Republican.
---