JOHN O. FORTNEY, Company "G"
---
John O. Fortney was the son of Joshua N. Fortney and Catharine Orr. His father died 26 Sep 1854 and John appears in the 1860 census of Harrison County, living with his mother and his brothers, George and Seth. George, Seth and John served together in Company G during the war.

Marriage record listed in the Harrison County Marriages book by Wes Cochran: John O. Fortney, 26, born Harrison, son of Joshua & Catherine, married Catherine V. Fortney, 17, born Preston, residing Harrison, dau of Jonothan and Nancy - 10 Sept 1863.

Eagle District, Harrison, West Virginia, 1880 Census
John O. FORTNEY, 42, Farmer, Single
Seth F. FORTNEY, Brother, Single, 37, Farmer
---
Submitted by Dorothy Nay & Sherry Symmons.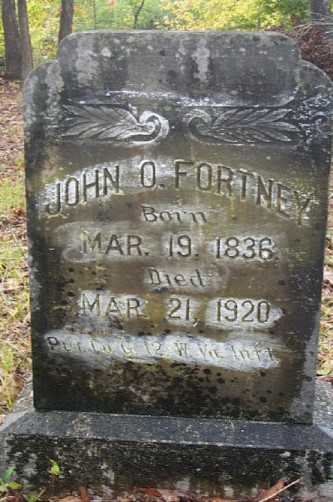 Photo by Bill & Sue Avery - Hot Springs Village, AR
John O. Fortney was born March 19, 1935 on Piggot's Run, Harrison Co, WV. He was the son of Joshua N. Fortney and Catherine Orr. Catherine was the daughter of John Dale Orr and Elizabeth Johns. John Dale Orr was in the Revolutionary War. His mother was the sister of Commodore Richard Dale who served with John Paul Jones.
During the Civil War John O. served in Co. G. 12th WV INF with brothers George W. Fortney and Seth F. Fortney. After the death of his wife Alice Fortney in West Virginia, he moved to Holden, Johnson County, Missouri, with his son, George Alfred Fortney, born January 18, 1875 at Prospect Valley, Harrison Co, WV. They moved around 1903 and lived together. John O. Fortney died at Hot Springs. He is buried in Medlock Cemetery, Garland County, Arkansas. His grave shows Pvt. 12th WV Inf.
George Alfred Fortney served in the Spanish-American War and was in Co. G. 2nd WV Infantry until August 10, 1899. George A. Fortney was buried with Military Honors in Blackwater Cemetery in the Fortney Family plot, Johnson County, Missouri.
---