RUFUS E. HARR, Company "A"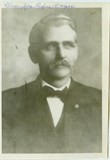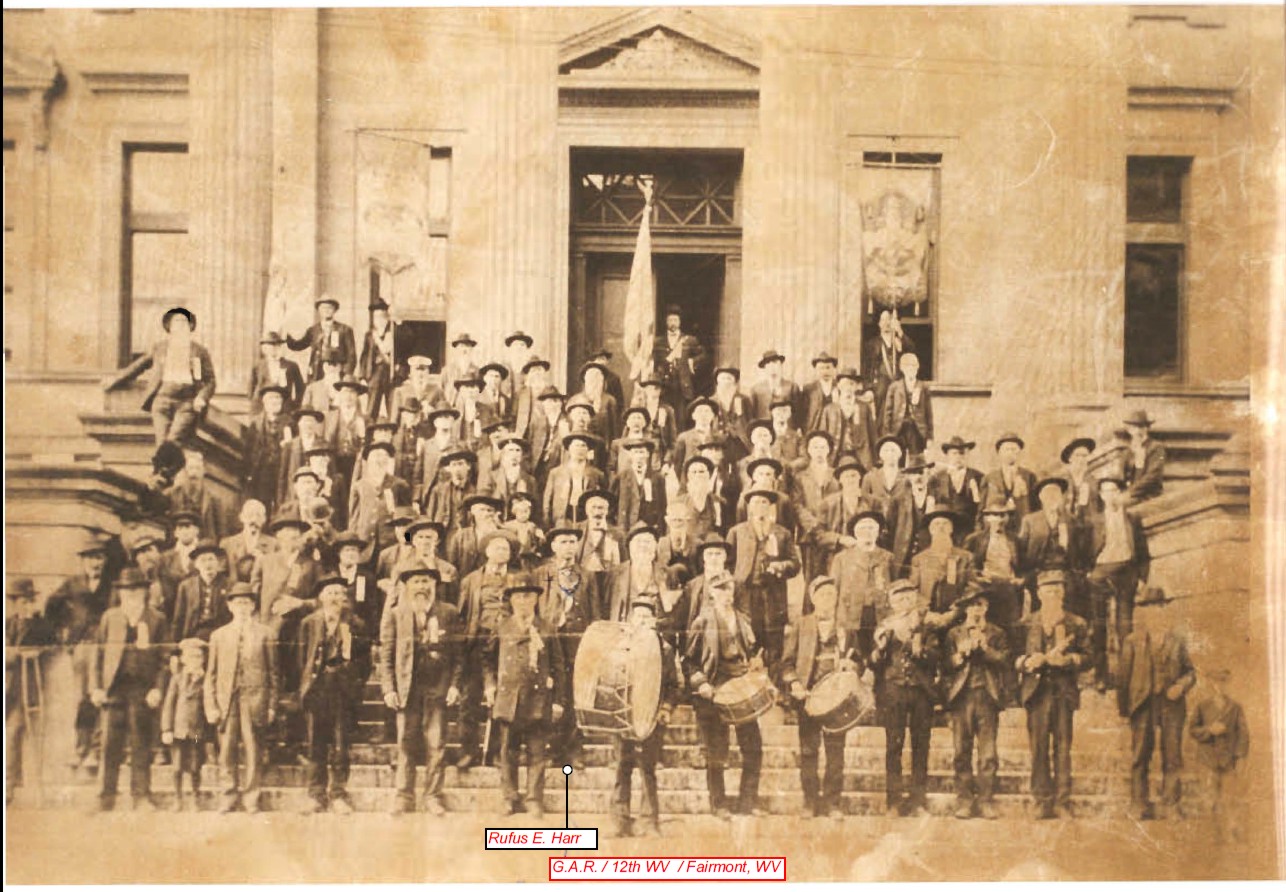 ---
Submitted by Charlie Robinson.
Date of Birth: 22 May 1846
Date of Death: 17 Jun 1920
Place of Birth: Marion Co. VA/WV
Place of Death: Fairmont, WV
Place of Burial: Maple Grove Cemetery, Fairmont, WV
Residences: (1.) 502 Chestnut Ave, Fairmont WV, 1920, (2.) RFD # 6, Marion County, WV, 1912
Parents: Merrick R. Harr & Sophia Stark
Married: Mary Louise Thomas, 29 August 1867, Palatine, WV - Rev W. L. Hindeman, M & E Church

Children:
1. Albert - b. 11 Sep 1868
2. Willie T. - b. 11 Apr 1870 - d. 28 June 1870
3. Evvie S. - b. 13 Mar 1872
4. Maggie - 24 Oct 1873
5. Frederick S. - b. 12 Jul 1875 - d. 17 May 1922
6. Frank R. - b. 22 May 1877 - d. 22 May 1947
7. Annie - b. 1 May 1881 - d. Jul 1953
8. James Hugh - b. 23 Jan 1880 - d. 8 Feb 1942
9. Ellie D. - b. Jun 1887
10. B. Fillmore - b. 23 Mar 1884
11. Lillian - b. 26 Mar 1889
12. Nola - b. 6 Sep 1891 - d. 6 Mar 1893
Military Service: 12 West Virginia Infantry, Co. F. Enlisted Wheeling, VA/WV 4 Aug 1862, age 16, under Captain Francais Pierpoint. Mustered out Richmond 16 Jun 1865
Occupation: teacher; farmer; general business under Thomas & Harr; banker, (President of Monongalela Bank of Fairmont)
Political Service and Affiliation: Republican; West Virginia House of Delegates 1907-08; Fairmont City Council
Other Organizations: Grand Army of the Republic (G.A.R.)
Other Information: Father died when he was 6. Two children died in infancy; 5'8"; dark complexion; blue eyes; "E" might stand for Edward

Sources: Fairmont Times, 17 Jun 1920
Genealogical and Personal History of the Upper Monongahela Valley
History of the Twelfth West Virginia Volunteer Infantry, William Hewitt
Manual of the State of West Virginia for the Years 1907-1908
Ruth Newhouse, 1600 M. L. Retton Dr., Fairmont, WV 26554

---
OBITUARY
In the death of Mr. Rufus E. Harr, Fairmont loses a good citizen, an upright man, a courteous and kindly gentleman whose influence and example were ever an inspiration to those who came in contact with him as a neighbor, a friend and a leader in the community and the circle in which his activities are pronounced. At the age when most boys are seeking an education Mr. Harr was called for service in the army during the hazards and stress of the civil war. He promptly responded to the summons and for three years, in the famous 12th regiment of West Virginia Infantry, he participated in struggles and hardships of the memorable campaigns in the Shenandoah Valley of Virginia. When the war was over he returned home and anxiously sought to make up for lost time in completing his education. The facilities for education were meager in those days but he availed himself of every avenue that was presented, and by application and industry, succeeded in acquiring more than a common school education. He became a teacher and taught one of the first, if not the first, free schools that was established on the east side of the river in what was then known as Palatine. He continued to teach at intervals for a number of years but gradually withdrew from that business to take up farming and general business in which by frugality, industry and good business judgment he was able to acquire a competency. While never an office seeker he was frequently selected by his fellow citizens to represent their interest in public places. He was a member of city council on several occasions and represented Marion county in the House of delegates always bringing to an official position the same earnest, painstaking and honest effort that he put into his own business. In church and Civic activities he was a counselor and a leader that never relaxed interest in the things that made for the betterment of the community up to the day of his death. This is but a brief tribute to a man of whom it can truly said " the world was better for his having lived in it". He was modest, unostentatious and honest, possessing the confidence and respect of everyone who knew him, and no higher eulogy than this can be paid any man. He will be missed in the community, and doubly missed by those connected with him by ties of relationship and intimate friendship.
---
BIOGRAPHY
RUFUS E. HARR (Republican), was born in Marion county,Virginia, on the 22nd day of May, 1846, and was educated in the common schools of his native county. He has held the following offices: Township Clerk; Overseer of the Poor; clerk of the Board of Overseers of the Poor. Overseer of Roads; member of the common council of the City of Fairmont. He represented Marion county in the Legislature, Session of 1907. He served on the committees on Education; on Counties, Districts and Municipal Corporations: and mining. He is President of Monongalia Bank of Fairmont.
---
BIOGRAPHY (2)
From: Genealogical & Personal History of the Upper Monongalia Valley,
West Virginia, by Bernard L. Butcher, 1912.

Submitted by Linda Fluharty.

HARR - Among the military characters in West Virginia, who served his country almost three years during the civil war, under Generals Milroy and Sheridan, is Rufus E. Harr, born in Marion county, Virginia, May 22, 1846. He is the son of Merrick R. and Sophia (Stark) Harr. The father was a farmer who died when his son was only six years of age. The mother died in 1871. Thus early in life Rufus E. Harr was thrown on his own resource, being tenderly cared for by his mother, and both had a struggle to maintain themselves after the passing away of the father and husband.
After attending the common schools in his native county, Rufus E. Harr worked at various things until the civil war came on, when he tendered his services to his country. He enlisted when only sixteen years of age in Company F, Twelfth Regiment, West Virginia Infantry, under Colonel Curtis. He was with Hunter during his raid, and in December, 1864, was removed to the front of Richmond where his command remained until the following March. They were later engaged at Hatcher's Run. April 1, he was present at the storming of Fort Gregg, in front of Petersburg, considered the key to the military situation. Their corps commander was General Gibbons, and soon after the Twelfth Regiment was presented with a golden eagle, mounted on a globe, with the following Inscription on the globe: "Presented to the Twelfth West Virginia Infantry, by Maj-Gen. Gibbons who was their corps commander, for gallant conduct in charging Fort Gregg, in front of Petersburg, on April 2, 1865." The regiment (what there is left of it) are very proud of this globe and inscription and preserve it with great care. Before Mr. Harr had reached his nineteenth birthday he had passed through that great war for the preservation of the union and been honorably discharged from the service of his country. He had three sons in the late Spanish-American war, and has safely placed the five honorably discharged (his own and his sons papers) in the safety vaults of his bank.
After his return from the war Mr. Harr followed farming during the summer and taught school in winter, continuing thus for thirteen years. After that he devoted all of his time to farming and stock raising up to 1891, when he removed to the city of Fairmont, where he erected several residences. Later he engaged in the mercantile business under the firm name of Thomas & Harr, continuing until April 1, 1911. In 1903 he assisted in organizing the Monongahela Bank of Fairmont, with a capital of $50,000. He was selected as one of the directors and also its president at the date of its organization, and still holds such responsible position. This banking house is in a flourishing condition, paying a three per cent semi-annual dividend. At the election in November, 1906, Mr. Harr was elected as one of the delegates from Marion county to the West Virginia legislature and served in the regular session of 1907 and in the called session of 1908. He is a Republican in politics.
Mr. Harr married, August 29, 1867, Mary L., daughter of Richard and Hannah Thomas, of Marion county, West Virginia. The children of Mr. and Mrs. Harr are: 1. Albert. 2. Maggie, wife of Mr. Gilhart, residing in Fairmont. 3. Fred S., of Fairmont. 4. Frank R., unmarried, at home. S. Annie, Mrs. Hall, of Fairmont. 6. Hugh, a druggist on Main street, Fairmont. 7. Ella, Mrs. Henry, of Fairmont. 8. B. Filmore, assistant chief of police at Fairmont. 9. Lillian, Mrs. Parks, of Fairmont. 10. Evie S., Mrs. Swearnger, died about 1890, leaving one child. Two more of the issue of Mr. and Mrs. Harr died in infancy. Fred S., Frank R. and Hugh Harr, served in the Spanish-American war in 1898-99, and B. Filmore later spent three years in the signal service of the United States army.
---