BENJAMIN H. HELDRETH, Company "G"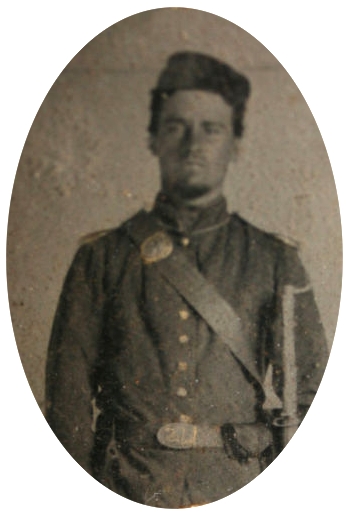 ---
Discharge Certificate
TO WHOM IT MAY CONCERN
Know ye, That BENJ. H. HELDRETH a PRIVATE of Captain JAS W. MOFFATT's Company ("G") 12th Regiment of West Va Inft Volunteers who was enrolled on the EIGHTEENTH day of AUGUST one thousand eight hundred and SIXTY-TWO to serve THREE years or during the war, is hereby Discharged from the service of the United States this 16th day of JUNE, 1865, at RICHMOND VIRGINIA by reason of Gen'l Order of War Dept date May 29th 1865. (No objection to his being re-enlisted is known to exist.*)
Said BENJ. H. HELDRETH was born in HARRISON COUNTY in the State of WEST VIRGINIA, is TWENTY TWO years of age, FIVE feet ELEVEN inches high, LIGHT complexion, BROWN eyes, BROWN hair, and by occupation, when enrolled, a FARMER.
Given at RICHMOND VA this 16th day of JUNE 1865.
J-- Horton, 2nd Lieut., 3rd Mass Vol.
and Asst. Comsy of Musters
Indpt Div 4th Corps
OATH OF IDENTITY
BENJAMIN H. HELDRETH of the town of (blank) County of HARRISON in the State of WEST VA.
On this 30th day of AUGUST in the year one thousand eight hundred and sixty 6 personally appeared before me, the undersigned, a Justice of the Peace for the county and State above mentioned, B. H. HELDRETH who was a PRIVATE in the company commanded by Captain JAMES MOFFATT in the regiment commanded by COL. CURTIS; that he enlisted on the 18th day of August 1862 for the term of THREE YEARS and was discharged at RICHMOND, VA on the 16th day of JUNE 1865 by reeason of GEN'L ORDER FROM WAR DEPARTMENT May 29/65
Benjamin H. Heldreth
Sworn and subscribed to before me the day and year above written.
J. B. Wright, Justice
---
1850 Census, Harrison County, W.Va.
302-302
John HILDRETH, 36, Farmer, Va
Eleona, 31, Va (Note: Eleanor Rusk)
Martha, 13, Va
Mary, 11, Va
Benjamin, 9, Va
Joseph, 7, Va
Salema, 6, Va
George, 4, Va
Susannah, 2, Va


1860 Census, Harrison County, W.Va.
871-871
Harrison Hildreth, 21, Va, Farm Laborer
Sarah, 20, Va


1870 Census, Harrison County, W.Va.
169-167
Benjamin H. Heldreth, 30, Va, Farmer
Sarah E., 30, Va, Keep house
John, 6, WV
Mary, 3, WV
Jane, 2, WV

---