JESSE BAILEY, Company "I"
---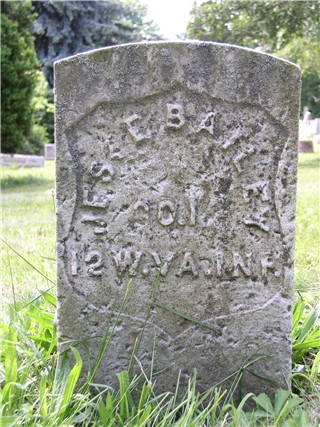 Spring Grove Cemetery, East Liverpool, Ohio
(Photo by Dave Rader)
---
Submitted by Kenneth Bailey.
Jesse Bailey was born March 10, 1832 near Brownsville, Fayette County, Pennsylvania, the son of Henry and Rebecca Daniels Bailey. He moved to Jefferson County, Ohio with his widowed mother in the early 1840s. He was a boatman, and unmarried, when he enlisted in Company I, 12th West Virginia Infantry at New Manchester, Hancock County, Virginia (West Virginia) and was mustered in at Wheeling, on August 12, 1862. He served throughout the remainder of the war and was mustered out with his company on June 16, 1865 at Richmond, Virginia. His unit had seen action repeatedly throughout the war and he was at Appomattox Court House when the war ended. He was listed as missing in action on at least one occasion and was injured carrying a wounded comrade from the field.
Following the war, he returned to Hancock County and married Hannah Baker. He moved to East Liverpool where Hannah died. He then married Elizabeth Baker. Jesse Bailey died March 15, 1908. Elizabeth survived him until her death on April 5, 1943. They are both buried in Spring Grove Cemetery, East Liverpool, Ohio.
His children, with both Hannah and Elizabeth were: Mary Agnes; Frank L.; John Grant; Harvey; Annie; Beryl; Nellie and Pearl. Mary Agnes, who married Floyd M. Barcus, was one of the survivors of the "Scioto Disaster." The Scioto was a steamship which sank in 1882 near Mingo Junction, Ohio with the loss of 75 lives.
---