JAMES CRAWFORD CROUCH, Company "C"
---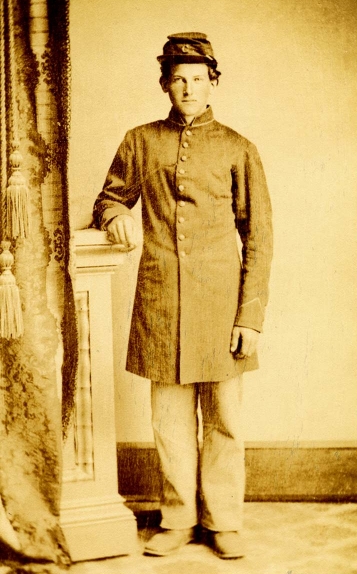 James Crawford Crouch
Submitted by K. Scott Herman
James Crawford Crouch, the son of Watson and Agness (Crawford) Crouch, was born 11 Mar 1844 in North Strabane Township, Washington County, Pennsylvania. When James was 2 years old, his mother died, and he went to live on his grandmother and grandfather Crawford's farm. Watson was remarried in 1852 to Deborah Wells, from Rosbys Rock, West Virginia, and eventually relocated to Rosbys Rock. At the age of 14, James went to live with them.
On 3 Aug 1862, when James was 18, he enlisted in Company C of the 12th West Virginia Volunteer Infantry. He was honorably discharged at Richmond, VA on 16 Jun 1865. His discharge papers state that he was "Twenty one years of age, Five Feet Ten inches high," had a "Fair complexion, Blue eyes, Fair hair," and was "by occupation a farmer."
Following the war, James returned to Pennsylvania, and his grandparents' farm. He married Mary Isabella McMurray on 17 Dec 1868, and they took up housekeeping on the McMurray family farm, which she had inherited. On the farm, which was located in Peters Township, they raised six sons, namely: William J., Harvey W., Thomas B., Frank M., Charles M., and Ross Emmett. James was actively interested in the Republican Party, and held many Peters Township offices. He was also a member and trustee of the United Presbyterian Church at Peters Creek.
James died on 17 Apr 1898 at the age of 54. The cause of his death was listed as pneumonia complicated by heart failure. Mary died 36 years later, on 12 Feb 1934. They are buried in the churchyard at Peters Creek United Presbyterian Church in Peters Township, Washington County, Pennsylvania.
---