JAMES DARRAH, Company "A"
---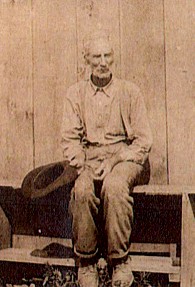 James Darrah
Photo submitted by Maryjoan Amesbury.
---
Submitted by Ron Darrah.
James Darrah was born in 1844 at Woodlands, Marshall County, WV, the youngest of seven sons of Henry and Margaret Darrah. James lived with his family on Bowman's Ridge until he enlisted in the Army on 22 Aug 1862.
His enlistment papers describe him as 5"10", eyes brown, complexion and hair sandy. His age was listed as 18. James served as a Private in Company A of the 12th WV Volunteer Infantry throughout the Civil War and mustered out on 16 Jun 1865.
Returning to Marshall County after the war, he resumed work as a farmer, and, on 18 Oct 1866, married Rachel Anderson on Marshall County. The couple had seven children. Following Rachel's death in 1878, James married her sister, Mary Anderson, and they had a son, Clyde, born July, 1890.
James applied for a pension under the Act of 1890, but was denied. When he reapplied under the Act of 1912, he was approved as Certificate 692227.
James died in Marshall County on 2 Aug 1922 and is buried in Fredonia Cemetery.
---
Obituary
DURRAH, JAMES - A Civil War veteran and lifelong citizen of Marshall Co, WV, died at his home in Woodland, WV on 2 Aug 1922 at the age of 80 years. Three sons survive him. They are: William Durrah of Woodland; Lemuel Durrah of Moundsville, WV; and Clarence Durrah of Fairmont, WV. Funeral services were conducted by Rev. Rine of Rosby's Rock. Interment was in Fredonia Cemetery.
"Wetzel Democrat", New Martinsville, WV, 11 Aug 1922
Submitted by Linda Fluharty
---
In the 1880 Federal census of Marshall County, James, 35, is residing with wife, Mary, 30, and five children: Leonard, 13; David, 11; Amanda, 8; Henry, 6; William, 5; Ottie, 3.
Siblings of James Darrah were: Joseph, Henry B., Robert, William, Jacob and Margaret.
Submitted by Maryjoan Darrah Amesbury.
---
NATIONAL ARCHIVES PENSION FILE
Obtained by Linda Fluharty.
There is essentially nothing in the pension file not already submitted by descendants. He says he was born at Lynn Camp but did not know the year. Following the war, he lived in Woodlands, Marshall County.
---