Joseph McCausland, Company "D"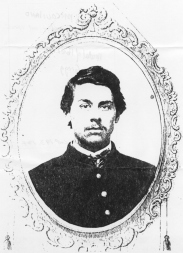 Joseph McCausland
(CDV provided by Robert J Fernbacher.)
Medal of Honor Recipient
Rank and organization: Private, Company D, 12th West Virginia Infantry. Place and date: At Petersburg, Va., 2 April 1865. Entered service at: Ohio County, W. Va. Birth: Ohio County, W. Va. Date of issue: 12 May 1865. Citation: Conspicuous gallantry as color bearer in the assault on Fort Gregg.
---
Joseph McCausland (also McCauslin, McCauslind), born about 1840, was the son of William and Sarah McCausland, residents of West Liberty, Ohio County, West Virginia.
1850 Census, West Liberty, Ohio County, (West) Virginia
#353/373
William McCauslind, 48, Farmer, $6550, $1600, b VA
Sarah McCauslind, 49, b VA
Mary Ann McCauslind, 27, b VA
George McCausland, 25, b VA
Nancy McCauslind, 23, b VA
Sarah J. McCauslind, 20, b VA
Rachel A.? McCauslind, 18, b VA
Ann E. McCauslind, 16, b VA
Joseph McCauslind, 10, b VA
Elizabeth McCauslind, 7, b VA

1870 Census, West Liberty, Ohio County, West Virginia
#249/235
Joseph McCaslin, 28, Farmer, $3000, b VA
Barbara McCaslin, 25, Keeps house, b WV
Sarah McCaslin, 7 months, b WV
James Dixon, 21, (Black), Farm Laborer, b VA
---
Submitted by Marguerite Howard.

Sunday News Register, Wheeling, WV; October 22, 2000

WOMAN FINDS A WAR HERO IN FAMILY TREE
By Lynn Davis, Staff Writer

The soldiers stationed outside Petersburg, Va., didn't know it would take less than two weeks, but they hoped the end of the Civil War was near.
All 24-year-old Pvt. Joseph McCauslin, a member of the 12th West Virginia Infantry, Company D, knew was that if he could survive the siege of Petersburg he might be able to return to his West Liberty farm. He did not know that before it was over, he would perform acts of such gallantry in battle that would earn him the Medal of Honor.
Until just a few weeks ago, Wheeling resident Eleanor Garrison Bland and other members of her family did not know McCauslin, her great-grandfather, was a hero.
Union forces under Lt. Gen. Ulysses S. Grant and Maj. Gen. Philip H. Sheridan numbered over 200,000. Confederate Gen. Robert E. Lee's 44,000 man Army of Northern Virginia occupied Petersburg. If they took Petersburg, the federal troops reasoned, a conquest of the Confederate capital of Richmond soon would follow.
Lee's army was undermanned, undersupplied, cold and dejected. It was April, 1865, and the winter had been long and harsh.
The federal forces, which included the 12th W. Va. Infantry, were in much better shape than the "rebels" in the spring of 1865. The 12th, organized in Wheeling on August 30, 1862, had performed early service within the area that would become the 35 state. In 1863, it served at various locations in what became the state of West Virginia on June 20 of that year and around Winchester, Va. and Hagerstown, Md.
In March 1865, the 12th was incorporated into the 3rd Brigade of the 24th Army Corps, under the command of Col. William B. Curtis. On March 27, the brigade received orders to proceed to Hatcher's Run, near Petersburg.
On March 31, Sheridan's force pushed toward Five Forks, a strategic crossing 12 miles south of Petersburg, and wiped out Lee's entire right flank.
Two days later, Grant launched a dawn attack on Confederate lines, soon breaking through the center section. Rebel lines surrounding Petersburg, running from the Appomattox River to Fort Gregg, remained intact.
Fort Gregg - a square earth-like works with a water-filled ditch around three sides - was defended by about 400 Mississippi and North Carolina troops under the command of Brig. Gen. Nathaniel Harris. Harris left 214 men at Fort Gregg, moving the rest to nearby Fort Baldwin.
Around 1 p. m. on April 2, a 6,000-man Union division, including the men of the 12th W. Va. Infantry, began its advance on Fort Gregg.
Despite their small size, the Confederate troops fought fiercely and valiantly, resisting the onslaught of the blue-clad forces. After each Union assault was repulsed, the Confederates cheered. Lee, watching from a short distance away, called his staff around him, pointed to Fort Gregg and asked them to remember this as the most gallant defense of the siege.
Another 2,000 men joined the effort to overrun Fort Gregg, and were sent against the defenders in a single wave. Soldiers climbing over the parapets soon found themselves in hand-to-hand combat against Confederate soldiers using everything from bayonets to bricks in a desperate effort to defend the fort.
The colors of the 12th West Virginia were the first planted on top of the wall as the Union divisions got the upper hand over the decimated rebel forces. Color bearer Pvt. J. R. Logsdon, of Co. C, 12th W. Va., was shot dead as he planted the flag. McCauslin rushed to pick it up as the bullets whizzed around him.
The fighting ended shortly after 3 p.m. That night, the Confederates began their retreat to the Appomatox River, taking advantage of the federal troops' exhaustion to evacuate Petersburg and head toward a proposed mountain redoubt in Western Virginia or North Carolina. They made it as far as Appomattox Courthouse where Lee surrendered on April 2, 1865.
On May 12, 1865, McCauslin was issued the Medal of Honor for "conspicious gallantry as color bearer in the Assault on Fort Gregg."
Some records, Bland said, inexplicably indicate McCauslin was killed in action.
He returned to West Liberty and to his wife, Barbara Dixon McCauslin, and resumed his life as a sheep and cattle farmer.
After the war, Bland said, he resumed his close relationship with cousin, "Tiger" John McCausland, who lived nearby and had been a Confederate officer under Gen. Jubal Early.
McCauslin died on July 6, 1906, at the age of 65 and was buried at the West Alexander, Pa. Cemetery. Of his eight children, only two - Sarah McCauslin Garrison, Bland's grandmother, and James McCauslin - survived to adulthood. The medal eventually came into the possession of McCauslin's great-great-grandson Bob Baughman, a Florida resident, when he was a child but he didn't know the story behind it.
Several weeks ago, Bland received a telephone call and was advised that the Washington County Veterans Affairs office, with American Legion Posts 639 and 656, of Claysville and West Alexander, respectively, were searching for McCauslin's descendants, as they planned to erect a nomument at the cemetery in honor of the Medal of Honor recipient buried there.
"They had trouble finding relatives because the cemetery was in Pennsylvania and they didn't know Joseph McCauslin was from Ohio County. When they got the records, they called a McCauslin in West Liberty, who called me," Bland explained.
She contacted other family members and, on Oct. 8, a service was held at the cemetery to unveil a monument erected in McCauslin's honor. Speakers included Charles Pollacci, Washington County director of Veterans Affairs; Rep. Leo Trick, Jr., of the Pennsylvania House of Representatives; and U. S. Army Maj. Lew Irwin, a professor at Duquesne University, The American Legion members fired a 21 - gun salute in McCauslin's honor.
Attending the ceremony, in addition to Bland, were her son, Frank Bland Jr.; McCauslin's great-grandson, Gene Ball; and great-great-great-granddaughter, Emily Bland. Great-grandchildren unable to attend included Bill Ball of Valley Grove; Sarah Bellar and Dorothy Johnson of Dayton, Ohio; and Georgia Garrison Baughman of Cocoa Beach, Fla. Two of the great-grandchildren, Hugh Ball Jr. and Kenneth Ball, are deceased.
The monument stands near the entrance of the cemetery, which is along U. S. 40 a few miles east of the West Virginia-Pennsylvania border.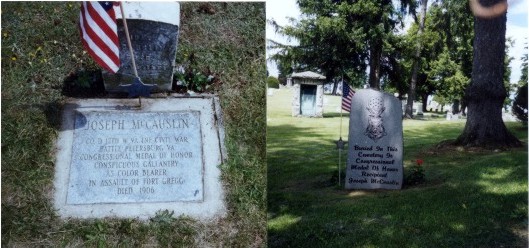 (Left) Grave - (Right) Monument at Cemetery Entrance

(Photos submitted by Lisa Bonar.)
---