JACOB McCORMICK, Company "K"
---
Submitted by Robert C. Burton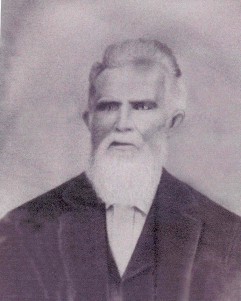 Jacob McCormick
9 Sep 1830 - 8 Mar 1912.

This portrait is owned by Sidney Grisell, descendant of Jacob McCormick.


(Jacob -> Rebecca May McCormick m. William Slonaker -> Goldie Jane Slonaker m. Samuel Chambers -> Helen Chambers m. Elwood Grisell - Sidney Grisell)
---
Jacob "Jake" McCormick was the bull shooter in William Hewitt's book, "History of the Twelfth West Virginia Volunteer Infantry". His bull shooting adventure was told in the second chapter, paragraphs 33 and 37.
According to the Family Bible, Jake was born 9 Sep 1830, the son of John McCormick, born 16 Aug 1787 in Washington Co Pa., and his second wife, Rachel Hinerman. John's first wife was Sarah Reest, 21 Dec 1787 - 2 Oct 1812.
John's parents, William McCormick, born in Ireland 24 June 1755, and Grizel Porter, were *married 29 March 1784 in Dauphin Co Pa., and lived on Twenty Mile Creek in the part of Washington County, Pa. that became Greene County. (*Paxtang and Derry Church Records)
Jake, born and raised in Aleppo Twp., Greene County, decided to join the army one day while he was putting up hay. He stuck his hay fork in the ground and walked to Cameron where he caught the train to Wheeling. He joined the Twelfth West Virginia Infantry and served from August 16, 1862 until June 16, 1865.
After the war, he returned to Allepo Township in Greene County and married Mary Lowery, the daughter of James Lowery and Elizabeth Gunn. They had 5 children: Rebecca May, James, Ewing, John & Elizabeth. John McCormick, was born 13 Oct 1882.
Jake died 08 Mar 1912. Mary Lowery McCormick, born 23 Oct 1854, died 2 Dec 1885. Both are buried at Pleasant Valley Cemetery, Greene County, Pa.
Jake's "Honorably Discharged" medal was claimed from the West Virginia State Archives on January 19, 200l by John McCormick's grandson, Robert C. Burton.
---