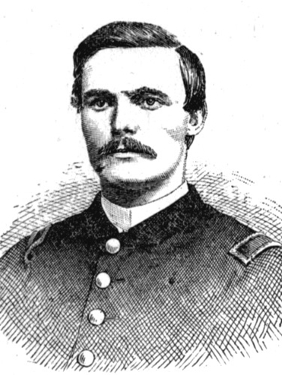 JOSIAH M. CURTIS, 2nd Lieut., Companies "D" & "I"
---
Josiah M. Curtis received the The Medal of Honor. He was the son of Gen. William B. Curtis and Hannah M. Montgomery. See William B. Curtis. In the online book, Josiah M. is referred to as "Mont. Curtis." It seems that his middle name was probably Montgomery.
---
J. M. Curtis Curtis was born in West Liberty, November 16, 1844. He was educated in the common schools and in West Liberty academy. In August, 1862, he enlisted as a private in the Twelfth West Virginia infantry. He was appointed third sergeant of Company D. In November, 1864, he was made second lieutenant of Company I, Twelfth regiment. In January, 1865, he was detached and assigned to duty as aide-de-camp, Second brigade, second division. Twenty-fourth army corps, which position he filled with distinction, and was awarded a medal by congress for meritorious conduct in the attack on Fort Gregg in front of Petersburg, Va. He left the service in June, 1865. Soon after this he began the study of medicine with Dr. Cooper, now of Wellsburg. He applied himself with great energy, and graduated at Miami Medical college of Cincinnati, in March, 1867, and was the class valedictorian. Soon after graduating he began practicing at Besler's (Beeler's?) Station, Marshall county, and there practiced very successfully until the fall of 1874, when he located at Moundsville. On June 17, 1875, after returning from the commencement exercises of Bethany college to his father's house at West Liberty, he very suddenly died from supposed heart disease.
From History of the Upper Ohio Valley,
Brant & Fuller, 1890. Vol. I, page 587.
Submitted by Linda Fluharty.
---