JOHN M. M. ROBERTS, Corporal, Company "K"
---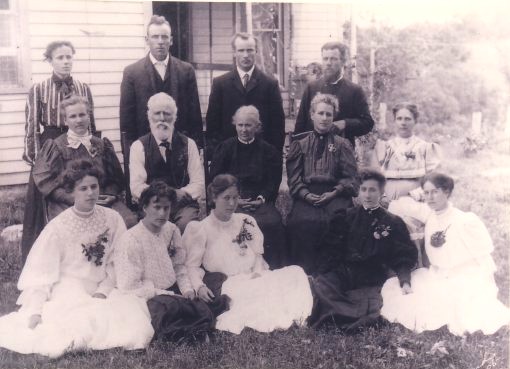 John M. M. Roberts, age 67, with his wife and twelve children in 1906.
Researched by Jonathan A. Rupolo, submitted by Tina M. Rupolo, great great-granddaughter.
John M. M. Roberts, was born in Brooke County, (W) Virginia on August 21, 1839. He died of tuberculosis on October 26, 1908, in Avery, Iowa.
John M. M. Roberts married Emeline S. Valentine on December 12 , 1859 in Pittsburgh, Pennsylvania. They had 13 children together and were married for nearly 49 years. They made their living farming in Iowa, and John was Monroe County Treasurer at one time.
John enrolled as Private at Wheeling, Virginia on August 15, 1862. He was promoted to Corporal on April 1 1863 and Honorably Discharged at Richmond, Va on June 16 1865.
---
Provided by Linda Fluharty.
1850 Census, Brooke County, (W) Virginia
ROBERTS (421/433)
Samuel Roberts, 35, Shoemaker, b Pa.
Susan Roberts, 36, b Ohio
John Roberts, 12, b Va.
William Roberts, 10, b Va.
Nancy Roberts, 8, b Va.
Rebecca Roberts, 6, b Va.
Eli Roberts, 3, b Va.
Samuel and Susan's oldest child was Martha J., already married to James Wells at the time of the 1850 census. Daughters Emma and Ella were born after the 1850 census. At the time of the 1860 census, Rebecca, 19, and Emma, 9, were residing with Martha's family.
BIOGRAPHY OF JOHN M. M. ROBERTS
A Memorial and Biographical Record of Iowa
The Lewis Publishing Company, Chicago, 1896; pages 702-703.
JOHN M. M. ROBERTS is an honored veteran of the late war, who marched to the defense of the old flag and the cause it represented. Through many of the most hotly contested engagements he followed the stars and stripes and well deserves to be numbered among the nation's preservers.
Mr. Roberts was born on the bank of the Ohio river, in Brooke county, of the Old Dominion, August 21, 1839, and is a son of Samuel and Susan (Double) Roberts, the former a native of West Virginia and the latter in Pennsylvania. The father was a shoemaker by trade and in West Virginia he remained until the hour of his death. They became the parents of eight children: Martha, deceased wife of James Wells; John M. M., of this sketch; Rebecca, widow of Lester King, who was a clerk in the War Department at Washington, District of Columbia; William G., a minister of the Methodist Church, now in Michigan; Nancy E.; Emma, wife of James Wells; Eli M., who married Miss Fannie Kay, and is now living in Sharpsburg, Pennsylvania; Ella, now deceased, was the wife of William Dunn.
Our subject acquired his education in West Virginia, and on leaving school learned the shoemaker's trade, which he followed until after the breaking out of the Civil war. Prompted by a spirit of patriotism, on the 15th of August, 1862, he enlisted at Wheeling, West Virginia, and was assigned to Company K, Twelfth West Virginia Infantry, which was commanded by Captain White, and later by Captain Jester. He participated in the battles of Winchester, Snicker's Ferry, Kernstown, Piedmont and Lynchburg, and subsequently his regiment was assigned to the command of General Grant in the Army of the James. He then participated in the battles of Petersburg, Fort Gregg and Hatcher's Run, and was with Grant at Appomattox, after which he went to Lynchburg, Virginia, under General Harris. He then returned to Richmond, where he remained until mustered out, on the 16th of June, 1865.
Mr. Roberts was always found at his post of duty, valiantly defending the Union cause, and when the war was over returned to his home. He then resumed shoemaking, which he followed until 1869, -- the year of his emigration to Monroe county, Iowa. Here he engaged in farming for three years, and then returned to Pennsylvania, where he worked at his trade until 1877. He then again came to Monroe county, and in the fall of 1878 located on his present farm in Mantua township, where he now carried on agricultural pursuits, and is also interested in the manufacture of cheese, as secretary of the Mantua Cheese Association.
On the 8th of December, 1859, Mr. Roberts married Miss Emeline Valentine, who was born March 16, 1841, in Lancaster county, Pennsylvania, her parents being T. H. and Charlotte T. (Finney) Valentine, both natives of Chester county, Pennsylvania. They had eight children, of whom Samuel, Mary J., John, Elizabeth and Elam are all now deceased; Benjamin resides in Allegheny county, Pennsylvania; Mrs. Roberts is the next younger; and Catherine has also passed away. To our subject and his wife were born thirteen children: Eliza A., wife of Albert J. Miller, a farmer of Monroe county; John T., deceased; Katie M., wife of D. C. Carlton, an agriculturist of this county; Samuel W., who wedded Miss Mary Warner, and follows farming in this county; Virginia B., wife of Henry McCormick, an agriculturist of Monroe county; Franklin, who married Miss Emma Warner, and here follows farming; Charlotte, Charles, Mary P., Fannie K., Bessie, Gertrude and Susan E., all yet at home.
Mr. Roberts has served as Township Assessor for fourteen years, and is now the County Treasurer of Monroe county, Iowa, having been elected by the Republican party for a term of two years in November, 1895. He is quite prominent in local political circles and his party recognize in him a wise counselor and able leader. He and his wife and also their children hold membership with the Methodist Church and take an interest in its work and upbuilding. Mr. Roberts is a valued citizen and a popular man, whose career, both public and private, is above reproach and is highly esteemed by all who know him.
---
Soldier's Government Pension Certificate is #794425; widow's certificate is #686114 - Iowa.
---