JOSEPH BAILEY, Company "I"
---
Submitted by Kathryn Hunt.
Joseph Henry Bailey was born in Somerset County, Pennsylvania on February 2, 1842, the youngest of four children born to Daniel and Sarah (Queer) Bailey. He moved to New Cumberland, Hancock County, Virginia when he was 16 and became a laborer on a farm.
Joseph, at the age of 19, enlisted August 11, 1862 into Company I of the 12th West Virginia Infantry at New Manchester and was mustered into service at Wheeling on August 28, 1862. Joseph was captured at the Second Battle of Winchester June 15, 1863. He was paroled to City Point, Virginia July 23, 1863. He was sent to Camp Parole on August 2, 1863 and reported there the same day. From Camp Parole, Maryland, Joseph was sent to Martinsburg, Virginia, then back to his regiment on September 30, 1863. He served his state and country until June 16, 1865, although most of his military career was spent sickly in a Winchester, Virginia and Cumberland, MD hospital.
Following the war, he was a laborer at a brick yard. Joseph married Angeline Snowden on May 6, 1867. They had two children: Mary E. and Nancy Jane Bailey. Sadly, on Nov. 15, 1871, Angeline passed away. Joseph then married Elizabeth Jane Wolf on March 20, 1873.
Joseph and Elizabeth spent the remainder of his days in Hancock County. Joseph died on February 10, 1928 in New Cumberland, West Virginia and is buried in the New Cumberland Cemetery under a civil war grave marker.
In 1937, Elizabeth Jane Wolf Bailey moved to Coshocton, Ohio. She lived until September 16, 1940. Upon her death, Elizabeth was carried back to Hancock County, West Virginia to be buried with her husband.
Their children were: William Henry, Laurena B., Thomas Addison, Sarah L., Amanda M., Charles Lewis, John Peter, Joseph Lawrence, Carrey P., Raymond Lamont, Benjamin Harrison, James Allen, Lucy D. and Ada L.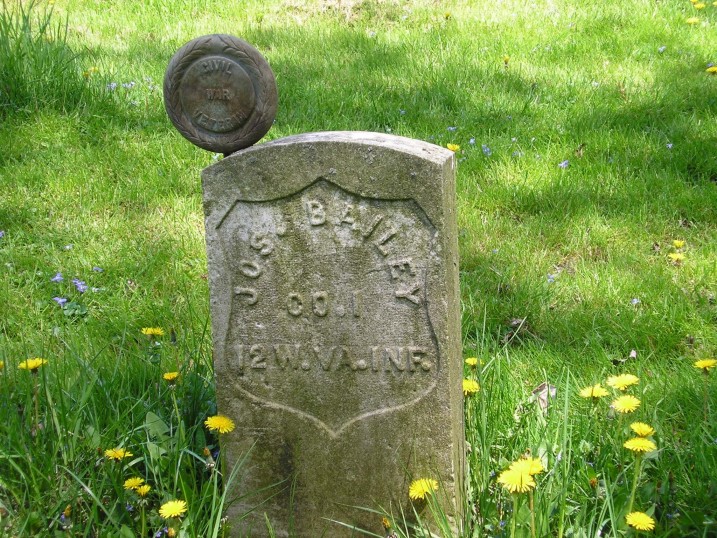 Grave of Joseph H. Bailey
New Cumberland Cemetery, Hancock County, West Virginia
---
Submitted by Diane Rosnick.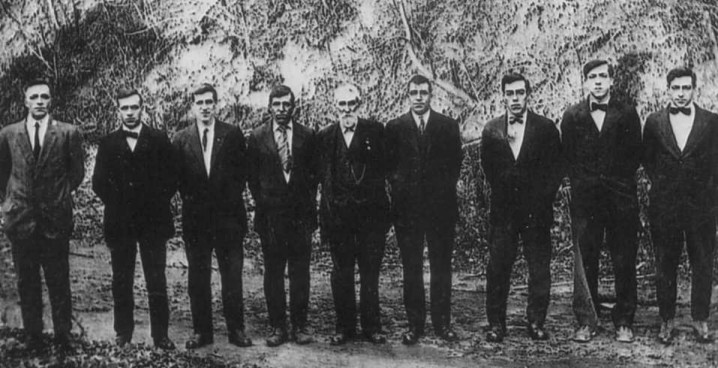 Left to right: William Henry, Thomas A., Charles Lewis, John Peter, JOSEPH H. BAILEY,
Joseph Lawrence, Raymond Lamont, Benjamin Harrison, James Allen.
NOTE: Descendant, J. Scott Lewis, Ph.D., sent a message 8 Aug 2010. Excerpts:
(1) "I am a descendant of Joseph Bailey, whose information you posted on your site. Joseph would be my great, great grandfather. His son, Charles, was my father's maternal grandfather. Charles' Daughter, Sarah Catherine "Kay" Lewis (nee Bailey) was my paternal grandmother."
(2) "I am appreciative of the information you have posted about Joseph Bailey's service and wanted to let you know that his service medals and papers are still extant, and in the possession of my father, Dana Lewis, in Mountain View Arkansas."
(3) "At this time, we are unable to accurately identify all of the sons of Joseph. However, Charles, which you place on the right end, is actually the third from the left. My father and I both have photos of him, and know the face well. To the immediate right of Joseph is Benjamin, the only other son of Joseph that my father met personally. My grandmother knew most of them personally, and it is from her records that this identification comes. Her writing on the original photo is blurred, but we are working to positively identify the remainder of the brothers from other family records and photos."
---