JOSHUA PYLES, Company "B"
---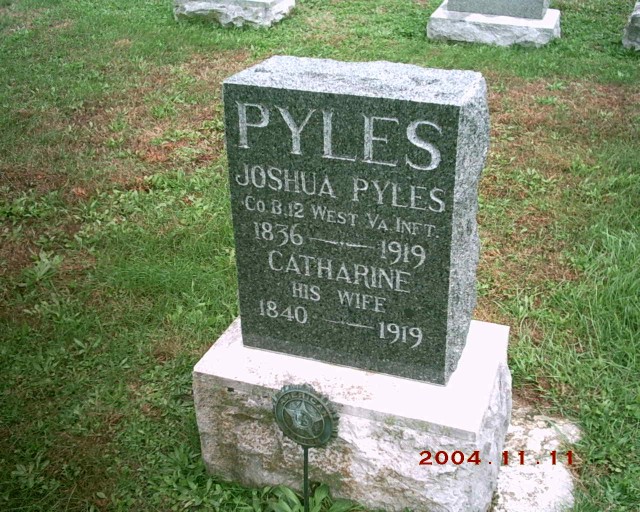 Moran Cemetery, Moran, Allen County, Kansas
(Photo submitted by John A. Jackson.)
OBITUARY
Submitted by Faith Stegon.
The Iola Daily Register, Tuesday Evening, July 8, 1919
TODAY'S LAHARPE NEWS
DEATH OF JOSHUA PYLES AT SON'S HOME IN MILDRED
Joshua Pyles, who left several days ago for Mildred, where he was visiting his son, Sam Pyles, died at the home there, Saturday. The funeral services were held yesterday and burial in the Moran cemetery. Mr. Pyles has been ill the greater part of the winter and after Mrs. Pyles died last winter, has gradually grown weaker. He has long been a resident of LaHarpe.
Joshua Pyles Obituary in the Iola Register July 11, 1919
JOSHUA PYLES was born in Marshall county, W. VA., June 13, 1836, died at the home of his son, Samuel E. Pyles in Mildred, Kan., July 6, 1919 at the age of 83 years and 26 days.
He was enrolled as a corporal of Company B 12th Regiment of West Virginal volunteers on the 15th day of August 1862, at the age of 26 years. He was honorably discharged from the service of the United States the 10th day of June, 1865, at Richmond Va. (film #M507, roll 10) While in Marshall county he was married to Catherine Geho, January 17th, 1857. They moved to Kansas locating on a farm northwest of Moran in Osage township. From there they moved to LaHarpe in 1906 where they have since resided till March 20th, 1919 when God called his faithful wife to live where suffering and sorrow is unknown. He has not been well since her death and came to Mildred to live with his son just two weeks preceding his death. He leaves to mourn his lose, three children. Harley, of Washington, Mrs. Hannah Sidel, of West Virginia, and Samuel E. of Mildred, Kan. He also leaves fifteen grandchildren and several great grandchildren. Another daughter, Mrs. Charlotte Jane Daugherty preceded him November 15th, 1895. He also leaves a host of friends who mourn his loss. Through all his distress, he bore his suffering so patiently, waiting till God saw fit to call him home. He will be greatly missed but our loss is God's eternal gain.
Funeral services were conducted from the Mildred church at 2 o'clock Monday afternoon, the Rev. A. J. Cutrell, of Mildred, officiating. Old soldiers acted as pallbearers. The remains were laid to rest in the Moran cemetery beside his beloved companion who preceded him three and one half months.
OBITUARY OF JENNY (C. JANE) PYLES DAUGHERTY
The Iola Register, Friday, November 22, 1895
Many were shocked to hear of the death of Mrs. Wm. Daughtery which occurred while in Kansas City having a limb removed.
The obituary in the Iola Register, Friday December 13, 1895
Mrs. Jennie Daughtery was born in Marshal county, West Virginia, October 19, 1870.
When eleven years of age she moved with her parents, Mr. and Mrs. Joshua Pyles, to Allen county Kans., where she was married to W. R. Daughtery Oct., the 25th of 1886.
God blessed their home with three children, two girls and a boy who with their father are left to mourn the loss of a loving wife and mother.
The deceased was a cripple for several years previous to her death, having to go about on crutches. Yet she bore her affliction like a true heroine, and was seldom heard complaining.
She fell asleep in death November, 15th, 1895, at Kansas City Mo., from the effect of having her limb amputated. Her body was brought to Moran where funeral services were held in the Baptist Church, being conducted by Rev. C. W. Trout of Ottawa.
She was laid to rest in the Moran Cemetery. And now may the bereaved relatives and friends look to the God who never makes a wound He can not heal. J.M.C.