JOHN SYLVESTER BAILEY, Company "I"
---
Submitted by Kenneth Bailey.
John Sylvester Bailey was born near Brownsville, Fayette County, Pennsylvania on September 2, 1828, the son of Henry and Rebecca Daniels Bailey. He moved to Jefferson County, Ohio with his widowed mother in the early 1840s.
John, a cooper by occupation, married Mary Ann Milliron on November 2, 1848 at Yellow Creek, Jefferson County, Ohio.
A resident of Hancock County, West Virginia, John enlisted in Company I, 12th West Virginia Infantry at New Manchester and was mustered in at Wheeling on August 12, 1862. He served until discharged in July 1865. However, most of 1864 and 1865 he spent in hospital at Clarysville, Md., Cumberland, Md., and Wheeling, West Virginia and he was in the hospital at Wheeling when he was discharged. He became ill after exposure to the harsh winter weather while on scouting parties near Romney, Hampshire County, West Virginia.
Following the war he lived in Hancock County, West Virginia; Westmoreland County, Pennsylvania and in Jefferson County and Columbiana Counties, Ohio. He died in Wellsville, Ohio on June 28, 1889 and is buried in Spring Hill Cemetery, Wellsville.
Mary Ann Milliron Bailey lived until August 11, 1910. She had applied for and received a widow's pension based on John's service after his death. He had been denied an invalid pension on the grounds that his illness after the war was not related to service.
Their children were: Loyd. P. H.; Melissa Ann (Sommers); Solomon Franklin; Ephraim; Harrison; Jesse and Robert Milroy. The latter child, born in 1864, was apparently named for General Robert Milroy under whom the 12th Infantry had served.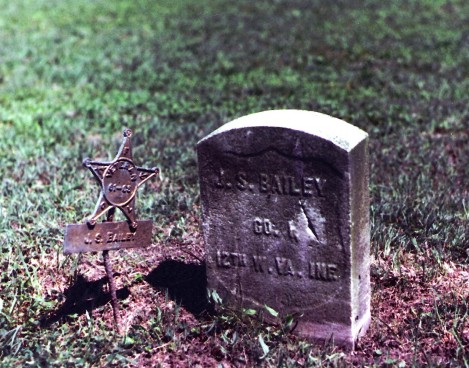 Grave of John S. Bailey
---