Joseph S. Halstead, Corp., Company "D"
---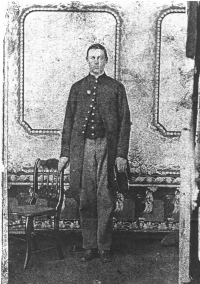 Joseph S. Halstead
(Photo from Dept. of the Army)
KIA Piedmont, Mineral Co., W.Va., 5 Jun 1864 while bearing the colors and
gallantly advancing in front of his regiment in a charge on Confederate works.
---
1860 Census, Ohio County, (W)Va
#552-559
Andrew Halsted, 60, Shoemaker, $10,000, $800, b Va
Ann, 60, b Va
Andrew J., 30, Shoemaker, $3000, b Va
Susan, 20, Va
Joseph, 19, Shoemaker, b Va
Jane, 15, b Va.
John, 8, b Va.
---