JOHN WILCOXEN ALLISON, Company "I"
---
Submitted by George A. Allison, Jr.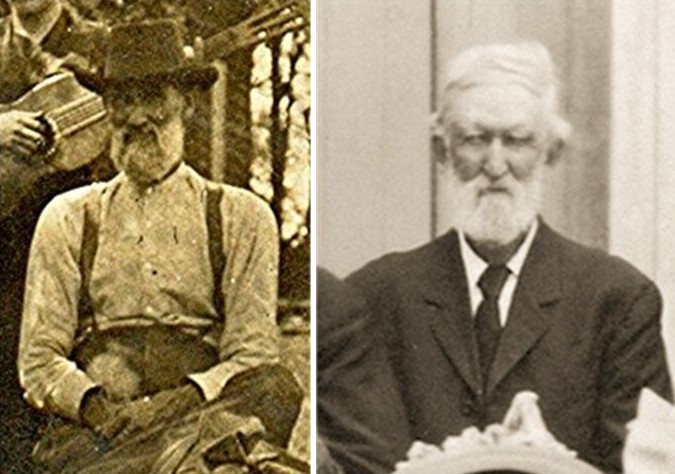 John Wilcoxen "Cotton" Allison
John Wilcoxen Allison, born August 3, 1841 in Brooke County, (W) Virginia, was the son of Robert B. Allison and Blanche Wilcoxen.
On April 17, 1862, John W. Allison married Margaret Ellen Jackson. Their children were:
1. William Hardy Ellsworth Allison b. 13 Oct 1862 d. 25 Apr 1932
2. John Lincoln Allison b. 13 Mar 1864 d. 17 Jul 1951
3. Mary Bell Allison b. 20 Oct 1866 d. 24 May 1941
4. Luella Matilda Allison b. 13 Mar 1868 d. 16 Oct 1963
5. Elizabeth A. Allison b. 13 Feb 1870 d. 18 Sep 1885
6. George Alexander Allison b. 03 May 1873 d. 15 Mar 1947 (gr-grandfather of Geo. A. Allison, Jr.)
7. Sarah Rosetta Allison b. 15 Jul 1874 d. 18 Feb 1957
8. Samuel L. Allison b. 1875 d. 1885
9. Margaret May Allison b. 05 Nov 1876 d. 21 Jan 1957
10. Pinky Junetta Allison b. 1877 d. 1888
11. Robert Andrew Allison b. 27 Jun 1878 d. 13 Nov 1952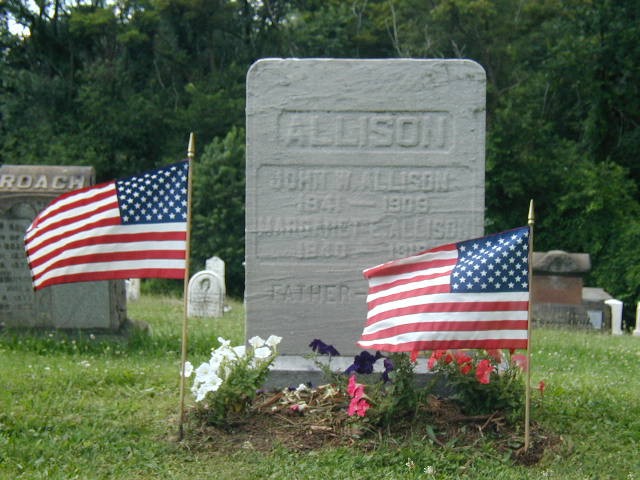 John died February 9, 1909 and was buried on February 11, 1909 at Fairview Cemetery, Pughtown, Hancock County, West Virginia. - Fairview Cemetery is now called Flats Cemetery in New Manchester, Hancock County.
At enlistment, John Wilcoxen Allison was 5 feet seven inches tall, with grey eyes, sandy hair, and a sandy complexion.
The Civil War "Honorably Discharged" medal, issued by the state of West Virginia, was claimed by Theodore E. Lewis from the West Virginia State Archives in 1990. In June 2005, Ted gave the medal to George A. Allison, Jr., the gr-gr-grandson of the soldier.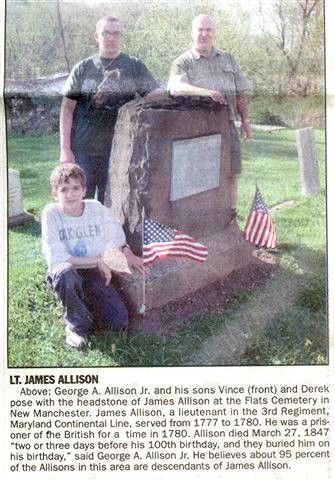 [East Liverpool Review, East Liverpool, Columbiana County, Ohio - July 4, 2004.]
John W. Allison and most of the Allisons in Company I. (Alexander B. Allison, John G. Allison, John W. Allison, Peter Pugh Allison, William G. Allison, William H. Allison, William W. Allison) were cousins. They all descend from James Allison, 1747 - 1847, a lieutenant in the 3rd Reg. Maryland Line during the Revolutionary War. James' 4th great grandfather was Lord Thomas Allanson of Christian Temple Manor, Maryland. (1638 - 1684). The Allisons were of English descent.
---