MARTIN PORTER BONAR, Captain, Company "B"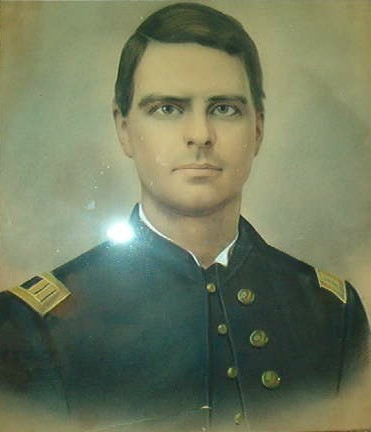 Photo submitted by Lissa Shomaker, descendant.
---
Martin Porter Bonar, the son of Martin T. and Jane (Porter) Bonar, was born 27 May 1839 in Marshall County, W. Va. He served in the Civil War, as Captain of Company B, 12th W. Va. Infantry. He mustered in 20 Aug 1862 and mustered out 16 Jan 1863. On 18 Dec 1860, in Marshall County, he married Alvilda E. Pierce, daughter of Arthur D. Pierce and Sarah McCulloch. Alvilda was born in 1837 in Marshall County. Following her death, Martin married Sarah Zink on 6 Dec 1865 in Marshall County. Sarah Zink, born in 1841 in Brooke Coounty W. Va., was the daughter of Reuben & M. A. Zink. Martin died on 21 Mar 1912 in Licking, Ohio and is buried in the Cedar Hill Cemetery in Newark, Ohio.
Martin's three brothers in the Civil War were:

John William Bonar (born 13 Jan 1831) - Sgt., Company "A" 17th W. Va. Infantry.
Thomas Snodgrass Bonar (born 14 Nov 1841) - Company "D" 1st W. Va. Infantry.
James Calhoun Bonar Jr (born 11 Sep 1846) - Company "A" 17th W. Va. Infantry.

Sarah Eliza Bonar, sister of the Martin, married William Newton Bonar, son of Able Bonar and Mary Venus. William Newton Bonar served in the 12th Infantry under Captain Martin P. Bonar.
---