MICAJAH WILLETTS OSBORN, Company "H"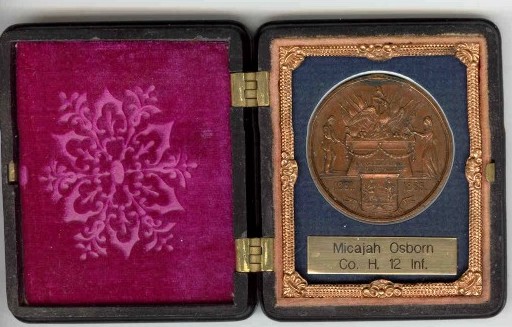 Medal owned by Linda Fluharty.
---
Micajah Willetts Osborn, born 15 Aug 1840 in Monongalia County, (W)Va., was the son of Nicholas and Rebecca (Smith) Osborn.
Micajah's Osborn genealogy:
Richard Osborn, b abt 1700; d abt 1747, Worchester, Montgomery County, Pa.
Nicholas Osborn (b 1729 Pa) & Margaret Cunnard (b 1735 Pa)
Jonathan Osborn (b 1754 Pa) & Elizabeth Russell (abt 1760 Va)
Nicholas Osburn (b 16 Mar 1791 Pa) & Rebecca Smith (b 24 Dec 1797 (W)Va)
Micajah W. Osborn (b 15 Aug 1840)
Micajah W. Osborn served in Company "H" 12th Regiment W.Va. Infantry, after enrolling at Grafton, W.Va. at the age of 22. He mustered in 27 Aug 1862 at Wheeling, W.Va. Micajah, a farmer, died of typhoid fever 03 Mar 1863, in Gen'l Hospital at Winchester, Va.
Micajah's brother, William Lewis Osborn, b 26 Dec 1842, also served in Company "H." Other siblings were Mary Ann, Susanna, Jonathan, Richard, Esther O., Sarah & Elizabeth.
Rebecca Osborn, mother of Micajah, applied for and received a government pension, Certificate #257.954.
---