QUILLEN HAMILTON SHINN, Company "G"
---
Submitted by Marguerite Howard.
---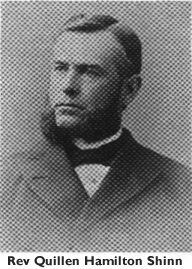 From OTHER DAYS, Pg. 88, by Jack Sandy Anderson.
Quillen Hamilton Shinn was born at Shinn's Mill, now Pine Bluff, on January 1, 1845. He was a child of Elisha and Mary Payne (LeFevre) Shinn. His father was a son of Moses Shinn, an early Bingamon settler who built the mill that gave the community its original name. Elisha died of typhoid in 1847, and in August, 1848, his widow married Dr. Jacob H. Fortney, a pioneer doctor who lived across the river from the then small village of Shinnston. Quillen and his brother (Albert Irving) and sister (Mary Elizabeth) were thus reared at Shinnston.
After serving in the Union army during the Civil War, Quillen taught school and then furthered his own education at an academy at Mount Union, Ohio, and at Saint Lawrence University (Canton, New York) from which he graduated in 1870. Following graduation, he was ordained a Universalist minister at Gaysville, Vermont. He was early recognized as one of his denomination's foremost ministers, and he became a national leader in the Universalist Church. Through his efforts many new churches were established, and a national summer meeting was organized. He often returned to visit Shinnston and the Bingamon country where he was always warmly welcomed by his many friends and relatives. Even those who did not agree with his liberal theology admired him and came to hear him preach. His death occurred at Cambridge, Massachusetts, on September 6, 1907, and he was buried in the Evergreen Cemetery in Portland, Maine.
In 1876 Quillen married Maria S. Burnell, of Portland, Maine. They were the parents of four children: Edward Leroy; Paul Haywood; Phillip Allen; and Albert, who died in infancy.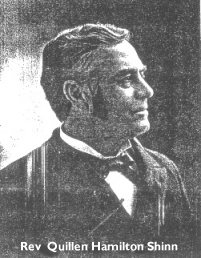 ---