Richard H. Brown, Lt. Col.
---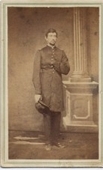 Richard H. Brown
CDV owned by Linda Fluharty.
---
BIOGRAPHY
The History of West Virginia, Old and New
The American Historical Society, Inc., 1923; pages 228-229
Col. Richard Hooker Brown was graduated in the Duff Business College in the City of Pittsburgh, and he distinguished himself as a gallant soldier of the Union in the Civil war, in which he became colonel of the Twelfth West Virginia Volunteer Infantry, his service having continued until the close of the war. In 1867 Colonel Brown married Miss Elizabeth Pugh, daughter of David and Nancy (Allison) Pugh, Mrs. Brown having been reared at Pughtown, Hancock County, a place named in honor of the family of which she was a representative. Colonel Brown added the brick portion to the old stone house in which he was born, and he served as county commissioner prior to the creation of Hancock County as did he also after the organization of the new county. He served one term as county sheriff, but in the meanwhile continued his residence on the old home farm. Here his death occurred on the 19th of March, 1910, and his widow passed away on the 20th of January, 1917. Of their twelve children all but one attained to maturity: Walter died in young manhood; Anna is the wife of A. H. Bowker, of Rochester, New York; King resides at Chester, West Virginia; J. Campbell is a merchant at East Liverpool, Ohio; Austin Hooker is the immediate subject of this sketch; Alice died within a short time after her marriage to Frederick Porter; Margaret is the widow of Joseph Hough and resides at Chester, Hancock County; Frank is a mill man at Warren, Ohio, and his twin brother, Edward, died in child- hood; Barbara is the wife of Harry Darrington, an oil refiner, and they reside in the City of Chicago, Illinois; Richard is a railroad man at Wellsville, Ohio; Benjamin is a merchant at Toronto, Ohio.
---
Contributed by George Allison.
East Liverpool Evening Review, East Liverpool, Columbiana Co., OH. Monday, 21 Mar 1910, pg. 5.
COL. BROWN IS DEAD AT HIS HOME
Prominent Civil War Veteran, Citizen and Official Succumbs to Paralysis.
Col. R. H. Brown, aged 73 years, Civil war veteran, river man, ex-sheriff and one of the most prominent residents of Hancock county, died at his home in Brownsdale at 7:30 p.m. last Saturday evening following an illness of paralysis. Col. Brown followed his aged sister, Miss Virginia Brown in death. Miss Brown died at 7:30 o'clock Saturday morning just 12 hours before her brother. Col. Brown was a son of the late Jacob and Anna Brown. He was born on the old Brown farm and resided in Hancock county practically during his entire life. His early life was spent in the vicinity of Brownsdale. At an early age he engaged in the ferry business, securing a ferryboat and operating it at Omaha, Neb., until the Rebellion broke out. With his (?) patriotic nature, Col. Brown returned to his home in West Virginia and enlisted as captain in Company I, 12th West Virginia regiment. He served three months and re-enlisted for three years, being promoted to (?). Later he became lieutenant-colonel and just before completing enlistment received the commission of colonel. Col. Brown won considerable renown during the war for bravery, having fought in some of the most important battles of the contest. He was a member of the G. A. R. at New Cumberland.
He was a man of great business (?). He graduated from Duff's Business college at Pittsburgh. He served four years as sheriff of Hancock county from 1876-1880. He was one of the four judges to whom was entrusted the management of the (?) of the county previous to the (?) of the law establishing the county court. He was prominent in educational affairs, having served on the board of education for several years.
He married Elizabeth Pugh, a daughter of the late David and Nancy Pugh, in 1867. Twelve children were born in the union, of whom the following survive: Anna, G. K., Austin, Campbell, Frank and Benjamin at home, Mrs. Joseph Hough of Chester, Mrs. Harry Dorrington, Nebraska, and Richard H. of New Cumberland. Three children are dead. A double funeral was held from the home in Brownsdale at 1 o'clock this evening. The services over the bodies of Miss Virginia Brown and Col. Brown were conducted by the pastor of Nessley chapel. Interment will be in the Nessley chapel cemetery.
East Liverpool Evening Review, East Liverpool, Columbiana Co., OH. Saturday, 19 Mar 1910, pg. 2.
DEATH CALLS MISS BROWN
Prominent Resident of Hancock County Dies at Brownsdale.
New Cumberland, March 19. -- (Special) -- Miss Virginia Brown, aged 75, a highly esteemed and well known resident of Hancock county, died at her home in Brownsdale at 7 o'clock this morning following an illness incident to the infirmities of old age. Miss Brown had been in ill health for the past several months, but her condition only became critical two weeks ago. She was one of the most popular residents of the county. The deceased was a daughter of the late Mr. and Mrs. Jacob Brown and was born and raised on the old Brown farm at Brownsdale. She was a woman of great executive ability and for several years had managed the old Brown farm. She was a faithful member of Nessley chapel, having been affiliated with the Methodist Protestant denomination all her life. She is survived by three brothers, Col. R. H. Brown, who is critically ill; W. F. Brown and R. B. Brown, all of Brownsdale. The funeral services over the remains will be held from the late home at 10 o'clock Monday morning. Interment will be made in Nessley chapel cemetery.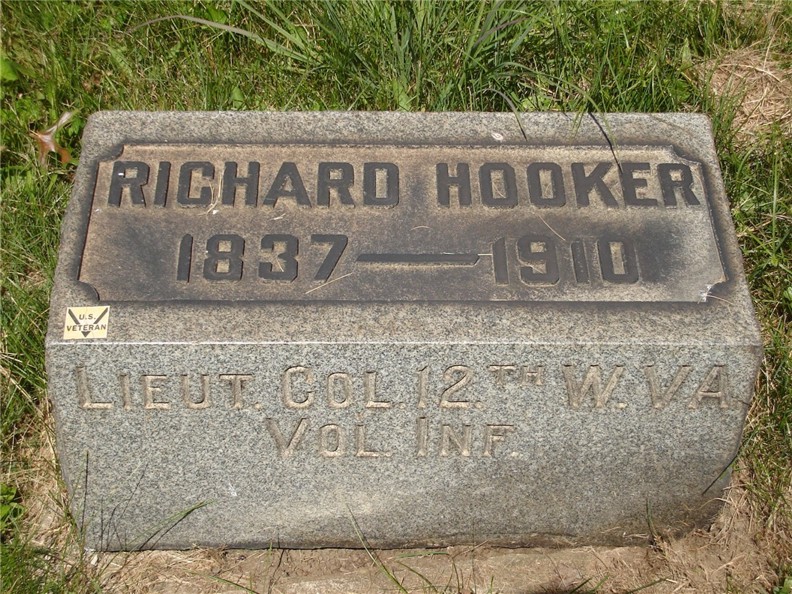 Buried in Nessly (Nessley) Cemetery, Hancock Co., West Virginia.
Photo by George Allison.
---
© Linda Cunningham Fluharty, 2000.