WILLIAM B. CAMPBELL, Company "I"
---
Submitted by George Allison.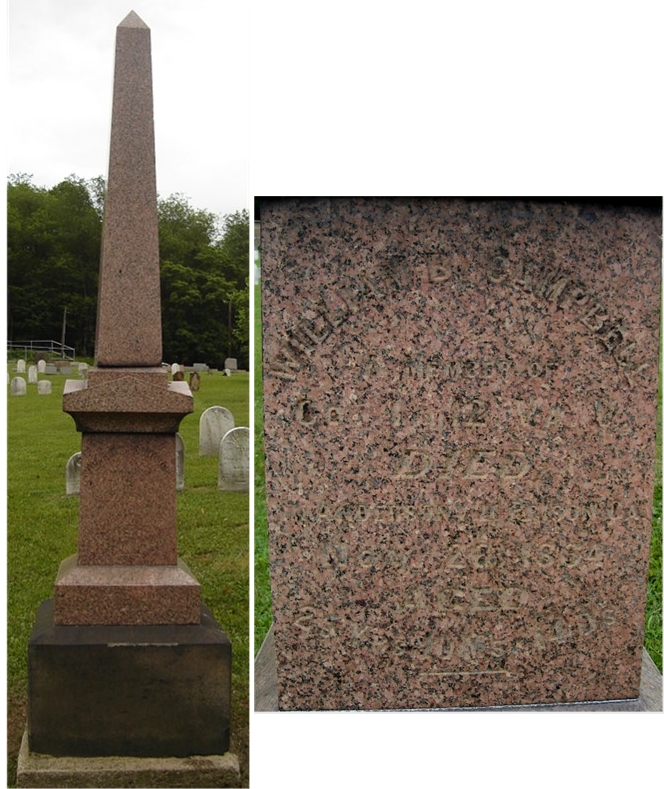 MEMORIAL AT FLATS CEMETERY, HANCOCK COUNTY, WEST VIRGINIA
Died of Scorbitus at Andersonville Prison, 26 Nov 1864.
Buried at Andersonville National Cemetery in Georgia, Grave No. 12174.
---
Submitted by Alisa Facchini.
William B. Campbell was the son of Robert Campbell (1806-1876) and Eleanor Young (1806-1861) of Hancock County, West Virginia. William's great-grandfather James Campbell was a pioneer of Hancock and Brooke Counties and once owned thousands of acres along Kings Creek, including all of modern Weirton. William grew up near modern New Cumberland, WV on a 115-acre farm that his father Robert had inherited from his father Robert C. Campbell (1772-1835).
As noted, William enlisted with Company I of the 12th West Virginia and died in Andersonville prison on November 26th, 1864. He is buried at Andersonville National Cemetery, Grave No. 12174, but a memorial marker was placed at the Early Flats Cemetery near New Manchester, WV. His brother-in-law Morgan H. Miller was an elder in the Flats Presbyterian Church. William B. Campbell was survived by siblings John H. Campbell (1831-1901); Elizabeth "Jane" Campbell Miller (1831-1912), wife of John P. Miller; Margaret Ann "Mary" Campbell (1833-1903); Melissa Campbell Miller (1841-1920), wife of Morgan H. Miller; James Young Campbell (1844-1926); and Robert Campbell (1847 - ca. 1885).