WILLIAM C. GAMBLE, Company "A"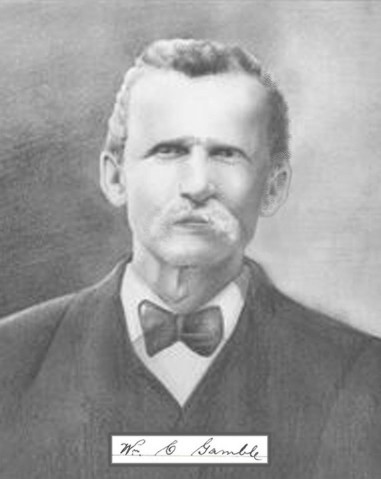 William "Clark" Gamble
circa 1900
Photo provided by Gary Gamble, gr-grandson.
---
Presidents, Soldiers, Statesmen
by H. H. Hardesty, 1894; Vol. II, page 574.
Provided by Shirley Fox Allen
WILLIAM C. GAMBLE - A son of John and Mary J. (Early) Gamble, both deceased, was born in Belmont county, O., Jan. 12, 1840, and settled in Marshall county, W. Va., in the spring of 1852. Comrade Gamble's army life dates from Aug. 11, 1862, when at the age of 22 years, a farmer, when he enlisted, he was enrolled at Moundsville, W. Va., as a private of Co. A, 12th W. Va. V. I., 8th and 24th A. C. He was in hospital at Beverly, W. Va., two days on account of sickness and in the fall of 1863 he was granted a leave of absence of ten days. He was captured in 1864 by Gen. Breckenridge in Shenandoah Valley, was taken to Andersonville, where he remained four months; then taken to Charleston, three weeks, and at Florence, S. C., six weeks; he was then paroled and sent to Annapolis, Md., and was furloughed from there for thirty days, returning to command at Richmond, Va. He was detailed with 54th Pa. Regt. to convey ammunition from Harper's Ferry to Washington, about three weeks. He took active part in the battles of Winchester, New Market and several minor engagements and skirmishes, and was honorably discharged at Wheeling, W. Va., June, 1865. A brother, James L., belonged to 17th W. Va. V. I. Another brother is in the U. S. Reg. Army. A brother of his wife, Philip C., served in 17th W. Va. V. I. Comrade Gamble was married in the spring of 1870, to Mary Cunningham, who was born in 1845, in Marshall county, W. Va., a daughter of John Cunningham deceased, and Mary (Jones) still living (1894). Three children have blessed this marriage, Charles N., Reuben F., and John H. Comrade Gamble is at present a member of the Board of Education, he is engaged in farming, and his address is Glen Easton, W. Va.
---
CENSUS INFO
#60 Washington Dist Marshall Co 1870
Gamble, William C 29 OH, Mary 20 WV
#77 Meade Dist Marshall Co 1880
Gamble, Wm C 41 OH VA VA, Mary 35 VA VA VA, Chas N 9 WV, Rheuben 5 WV, John H 3/12 WV
1890 Veteran census Meade Dist Marshall Co
Gamble, William C, Pvt, Co A 12th WV Inf. Enlisted 11 Aug 1862; discharged 15 JUN 1865. Length of Service: two years, ten months, four days. Address: Glen Easton, WV.
#259 Meade Dist, Marshall Co. 1900
Gamble, William C, 60, b Jan 1840, b OH, father b WV, mother b MD; Ruben, son, 26, b Dec 1873, married 4 years; Mary, d-i-l, 26, b Nov 1873, b WV, 3 children born/3 living; John H., son, 20, b Feb 1880, farm laborer, b WV; Grandchildren: Edgar (3), Maria (1), Edna M. (b Feb 1900)
NOTE: John H. Gamble, 21, married Gertie Wayt, 20, in Marshall County on 25 Dec 1901 (Bk H Pg. 353)
DEATH
William C. Gamble died in 1903 and is buried at Bowman Ridge Cemetery, Marshall County, W.Va.
---
NATIONAL ARCHIVES PENSION FILE
(partial)

Transcribed by Bobby Jones from hard copy provided by Linda Fluharty.
---
Declaration for an Original Invalid Pension
This must be Executed before a Court of Record or some Officer thereof having Custody of the Seal.
State of West Virginia, County of Marshall, ss:
ON THIS 23rd day of June A. D. one thousand eight hundred and eighty seven personally appeared before me W Manning Deputy Clerk of the County Court a Court of Record within and for the county and State aforesaid W. C. Gamble aged 47 years who, being duly sworn acording to law, declares that he is the identical W.C. Gamble who was ENROLLED on the 16th day of Aug, 1862, in Company A of the 12 regiment of WVa, Inft. Vol. commanded by Capt Hager Tomlinson and was honorably DISCHARGED at Wheeling W.Va. on the _______ day of June, 1865.
That his personal description is as follows: Age 47 years; height 5 feet 11 inches; complexion light hair brown; eyes gray
That while a member of the organization aforesaid, in the service and in the line of duty at on march from New Creek WVa, to Winchester Va, on or about the ________ day of Dec., 1863, he caught cold on the march to said Winchester, Va, and this caused a gethering, so called, in his left ear which caused him great pain and greatly impaired his hearing and he continues to suffer pain and injury to left ear. Has almost lot his hearing out of this ear. He was captured at New Market, Va May 15, 1864 and was in prison in different places 8 mos, 4 mos. of this time he was in Andersonville Ga. From starvation and exposure while in prison he contracted scurvy, a disability in his right side, rheumatism and general disability He at times suffers with his heart. He came back to his regiment from prison May 1865. He has had trouble with his lungs and chronic Diarrhia from effects of the service.
That he was treated in hospitals as follows: Beverly W.Va, Dec. 1862 Was treated Dr. Patton at Winchester in Dec. 1863. He was treated by Dr. bryan at Martinsburgh WVa. in the summer of 1863. He had hemmorhage of lungs at that time.
That he has not been employed in the military or naval service otherwise than as stated above ______
That he has not been in the military or naval service of the United States since the ________ day of June 1865
That since leaving the service this applicant has resided in the County of Marshall in the state of WVa., and that his occupation has been that of a farmer
That prior to his entry into the service above named he was a man of good, sound, physical health, being when enrolled a farmer
That he is now greatly disabled from obtaining his subsistence by manual labor by reason of his injuries, above described, received in the service of the United States; and he therefore makes his declaration for the purpose of being placed on the invalid pension roll of the United States. He hereby appoints with full power of substitution and revocation B. F. Meighten of Moundsville WVa his true and lawful attorney to prosecute his claim. That he has has not received nor applied for a pension; that his residence is No. ________ street________ Moundsville, Wva. and that his post office address is Moundsville, WVa.
W. J. Burley (Two witnesses who can write sign here.)
Walter B Purdy (Two witnesses who can write sign here.)
Wm. C Gamble (Signature of Claimant.)
---
DEPARTMENT OF THE INTERIOR
BUREAU OF PENSIONS,
WASHINGTON, D.C.
Invalid No. 614785
Wm. C. Gamble
Co. A, 12th W.Va. Vols.
March 13
Sir,
To further aid this bureau in the adjudication of above entitled claim for pension in which you have testified that claimant became disabled while in the U.S. service, please furnish a statement in your own hand writing setting forth all the facts within your personal knowledge relative there to.
If such disability resulted from disease state its name or nature, how claimant was affected thereby and when where, and how you first became aware of the fact.
If the disability resulted from an injury, or a wound state whether you were an eye witness of it's incurrence and whether you saw the affected part and if so, describe it's location and condition, and state nearly as possible the date of incurrence, and time of your first seeing the same.
Your early, reply endorsed on this letter will be appreciated.
Very Respectfully
John C Black
commissioner
James M. Blair
Pleasant Valley W Va.
Vol. Inf., I beg leave to state:
We were captured at the battle of New Market, Va., May 15 1864, and were taken to Andersonville prision. Soon after, he began to grow sick and weak. I can not say from what or any particular cause. I had charge of a detachment, and got medicine for them, and remember of getting some for him. probably for diarrhaea. I left the prision SEPT. 8, 1864, and I do not now remember whether he went with me to Florence or not. I was paroled Dec. 8, and we went to Anapolis. While I was there, Gamble came on ship. and I was on the wharf when he got off.
THE SAC SUN
JAS N. MILLER
SIDNEY SMITH
ESTABLISHED 1871
OFFICAL PAPER OF SAC COUNTY.
Sac City, Iowa
He was so weak and sick I had to take him up to my barracks. I went home in a few days, and have never seen him since. I would say that I am unable to remember very much about my prision life, as to particulars. I was only 18 years of age at that time. We thought Mr. Gamble was going to die while in Andersonville, but we got him through. I cannot say what particular disease he had. I think that any person who was in Andersonville serve seven months suffered such impairments of health that he ought to have a pension.
I'am Resp'y Yours
Jas. N. Miller.
late Co. A, 12th W. Va. Vol. Inf.
---
GENERAL AFFIDAVIT
STATE OF WEST Va., County of Marshall, ss:
In the matter of claim of Wm. C. Gamble Co. A, 12 Regt. WVa. Inft. Vol. No. 614785
On this 12th day of Jany A.D. 1889: personally appeared before me Clerk County Court in and for the aforesaid County duly authorized to administer oaths, W.J. Burly aged 46 years, a resident of Moundsville in the County of Marshall, and State of West Virginia whose Post Office address is Moundsville WVa.
well known to me to be reputable and entitled to credit, and who, being duly sworn, declared in relation to aforesaid case as follows:
W. C. Gamble enlisted in August 1862. and serves with his company A 12th Regt. WVa. Infty until the winter of 1863 when from exposure he was taken sick, and sent to hospital. but being no room he was returned to his regt. where he was sick and unable for duty most of the winter with gathering in hearing. In May 1864 he was captured in action at New Market, Va. and never returned to his company until about the first of May 1865 at Richmond Va. but as near as I now recollect was never able to do much duty until discharged in June 1865. I have lived in same county with him ever since the war. and has suffered more or less ever since from the effects of his disease and in my opinion is entitled to compensation for what he done and suffered for his country.
---
DEPARTMENT OF THE INTERIOR,
BUREAU OF PENSIONS
WASHINGTON, D.C. January 15, 1898
Sir:
In forwarding to the pension agent the executed voucher for your next quarterly payment please favor me by returning this circular to him with replies to the quetions enumerated below.
Very respectfully,
? Evans
(commissioner)
First. Are you married? If so state your wifes full name and her maiden name.
Answer. Have been married wife is dead. Died December the 8th 1887
Second. When, Where, and by whom were you married?
Answer ____________
Third. What record of marriage exists?
Answer. ___________
Forth. Were you previously married? If so please state the name of your former wife and the date and place of her death or divorce.
Answer. I was not
Fifth. Have you any children living? If so please state their names and the dates of their birth.
Answer. Three Boys Charles N. Gamble Born February the 20th 1871 Rueben F. Gamble Born December the 2nd 1873 John ? Gamble Born the 24th February 1880
William C. Gamble(signature)
Date of reply, June the 4th, 1898
---
GENERAL AFFIDAVIT
STATE of _________, County of ___________,SS:
In the matter of claim for pension of Wm. C. Gamble
No. 614785 Co. A 12 W.Va. Inft vol.
ON THIS 19 day of December A.D. 1888; personally appeared before me Clerk of the Court in and for the aforesaid County duly authorized to administer oaths, James N. Miller aged 42 years, a resident of Sac City in the County of Sac and State of Iowa well known to me to be reputable and entitled to credit, and who, being duly sworn, declared in relation to aforesaid case as follows:
I was a member of Co. A 12 W.Va. vol inf. Knew Wm. C. Gamble. was captured with him at New Market, Va., May 15, 1864 and was taken to Andersonville, Ga. Was confined with him there and at Florence, S.C. for seven months, when we were released on parole. While in prison, Gamble was very low scurvy and I think diarrhaea. We thought he would die at Andersonville, but we pulled him through. When he was paroled from Florence he could hardly walk to the cars, and when we reached Anapolis I had to take him to quarters. I am satisfied his health was seriously impaired while he was in prison. I have no knowledege of him since that time.
His Post Office address is Sac City, Sac Co., Iowa he further declares that he has no interest in said case and is not concerned in its prosecution.
Jas. Miller (signature of Affiants)

---