WILLIAM HARDY ALLISON, Company "I"
---
Submitted by George Allison.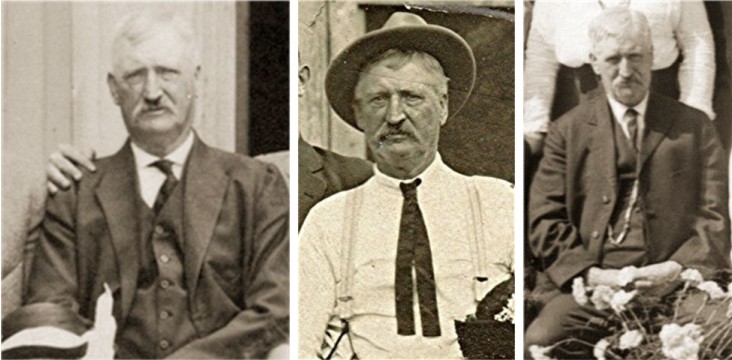 William Hardy Allison - 1906, 1907 & 1916
WILLIAM HARDY ALLISON was born 09 Apr 1846 in Brooke (now Hancock) County, West Virginia. On 7 Apr 1868 he married Anna Mary Pugh, born 8 Jul 1849 in Brooke (now Hancock) County.
The children of William H. and Anna were: Jennie, b. 02 May 1869, d. 17 Nov 1944; James T., b. 03 Jun 1874, d. 08 May 1894; Jesse Frances (female), b. 30 Sep 1884, d. abt 1960; Clifford Paul, b. 09 Jun 1888, d. 07 Feb 1946.
William H. Allison died 10 Apr 1931 in Chester, Grant District, Hancock County, West Virginia. Anna Mary (Pugh) Allison died in Chester on 08 May 1932. Both are buried in Locust Hill Cemetery, Chester.
OBITUARY
East Liverpool Review, East Liverpool, Columbiana County, OH. - Saturday, 11 Apr 1931, pg 3.
W. H. Allison, Aged 85, Dies
Civil War Veteran Succumbs in Chester.
William Hardy Allison, 85, Civil war veteran and lifelong resident of Hancock county, W. Va., died Friday at 7 p.m. in his home at 849 Louisiana avenue, Chester. He observed his birthday Thursday. He enlisted at Pughtown in Company I, 12th West Virginia Volunteer Infantry, January 1, 1884. He was wounded in the battle of New Market, Virginia, May 16, 1864. He was mustered out of service at Cumberland, Md., in August, 1865. He was married to Miss Anna Pugh, daughter of John and Hannah Pugh of Pughtown on April 7, 1868. They were tendered a post-card shower in their home Tuesday marking their 63rd wedding anniversary. He was a member of General Lyon post No. 44, G.A.R., and the First Methodist Episcopal church of Chester. Besides his widow, he leaves two daughters, Mrs. John Fowler and Mrs. Hugh Miller, and one son, Clifford Allison of Chester, and brother, A.S. Allison of Pughtown. Funeral services will be held Monday at 2 p.m. in the First Methodist Episcopal church in Chester, in charge of Rev. Alexander Steele of Ligonier, Pa., assisted by Rev. C. J. Bland, pastor of the church. Burial will be made in Locust Hill cemetery, near Chester. The Ladies of the G.A.R. will hold services in the home Sunday at 7 p.m.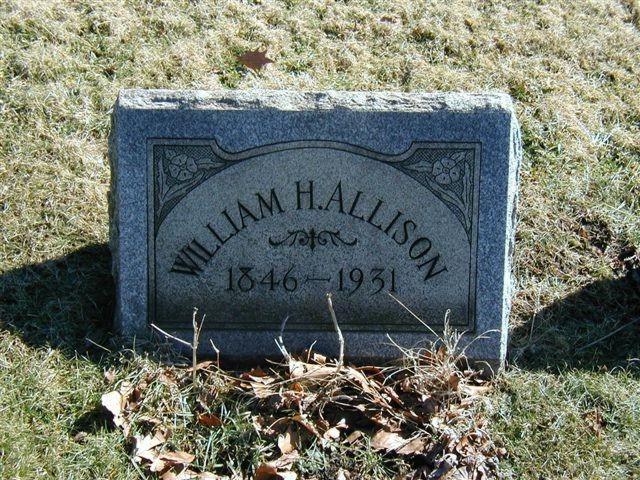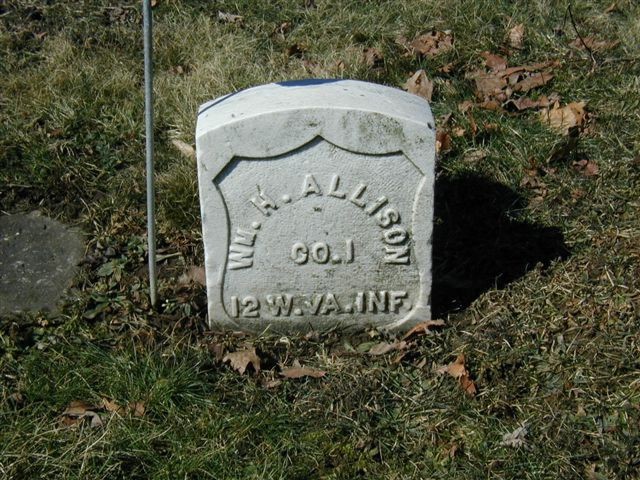 LOCUST HILL CEMETERY, HANCOCK COUNTY, WEST VIRGINIA
---
Submitted by Theodore E. Lewis

Certificate of Disability of Discharge - Gunshot wound of left elbow, 15 May 1864, near New Market. Light complexion; light eyes; grey hair; 5 feet nine inches tall. Discharged 28 June 1865, Cumberland, Md. Anchylosis of Left elbow joint arising from wounds received in battle. Physically unsuitable to enter or re-enlist in the Vet. Res. Corps. Degree of disability - total.

Civil War "Honorably Discharged" medal claimed by Theodore E. Lewis from the W.Va. State Archives, 1990.
---