---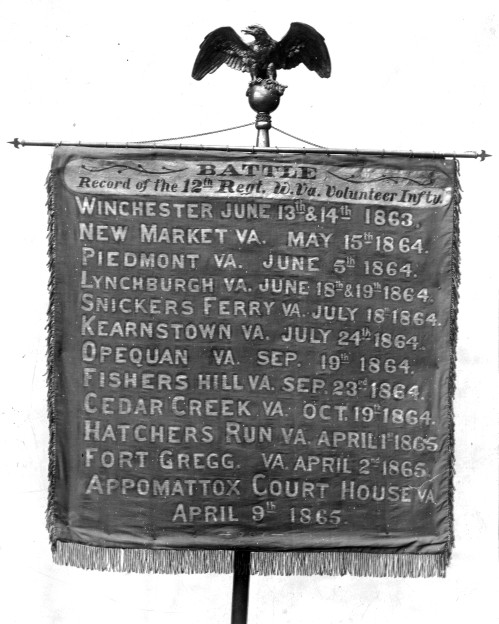 Photo provided by Doug Thompson.
This must have been made specifically for the soldiers.
The following describes the flag that remains at the State Archives.
From the First Biennial Report of Archives and History of the State of West Virginia, by Virgil A. Lewis, M.A., State Historian and Archivist, 1906 (Under Guidons): Twelfth Regiment West Virginia Voluntary Infantry:--In the Department there is but one flag - a State Flag - of this regiment. A dark red scroll beneath the Coat-of-Arms bears the legend: "2th (error "12th") Regiment West Virginia Infantry." At the top, in two horizontal lines in gilt letters one inch in height, is "Winchester, Va., June 13th, 14th, and 15th, 1863; New Market, Va., May 15th, 1864." To the left is "Piedmont, Va., June 5th, 1864." To the right is "Lynchburg, Va.,June 17th and 18th, 1864." Below all, in two horizontal lines, "Snicker's Ford, Va., July 18th, 1864; Kernstown, Va., July 24th 1864; Berryville, Va., Sept. 3d, 1864; Cedar Creek, October 19th, 1864." The flag is split in the center and has rents in lower left hand corner. Observe it is in good condition -- yellow fringe and cord and tassels remain.
---