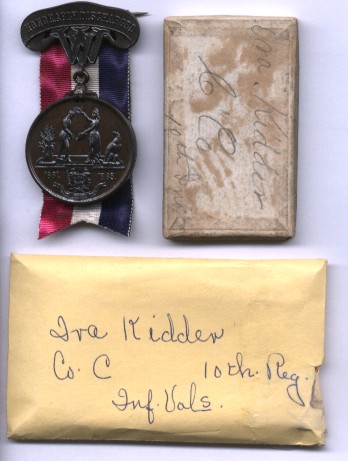 Civil War Medal of Ira Kidder
Dave Rader, gr-grandnephew of Ira Kidder, claimed Ira's medal from the West Virginia State Archives in August, 2002. Dave's great grandfather, Erastus Kidder, was the brother of Ira Kidder. Erastus served in Company "G" 148th Ohio Infantry and Company "I" 195th Ohio Infantry.
Erastus Kidder --> John Kidder --> Mary Victoria Kidder --> Dave Rader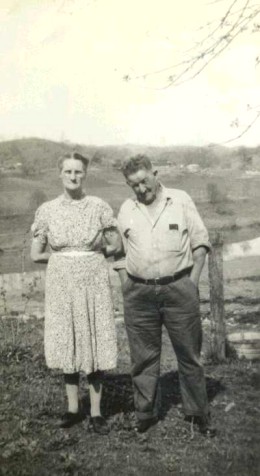 John Kidder, nephew of Ira, with wife, Pearl Iona Bailey.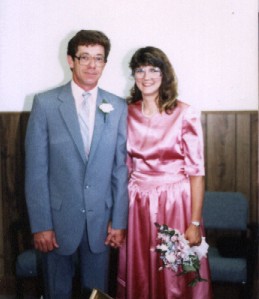 Dave and Jan Rader
OBITUARY OF DAVID RADER
Akron Beacon Journal, 29 July 2006.
David J. Rader, 58, of Harris Street, Kent, died Wednesday, July 26, 2006, at his home.
He was born Dec. 19, 1947, in Akron, to Russell J. and Mary V. (Kidder) Rader. He was a delivery driver for Kent Office Supply. He was a member of the Kent Civil War Society, and volunteered for Find-A-Grave and the Sons of Union Veterans. He also had begun work to restore Russell-Green Cemetery in Franklin Township and participated in the Adopt-A-Grave program at Pioneer Cemetery in Kent. Mr. Rader cleaned the Magics Day Care in Kent.
He is survived by his wife, Jan R. (Baker), whom he married on July 5, 1988; sons, Phillip of Ravenna and John of Stow; daughter, Shelley Conaway of Ravenna; stepdaughters, Jeannie (Jason) Wills of Kent, Brenda Barnhart of Stow, and Danni Lee McGunigal of Cleveland; stepsons, James Rinehart of Bolivar and David W. Sing of Hartville; 12 grandchildren; brother, Robert "Red" (Deb) Rader of Brimfield; sisters, Sue Marple of Brimfield and Pat Wilson of Brimfield; aunts, Grace Smith and Della Moellendick, both of Parkersburg, W. Va.
Funeral services will be held at 8 p.m. Monday at Bissler & Sons Funeral Home and Crematory, with Rev. Brian Frederick-Gray officiating. The family will receive friends from 6 p.m. until service time. Memorial contributions may be made to Kent Civil War Society, c/o Mark Perkins, Treasurer, P.O. Box 3671, Kent, Ohio 44240.