ADAM COSS, Corporal, Company "D"
---
Submitted by Mary Coss Staley.
---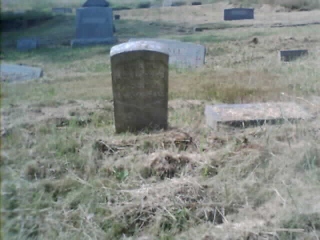 Riverview Cemetery, Martins Ferry, Ohio
CIVIL WAR PENSION RECORD OF ADAM COSS
State of Ohio, country of Belmont. On this 18 day of February, one thousand nine hundred and Seven, personally before me, a Notary Public within and for the County and State aforesaid, Adam Coss, who being duly sworn according to law, declares that is 81 years of age, and a resident of Martins Ferry, county of Belmont, State of Ohio, and that he is the identical person who was Enrolled at Wheeling WV, under the name of Adam Coss in the 1st day of October, 1861, as a private in the W C Carmans, Company D, 1st regiment of Virginia Mounted Vol, in the Service of the United States, in the Civil War.
Was Honorably Discharged at New Creek, on the 21 day of December 1863. That he also served as a Corporal, of Charles Armstrong, Co D 1st Ref of West Virginia Vol Cavalry Enlisted Dec 23, 1863, Discharged July 8th 1865. That he was not employed in the Military or naval Service of the United States otherwise that stated above. That his personal description at enlistment was as follows: Height, 5 feet 10 inches, Complexion fair, color of eyes light, color of hair brown, that his occupation was Mechanic, that he was born July 17th, 1825 at Belmont Co
That his several places of residence since leaving the service have been as follows: Wheeling WV, and Martins Ferry, Ohio. That he is a pensioner. That he has heretofore applied for Pension Certificate #768766.
That he makes this declaration for the purpose of being placed on the rolls of the United States under the provisions of the act of Feb. 6, 1907.
He hereby appoints, with full power of substitution and revocation, Frank S. Mason of Bellaire , Ohio, his true and lawful Attorney to prosecute this claim. That his Post-office is Martins Ferry, County of Belmont, State of Ohio
Claimant Signature
Adam Coss
Attest:
E.D. Reyner
Frank A. Sedgwick
---
THE STORY OF ADAM COSS
Dr. S. C. Gamble who was the Pastor of the United Presbyterian Church of Martins Ferry, around 1905, used to go to the Walnut Grove Cemetery to study when it was hot.
One day, he found an old man asleep on a bench. Thinking him dead and becoming alarmed, he shook him. The old Man awakened and proved to be Adam Coss. Adam had been in the Civil War, and the old Union Veteran loved to tell the story about his beloved Col. Sweeney, a Confederate officer who once saved his life. Dr. Gamble reported the story in the "United Presbyterian", Monday, April 17, 1944, of the meeting which took place on a hot July Morning in 1905, when Dr. Gamble sought the coolness of the old historic cemetery to write his sermon. He reported the story of Adam's experience as follows: "Some of my people were secesh - nearly every home in these parts were divided them days - but I stood by the old Flag and done my part for three years in the First West Virginia Cavalry. Four of my buddies and me went out foragin, one time dismounted, and somehow we got inside the Rebel lines. A dozen rebs pounced on us and were leading us into the swamp to shoot us, when almost from nowhere Colonel Sweeney came. I knew him in Wheeling before the war. He told the others to vamoose and because he was an officer they done it. Then he talked to us about Wheeling and Martins Ferry, led us a little piece, said to us "You are now close to your own lines. Run ---------, which we done. He saved my life and the lives of four more Yanks. You say then graves in that Zane plot help you? I know a grave and it hain`t been made long, that helps me. It is the grave of the Reb, Colonel Sweeney."
Adam burst into tears and I left him weeping on the bench by the Walnut Grove Cemetery exit, as he recalled the mercy of the Confederate Office.
---
Note: Adam was the son of David and Nancy Coss, early settlers of Martins Ferry.

Brothers, Adam, John and William all served in the First West Virginia Cavalry.
---