BENJAMIN H. ADKISON, Company "L"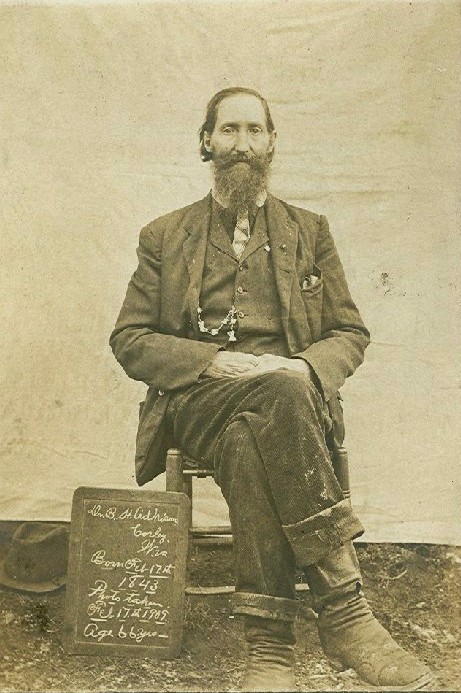 Dr. Benjamin H. Adkison
(CDV owned by Sue Turner.)
---
Submitted by Bill Jackson.
Horace Mann Baker was a member of the Co. K of the 8th Wisconsin Infantry Volunteers (The Eagle Regiment). He was a member of the GAR and corresponded with many old Union soldiers. The following is a post-war letter from B. H. Adkison, Co. L, 1st West Virginia Cavalry. The letter gives a good summary of Adkison's life. (Bill Jackson is the gr-gr-grandson of Horace Mann Baker.)
Transcription of letter:
Corley, W. Va., Nov. 11th , 1908
Mr. Horace Baker
Weatherford, Texas
Dear Comrad,
Your much esteemed favor of Oct. 13th to hand in due time & as my health was not good I have delayed in Ans. Yes, I am afflicted with indigestion, caused from cold on chronic diarhea while in the army & have no doubt but if I could be with you and live on the rich milk form Old Bosses calf, minguilled with fruits and wild meats, in the warm even temperate climate of Texas, I could injoy much better health , but so it is I am here with poor health and only $1000. or so except some rough rockey hills filled with coal & we believe oil & gass in paying quanity if operated . If I felt better I could give you quiet a history of the old family record as great grandfather came from England and him and grandfather & great uncles fought with Gen. George Washington in gaining the great indipendance of this great country, and grandmother Sanders died at the girlish age of 114yr. & 7 mo. pioneering, multiplying and replenishing the earth. She was a docteress in her day. Grandfather died at the age of 82. Some of his brothers lived to be much older. Father was born in Va. May 1807, raised 10 children, and died at a good old age. He married miss Susan F. Taylor in 1831 and mooved to Pocahontas Co.(now W. Va ) west of the Alegany in 1832, where I was raised in the Rockeys among the Bear, Deer & wolves & ect., and 3 to 5 miles form school and I was born Feb. 17th, 1843, and in March 16th, 1862 I left my nativity & came north with 28 others and met Gen. Millroy at Elkwater Camp in Tigers Valley in Randolph Co. W. Va. and Many of the boys joined hs ranks while I was young [since I was too young] I worked for Uncle Sam, or Father Abriham, and the Union, now and forever amen, and in Oct. 1st, 1865, I married Miss Caroline Secelie Hinseman and read medison under Drs. McWhorter and Russmiser and commenced the practice of medison in 1870 and have practised under a state certificate ever since. I raised one son and 2 daughters and they married and commenced to multiply and I gave each of them a farm so that they might multiply and replenish the earth for god sake, and in May 8th 1908 I lost My dear Secelia by death and as I had no one to care for my cows, chickens, and household while I was visiting the sick, and cheering the poor and castdown, I got my son and wife to moove in with me and we have lived together in peace and harmony ever since, and no old made or widow nead to think of confuseing our hapiness by ther slipping into the camp. Yes I would be pleased to receive your litature and instructions, propositions & ect. concerning the 2000 acrs. at $5 per ac. in Palo Pinto Co. Texas. Just for luck not knowing just how the hand of providence might turn. Yes, In 1864 I joined Co. L, W.Va. Calv. USA and had one mess mate by the name of Oscar Baker, tho long since I have lost track of him. I will in close one or 2 of my late photoes as I have none while in the army. Please except my thanks for your photos. Remaining fraternaly your comrad & friend with a felow feeling. Hoping to hear from you again at your convenience I remain B.H. Adkison M.D. Corley, Braxton Co. W. Va.
Now just one moore sheet for luck and questions. Is it supposed that there is any coal, oil or gass in paying quantitys along th Brazos Rriver in Palo pinto Co, where your 2000 acrs are situated, and is the 2000 ac. watered by creeks and springs, and is it timber or prairie land, hilly or rolling or flat & boggy, or how is it suitable for farming in grass and creals and fruits vegitables & ect. If I should not feel financialy able to take a share with you I may interest some other good comrad who may. I am a Believer in nature and natu res god and the rulings of the hand of providence tho I never enjoyed the twinkling of the lone star buties yet as you have. yes woman is a blessing when godlike and a curse when posessed with the eval one
Original Letter
Page 1
Page 2
Page 3
Page 4
Page 5
Page 6
Page 7

---