JOHN B. BEASCHLER, Company "M"
Quartermaster Sergeant
---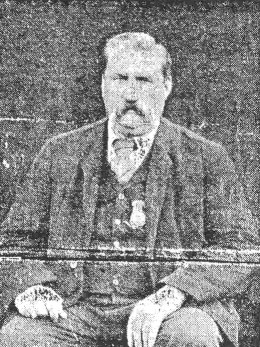 John B. Beaschler
Prominent Farmer & Stock Raiser
Submitted by Nira Parkhurst Beaschler.
John B. Beaschler, the youngest son of George Beechler, was born in White Rock, Maryland 13 August 1839. His parents and seven siblings immigrated to this country from Hesse, Darmstadt, Germany.
On 8 Sept. 1861, John enlisted as a Private in Company M, 1st Regiment of West Va. Cavalry; he discharged 8 July 1865. Following the Civil War, he moved to Ohio, (Monroe County/Noble County) where he spent the remainder of his life.
John married Eliza Brand 9 August 1866 in Mt. Ephiriam, Noble County, Ohio. They had 8 children:
George Henry
William Lafayette
Peter Ellsworth
Herman Otis
Annie Florence
John Mansell
Isa Menta
Edna Marie

In Cumberland, Ohio, John died 16 June 1903.
---