WILMON W. BLACKMAR, Captain, Company "H"
---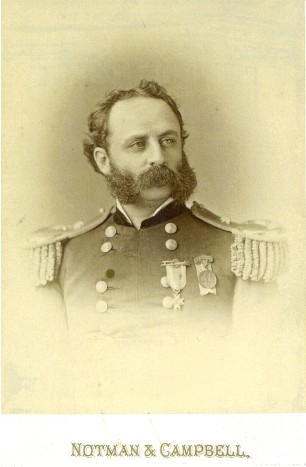 (Photo from the collection of David L. Aeberli.)
---
---
---
JOURNAL
of the
Thirty-Ninth
National Encampment
of the
Grand Army of the Republic
Denver, Colorado
September 7th and 8th
1905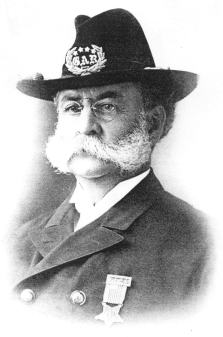 WILMON W. BLACKMAR
Commander=in=Chief
1904=5
***
Died in Office July 16, 1905
IN MEMORIAM
*
Headquarters Grand Army of the Republic
95 Milk Street, Boston Mass., July 18, 1905.
General Orders}
No. 9}
To Department Commanders and to the
Comrades of the Grand Army of the Republic:
With sincere regret I announce the death of my predecessor,
Wilmon W. Blackmar, at Boise City, Idaho, Sunday, July 16, 1905.
* * * *
In Fraternity, Charity and Loyalty,
John R. King,
Commander-in-Chief.
Wilmon W. Blackmar was born in Bristol, Penn., July 25, 1841. His father was a clergyman of Massachusetts birth and his mother was a native of New Hampshire. When the war broke out he was preparing for college at Exeter Academy, Exeter, N. H. He left his studies upon attaining his majority and went to the State of his birth, where he enlisted August 23, 1862, as a private in the Fifteenth Pennsylvania Cavalry. His devotion to duty and mastery of military tactics secured for him rapid promotion through all the non-commissioned grades to First Sergeant. He was commissioned a Second lieutenant in the First West Virginia Cavalry, March 15, 1864, and from that time till the close of the war was an officer on the staffs of Colonel Schoonmaker, General Powell, and General Capehart. For distinguished services at the battle of Five Forks, April 1, 1865, General Custer promoted him to a Captaincy on the field, and Congress subsequently granted him a medal of honor for the same brave act. He served both in the Eastern and Western armies, and was engaged in twenty-two actions, among them Antietam, Stone River, Chickamauga, Wauhatchie, Chattanooga, the Shenandoah Campaign of 1864, and the final fighting from Dinwiddie Court House to Appomattox. He was an active worker in the Grand Army of the Republic for thirty-seven years, being a charter member of Edward W. Kinsley Post No. 113, Department of Massachusetts, and its first Commander. He served as Junior and Senior Vice Department Commander in 1900 and 1901, and was unanimously elected Commander of the Department in 1902. He was elected many times as a representative to the National Encampments, in which he bore a conspicuous part, serving as chairman of the Committee on Resolutions and member of the National Council of Administration, and at the Thirty-Eighth National Encampment, held in Boston, August 17 and 18, 1904, he was unanimously elected Commander-in-Chief. He was a resident of Boston from the close of the war until his death, with a palatial country house in Hingham, known as "World's End Farm." On his return from the front he entered Harvard Law School, from which he graduated with the degree of LL.B. in June, 1867, being admitted to the Suffolk Bar in the following month. For twenty years he was the law partner of Comrade Henry N. Sheldon, now a justice on the Supreme Court Bench of Massachusetts. He was appointed Judge Advocate General of Massachusetts, with the rank of Brigadier General, June 4, 1873, serving as such ten years under four different Governors, till his resignation, January 3, 1883. He was fortunate in his business and domestic affairs and life went well with him. He was a born soldier, and had the war lasted he doubtless would have left the army wearing the Eagles or the Stars. As it was, the larger part of his service was in the ranks and for the common soldier he always felt the heartiest appreciation, affection and regard. He was characterized by tireless devotion to duty and he died as he would have wished to die, in the service of his comrades, advancing their interests, ringing their praises, and proclaiming their glory in the land they fought to save.
(Buried in Cedar Grove Cemetery, Dorchester, Massachusetts.)
---
From: "Looking Backwards," Volume I; pgs. 48-76.
The Autobiography of Wilmon Brewer
© 1985, by Katherine More Brewer (wife).

The sister of Wilmon Brewer's father, was Helen Frenouf Brewer, wife of Wilmon Blackmar.

"Father's gentle sister Helen Frenouf Brewer married General Wilmon Whilldin Blackmar. at that time a lawyer much respected and liked in Boston. He was a director of the Hamilton Mills Company besides other businesses. He had interesting clients, for instance when the two famous actors Edwin Booth and Lawrence Barrett decided to become partners they had General Blackmar draw up their contract and from then on they both were great friends of the Blackmars and the Brewers. This contract became one of my father's younger sister's autographs in her large collection. The library of famous people's autographs was willed to Katherine who lately has given them to the Hingham Public Library.
The Blackmars had a summer residence opposite the World's End home of the John R. Brewer's and their winter residence was, after the death of Helen's aunt Miss Elizabeth Brewer, 70 Commonwealth Avenue, Boston.
A sad tragedy happened when my Aunt Helen gave birth to their longed for baby. The doctor who had promised to be there did not come but stayed to care for the birth of his own child who was born unexpectedly. The little baby, John Blackmar, died with the cord around his neck and they were unable to have another baby ever again. The Blackmars were so loved by my parents that when I was born I was named John Wilmon Brewer and after both of my grandfathers named John died, I legally dropped the John. I had always been called Wilmon.
Were I to tell all my Uncle Wilmon's adventures they would fill another book. At 21 he volunteered for the 15th Pennsylvania Cavalry and he fought in 22 battles of the Civil War. The latter part under his admired General Custer who was under General Sheridan. My uncle and I consider Custer the most brilliant general of the cavalry in the Civil War, and I regret the present debunking.
Some of his adventures will start with the cannon ball at Antietam. While the confederates were crossing the Potomac on their retreat after their defeat at Antietam in September, 1862, Corp. Blackmar's regiment was hanging on their rear annoying them. He was sent up the pike toward the ford, with a squad of men to reconnoitre and see what could be learned as to their movements. He found what proved to be a strong rear guard holding the ford, while the enemy were crossing. Taking his ratehr saucy approach at the advance of a skirmish line, they wheeled a section of battery into possition and sent some six pound solid shot down the pike, and one struck the road in front of him, ricochetted and cut a large limb off a tree just at the left of where he was riding, then struck the pike again behind him, ricochetted again, rattled over the roof of a home, which stood on the side of the road, making a great noise on the shingles but doing little damage as the ball was spent.
Another shot struck in front of him about a hundred feet on the hard pike right in line of him, and this too ricochetted and went directly over his head and uncomfortably near and buried itself at the foot of an apple tree, which stood on the other side of the road from the house just mentioned. He picked up the ball and put it inside his blouse above his belt, as he rode into Hagerstown. An expressman kindly sent it free to his mother, who wrote she had put it down cellar for fear it would go off.
We have the cannon ball mounted on black marble with the silver inscription

Antietam Sept. 17, 1862
Rebel ball striking in front of me
Ricochetted over my head
Lodged in tree behind me
Friend brought it home to mother
W. W. Blackmar

Uncle Wilmon had large cannon balls in front of his Hingham home for many years. Since he was much loved, his comrades gave him all kinds of souvenirs. At one time before Trenchard and his son came to live with us we had our War Room full of souvenirs. We still have his enormous stuffed buffalo head in our attic which so frightened our grand niece Libby when she was little, that she would not go there. A great many people gave historical wood bits to be made into a unique cane. One piece was from the battleship Maine.
From Uncle Wilmon's lectures, he continues: "On December 27, 1862 we had a sharp fight with some Texan Rangers. On the 29th we followed a small body of the enemy too far and ran into a large force. We charged into a piece of woods, on two sides of which lay concealed, in a corn field, a brigade of Confederate infantry.
"We were at once exposed to a deadly cross fire, both our Majors were killed - Rosengarten instantly and Ward dying in a day or two. Eleven were killed, twenty five wounded and nine missing out of about 250 of us who charged the enemy.
"My personal experience in this charge was peculiar. When right upon the enemy and after men had fallen all around me, from the terrible cross fire at short range, my horse charging on the dead run, got his front foot in a hole and turned a somersault. I was under him, freed from my saddle and lying on my back, protected from his full weight by an arch formed by my saddle with my blanket strapped on the cantle and my overcoat on the pommel. I was partially stunned, but remember perfectly looking up and seeing my horse's feet in the air and Jack Horn's horse making a flying leap right over me. Horn was riding right behind me in the charge, and was wounded in the foot while jumping over me. Horn and the other boys behind me supposed that both my horse and myself were killed but when my horse rolled over, jumped to his feet and started toward the enemy, O. T. McConnall lay down on his horse's neck, rode between the enemy and my horse, grabbed his bridle and brought him to me, for I had regained my feet and was looking around in a dazed manner upon the dead and wounded men and horses lying in all directions.
"Why I was not shot or captured I never could tell, for I could have tossed a biscuit into the enemy's ranks. I suppose they looked upon me as a sure prisoner or thought our fool-hardy charge must be merely a dash to be followed immediately by a charge of a more formidable force of cavalry or infantry.
"As my devoted comrade McConnell threw me my horse's bridle he said 'Get on, quick!' but seeing I did not heed him, he cried, 'Well, I can't stay here,' and putting spurs to his horse rode out of the woods in the direction the rest of our boys, who were able, had retreated. I deliberately picked up a canteen, seeing mine was gone, and tied it to my saddle, tested my straps, looked around and mounted, just as some of my Regiment came charging back into the grove again with the purpose of getting our dead and wounded, as they declared. Just at this moment a staff officer of Gen. D. L. Stanby dashed in among us and ordered us, in no gentle terms, to retreat, and I quickly rode out with my comrades.
"We reached Nashville the afternoon of January 1, 1863. Griffith and I dead beat out lay down on the porch of a little house in the outskirts, which sheltered us somewhat from the cold rain, and slept like logs, well into the next day.
"I began to feel the effects of my injury received in the charge of the 20th, and was compelled to give up and go into a church, which was being used as a hospital, and there lay for several days in a pew, getting some sleep, but little else.
"As soon as I could get strength enough I joined my Regiment, but was taken down with fever (typhoid), and lay for several weeks in a deserted house in Murfreesboro, in charge of a good-natured, shiftless negro man. (It was here he crawled out to dig up raw potatoes to eat.)
"Again I joined my Regiment before I was strong, and had a serious relapse, from which I never should have recovered but for the devotion of my comrade and friend, Harry M. Francis (Brewer relative), of the Anderson Troop, who secured permission to take me, in an ambulance, back to the railroad and thence, via Nashville, to Louisville, Kentucky, where I was taken into the house of Mrs. James Thompson, and tenderly nursed back to life and health. (He said Mrs. Thompson hoped some northern lady would do the same for a southern mother's son - W.B.)
They often fought all day and then advanced at night. Once he wrote - "We got off our panting horses, looked to straps, tightened our girths, remounted and started quietly down the hill. I told Leingerfield we would pretend to surrender, we would parley, we would do almost anything except get off our horses, and when they threatened to or began to shoot, we must give our horses the spur and one of us must ride through or over them. We rode toward them slowly, to save our horses for the final dash, but what was our astonishment and relief, to find they were citizens and negroes, dressed in gray and butternut, following in the rear of the Rebel army."
In a lecture on Chattanooga in 1863 he tells "Then began a season of starvation and deep gloom for the Union Army penned up in Chattanooga. One of their shells burst right over the camp fire and destroyed our meager dinner and the cook Jack Hinds a colored dwarfed giant swore mightily and wished they would burst their old shells higher up and not in his kitchen fire.
"The 20th of October, a month after Chickamauga found us still cooped up in Chattanooga with very little food, fuel, clothing or other supplies and very short of ammunition. About this time I wrote home as I find by an old letter, that I was existing on two small crackers a day but had succeeded in keeping my horse alive by feeding him at night (although I was very tired) the leaves and small twigs of the trees we cut down for fuel. (At this time Uncle Wilmon was on the staff of General Rosencrans.)
"Nearly all our cavalry and artillery horses, nearly ten thousand in number, starved to death. During the fight at Wauhatchie a most ludicrous incident happened. General Geary's teamsters had become somewhat demoralized by the savage attack of General Longstreet's men and had deserted their teams, which were unhitched. The mules broke loose and ran away, stampeded by the battle raging around them, happily they ran towards the enemy, with heads down, tails up, heels flying and trace-chains rattling in the pitch darkness, over stumps and through bushes they charged upon Longstreet's bewildered men, who supposing a mighty and fearless body of cavalry was bearing down upon them, lost their nerve, broke and fled in confusion.
"The Quartermaster in charge when reporting the affair said, 'I respectfully request that the mules for their gallantry in this action may have conferred' upon them the brevet rank of horses.'
"We lost in this action 422 men killed, wounded and missing and the enemy never again attempted to interrupt this 'Cracker Line.' Grant reached Chattanooga the evening of October 23rd, 1863 and we soon discovered we had a master hand at the helm.
At Five Forks, one of the most important battles of the war, as to its far-reaching effect, that was fought, the West Virginia Brigade with Well's Brigade, charged (mounted) the enemy's right flank where were Fitzhugh Lee, R. H. Lee and Rosser, and quickly routed them, to which as Custer says, 'The victory was mainly due.' Custer continues: 'Lieutenant W. W. Blackmar, who was transferred from the cavalry in the south-west, and commissioned in the First West Virginia Cavalry, and now of Captain Capehart's staff was promoted by Custer on the field of Five Forks for brilliant personal daring; during the entire engagement he rode in the front rank in the thickest of the fight, and was without a superior for ability.'"
Before continuing about Five Forks I shall mention only one bit about Uncle Wilmon's raiding the Shenandoah Valley with Sheridan. He felt very sorry for the starving people and said one family had nothing to eat but a weed called "river lettuce."
"March 29th, and 30th, 1865. Sheridan pushed on to Dinwiddie leaving Custer to lift through the mud and deluging rain the wagon train.
"All night of the 29th, all day and night of the 30th and the afternoon of the 31st Custer's men, wet through, covered with mud, sleepy, tired and hungry - lifted, dug, cordoroyed and talked mule. The mere physical labor of advancing a wagon train under these circumstances is simply something appalling. One night we had to lift seventy loaded wagons out of the mud three times within a quarter of a mile making two whole miles that night.
"In the afternoon of the 31st Custer called out cheerily to Capt. Capehart, 'Push forward; Gen. Sheridan is not quite sure whether school is going to keep or not.' 'It will keep awhile, General, when my boys get there,' was the equally cheerful answer. The moment we left the road to charge, our horses broke through the thin turf and literally sank to their girths in mud and quicksand. We were ordered to dismount and prepare to fight, although greatly outnumbered we seized rails from some nearby fences and began to throw up a rude breast-work; everything movable within reach was pressed into service.
"Custer had ordered our band up to the front and in answer to the laughing remonstrance of its leader that his men couldn't play, they were so busy ducking their heads to avoid bullets, he replied 'Play something, anything. Play Yankee Doodle on the bass drum.' The band struck up Custer's favorite tune 'Gary Owen' and 'Hail Columbia' which we afterwards learned cheered our comrades in our front and helped them hold back the enemy in front a little longer, which was a great help to us, as every instant our poor little breast-work grew stronger by the addition of another rail, a turf, a stick or stone. The enemy heard our band too, and as a prisoner captured several days after told me, they knew our infantry got up before dark because they heard its band. And the enemy thought our artillery had arrived because they heard the band but it did not arrive until 9 the next morning.
"On came the enemy, just then there was a shout and Phil Sheridan with Merritt, Custer and some staff officers dashed at full gallop along in front. Sheridan, cap in hand, riding on the famous horse Winchester which Buchanan Reed immortalized, instantly the rebel infantry fired on Sheridan and his party, wounding several, and answering our cheer with their shrill yell, came on, and it was our turn. Bullets and mud seemed to fill the air. Into their ranks we poured volley after volley. We had held Dinwiddie. Wet to the skin, we lay there all night, shivering in the mud, no sleep, nothing to eat nor drink, now allowed to build fires even if we could have spared a few precious rails from our rude out works.
"On April 1st I was asked to find the left of Capt. Capehart's Brigade. I found it was well up to the front and turned to ride back to report, instantly the top rail at my side was shattered by a rifle ball and the chips flew in my face. I turned, took off my hat and bowed low to a puff of smoke on the other side of the ravine where a sharp-shooter evidently was hidden. Perhaps he was amused at my sarcastic politeness for he did not fire again.'
"Our cavalry pushed ahead still dismounted, driving the enemy at all points when he was found to be behind strong breast-works at Five Forks. I was ordered to bring up the horses and mount our brigade. With my faithful orderly Robinson, I started back, Officers and Orderlies had kept their horses when the cavalry dismounted. We came to a little stream crossing the road. Into it we plunged, but found it almost bottomless. Finally we floundered out; wet and muddy.
"I was very tired - sleepy, hungry and wet when I reported to General Capehart. I found him sitting under a tree eating lunch with and talking to General Custer. I dismounted, saluted and reported that the horses were coming, I was only a few moments in front of them. General Custer's keen eye seemed to take in the fact that a famished boy stood in front of him, for he said, 'Lieutenant, if you care for what is left of this lunch, you are welcome to it.' As I had not tasted food for hours, I promptly lunched with Custer. Thanking him quietly, but really I wanted to hug and tell him how awfully I did 'care for what was left of this lunch.'
"While I munched the delicious morsels, I heard Custer say to Capehart, 'I am waiting for the infantry's volley firing, the moment we hear that, our cavalry must be pushed forward everywhere, mount your brigade, ride well to the left, and when you hear our infantry firing volleys, duck in for all you are worth.'
"We soon struck a body of cavalry, our leading regiment dashed after them in hot pursuit. General Capehart placing himself at the head of the rest of his brigade started after them on a charge. Just then the terrible infantry volleys began to be heard, we knew the time Custer spoke of had arrived.
"At this moment, I saw some of our brigade flankers come riding out of the woods at our right followed by Confederate cavalry, they were at close quarters giving and receiving blows with their sabres. I recognized among them a corporal in my own company of whom I particularly fond, and he was being sorely pressed and slashed with his enemy's sabre; I jumped a ditch and with a few men rode to our comrade's assistance, but the enemy was too strong for us and we were pressed back to and over the ditch; here we halted and emptied our revolvers in their faces. We had found the right flank of the main body of the enemy.
"I told General Capehart what I found to our right front, and said I thought we were riding too far to our left. He listened and located the heavy volley firing of the infantry and said, 'Take the colors from the brigade on that ditch, facing the woods, I will ride with the rest of the staff and turn the brigade back to the colors.'
The volleys were coming nearer and remembering of our beloved Custer, I leaped the ditch and called for the colors to follow me, he hesitated, I shouted in no gentle terms, 'Bring those colors over the ditch.' I supposed that just then I was the only Yankee on that side of the ditch. Imagine my surprise when a 'heavy hand was laid on my shoulder, and a voice shouted, 'Go and get the colors, Captain,' glancing up I saw that Custer was at my side; where he came from I never knew.
"As my horse bounded over the ditch to the colors, the colors bounded over the ditch to Custer, and every man of the brigade followed them. Then and there a charge was started which crushed the enemy's extreme right front. For five miles or more we never drew rein. Five Forks was a battle and victory of which Sheridan and all his command was justly proud. The right of Lee's line was crushed and scattered making the immediate evacuation of Richmond and Vicksburg necessary."
Uncle Wilmon was made Captain on the field of battle by General Custer and also awarded the Congressional Medal of Honor. To continue-
"The next day Tom Custer, the General's brother, captured a flag and later received a Congressional Medal of Honor.
"On April the third the same instant I saw General Capehart horse and man go down in a heap, a bullet crashed into my horse's head. The next day the doctor extracted the bullet and the horse lived. General Capehart's leg was grazed and he was up in a second but his horse was shot through the heart.
"This same day although General Capehart rode slowly along the enemy's front they did not fire on him. Perhaps they admired their daring enemy, or were willing he should see their strong positions. Just then Capehart saw the enemy rise and give a volley and looking around he saw Custer who had unexpectedly arrived and dashing up to Capehart, as Capehart dashed back to Custer, the latter's horse fell dead. Capehart shouted, 'Their rifles are empty, shall I charge?' 'Charge in among 'em!!' answered the dismounted Custer.
The enemy were simply dumfounded; they threw down their guns, threw up their hands, waving anything which had been white from a handkerchief to a pair of drawers, surrendering by regiments and brigades. In capturing the Rebel flag Tom Custer had been shot in the mouth leaving a bad scar later. This as his second flag in a week and he received two Congressional Medals.
"On this day they not only captured the one-legged General Ewell but the generals Kershaw, Barton, Corse, Defoe and Custis Lee (General Lee's son); eight thousand prisoners and fourteen pieces of artillery.
"On the 8th on the way to Appomatox, a scout came dashing in with news that four trains of cars loaded with supplies for Lee's famishing troops were on the tracks with steam up awaiting orders. They got them, but not from Lee.
"Custer had the advance with our division, his bugle sounded a charge and there was a rush of horsemen down the hill over the track and engineers were looking into barrels of Yankee revolvers, before they decided from where the bugle call came.
"We had charged most everything but for the first time had charged and captured four trains of cars, one of them in motion.
"Crashing through our ranks came shot and shell. It proved to be Lee's advance which had just arrived in to see their supper, of which they stood in such sorry need, rolled away from them in the heavily loaded trains. Oh they were angry and although darkness had begun to shut in they made us earn the booty we had captured.
"A narrow road led through this swampy place to Lynchburg Pike on which the enemy were retreating. Their batteries were in full command of this road and played over it with a deadly cross-fire, and into this Valley of Death, raked by grape and cannister, charged Custer with his men, again and again were we hurled back, broken and bleeding.

"Like the famous six hundred in the Charge of the Light Brigade we rode into the jaws of death, with cannon to the right of us, cannon to the left of us, cannon in front of us, from sunset until nearly midnight we fought for the possession of that road against an enemy made desperate by the necessity of holding what proved to be, although we then knew it not, their last chance for further retreat.
"Our men had been in the saddle night and day for eleven days, marching through mud and quicksands, their clothing wet, their rations very scant and uncertain, sleep a stranger to their eyes. Their horses worn and jaded, their ranks decimated by death and wounds, fighting every day and marching every night.
"To them Sheridan said, 'We must have that road.' Custer went among his men and shouted to them, 'Boys, we have so far taken every gun the enemy ever dared to open on us. Follow me once more tonight. We must take those guns and the road which they hold.' His bugle sounded the charge. This time we did not go back nor did their gunners load again, for we were in among them with our sabres, and in possession of the hard-earned road to Lynchburg.
"There was darkness no longer, for miles of burning wagons with their contents soon lit up the road. Sheridan wrote to Grant, 'Custer is still pushing on.'"
The following anecdote is amusing - W.B.) My father read to me that General Sheridan wrote to Grant, "I think if we push things, Lee will surrender," and Grant wrote back "Push things." To continue with Uncle Wilmon's Lectures-
As we rode along the Pike, on our way back to the intersecting roads our men plundered and burned their wagons - it was a bitter cold night then in the damp, swampy roads, and loss of sleep and want of food made us feel the chill air most keenly and we heartily enjoyed the warmth of a good cheerful, burning wagon with its load of Rebel plunder. I asked of someone inside 'Can't you find me an overcoat in there?' 'Yes;' 'Here is a beauty,' handing me out the gray red-trimmed coat of a general of artillery (It was General Pemberton's who lost the war at Nashville). I found it large enough and put it on and buttoned it up, thankful for its grateful warmth, as I had only a light blouse. 'Here's a lovely shot-gun,' said the voice in the wagon and a double barreled gun was handed to me, which in the spirit of fun, I threw over my shoulder and rode off to settle a dispute over a captured cannon, which two squads of our men were claiming. This was easily settled by pointing to one squad another gun which had been partly concealed by the bushes.
"Just then hearing a shout and much laughter, further along the road, I started to see what the matter was, and while riding towards the group, gathered around a handsome wagon at quite a distance, I found myself all alone at a point where the bushes grew thickly and came near the road.
"Suddenly out from these bushes stepped three rebel infantry men, with rifles in their hands and almost before I could draw rein they had respectfully saluted find one asked, 'What shall we do General?' The light of the burning wagons showed their uniforms and mine - men think and act quickly when playing a game of which life is the stake and like a flash it went through my mind-I am in a uniform of a Rebel General, and am mistaken for the genuine article with an empty revolver in my boot and an empty shot-gun over my shoulder; I did not feel a bit proud as I answered, with all the indifference I could pretend to crowd into my words, 'Throw down your arms, boys, don't be caught with them in your hands, make your way back, and give yourselves up to the Yanks, it is all up with the Confederacy.' But my hair lay down and I breathed more easily when they obeyed and throwing down their rifles went into the bushes and started in the direction I had waved them - I rode on - but just then a horseman came up behind me and I turned, as he came to my side, to see who he was, I felt the cold muzzle of his revolver at my temple and recognized one of our own men.
"The bright light of a burning wagon revealed our faces to each other perfectly, and he fairly turned pale, as he exclaimed, 'My God, I was going to spill what few brains you had left, take off that coat,' and I said, 'Not on your life, for the first time today I am warm.'"
The very coat which deceived both Uncle Wilmon's friend and foes that night, I have given to the Hingham Historical Society with the General's hat and epaulettes, and with what is rare, the metal case to carry the epaulettes and his hand knitted crimson silk sash. They wore these sashes instead of belts over their trousers. To continue-
"When the Union infantry came up and was seen to be in full possession of Lee's line of retreat, the cavalry was ordered to take position on our extreme right flank. The enemy's left. Custer's division was in advance and as we skirted the woods in our front and came out into open country, a grand spectacle met our sight. There at our left on the banks of the Appomatox Jay the Rebel Army in full view, its artillery and wagons parked in its rear. On our right but still a great way off as far as the eye could reach - were long lines and heavy columns of Union infantry, steadily closing in upon the doomed forces of the Confederacy.
"As our cavalry column came into full view and slowly marched across the field, only a pistol's shot distance from their line; - to gain their extreme left flank as ordered, - they could not quietly stand the sight of Sheridan's cavalry, and their artillery spitefully threw a few shells among us and sent some solid shot whizzing through our column - but suddenly the firing ceased, and out from their ranks rode three horsemen directly towards us. One of them Col. Sims of General Gordon's staff, held his sabre in his hand, to it was tied a white towel. As he neared our flank where I was riding, he shouted out, 'Who is in command here?' I answered, 'General Custer, riding at the head of the column.' And putting spurs to his horse he rode towards our General; approaching and saluting he said, 'I am instructed to ask for cessation of hostilities until General Lee can communicate with General Grant, with the view of the surrender of the Confederate forces under his command.'
"'No,' said Custer, 'My forces are on your flank and nothing but unconditional surrender will be accepted, Whittier (Custer's Chief of Staff) go with these gentlemen and give my terms to General Gordon.' General Custer rode rapidly into the Rebel lines after the Chief of Staff to get assurances they were acting in good faith. General Capehart, who commanded my brigade and was left by Custer in Command of the Division, said to me, 'What do you think of this truce?' I answered, 'They certainly appear to be in a very tight place, and may be honestly intending to surrender, still I would not trust them.' 'Neither would I,' said he earnestly, 'I fear it is a trick; I am sorry Custer rode into their lines, and trusted himself among them.'
"'Go and tell each regimental commander to hold his men well in hand and not to let them leave their horses' heads, for I fear something is wrong and Custer is in their lines.'
"I was just delivering this message to Col. Allen, commanding the regiment on the left of our brigade when a sharp volley was poured into our right flank, and several men and one officer fell dead. Instantly our men were mounted and as I rode back toward the head of the column, I heard them muttering curses through their clenched teeth at this violation of the flag of truce, and the word was passed back, 'Boys they have got Custer out there and we are going in to get him.' No one could tell what the result would have been for every man was very angry and indignant, and Custer, their idolized leader, was trapped into the enemy's hands and was there dead or a prisoner.
"The Division was moving to form for a charge when out from the Rebel lines toward us rode a Union and a Rebel Officer at full speed - They explained that it was all a mistake, some Rebel cavalry had come in from picket duty and not knowing of the truce had fired upon our flank, they assured us that Custer was safe and that the truce was still maintained.
"We again dismounted and were not again fired upon, but afterwards were told that this message was not true, that in fact some valiant South Carolina cavalry dishonorably taking advantage of the truce was sneaking off to run away with the blatant boast that South Carolinians never surrender, and deliberately gave us this parting volley as they stole off our flank.
"General Grant soon arrived at the front and rode towards the Appomattox Court House, and dismounting went over the street and into a house nearly opposite owned by Wilmer McLean where Lee was waiting for him.
"After Grant and he had left the house, the relic fever seemed to break out. General Capehart shouted in my ear, 'Mount quietly and take this chair and put it into Headquarters wagon.' As he handed it up to me, he said, 'Don't let anybody buy or steal this chair, it will be worth a big farm when this day's news reaches the north.' I rode away at a gallop with the heavy old office chair before me on my horse in which Grant sat when he signed the articles of surrender."
General Sheridan gave McLean $20 in gold for the table and immediately presented it to General Custer. General Capehart gave $10 for the chair. Other articles were bought. When General Capehart died he willed the four legged not one swivel pedestal as in the engravings, to Uncle Wilmon who in turn willed it to the Smithsonian Institute in Washington.
While working hard, and in very hot weather, for the Grand Army of the Republic as its Commander in Chief, Uncle Wilmon died in Boise, Idaho, just short of 64 years old, on July 16, 1905, from inflammation of kidney connecting tissue. He lay in state at Chicago and many friends met the coffin when it came east. Again he lay in state in the Massachusetts Capitol Building and was the first one so honored in the new Hall of Flags. There have only been five others so fortunate up until the year 1983.
There was a large funeral, many eulogies and memorial plaques. He had another namesake, Wilmon Sheldon, son of his law partner, who lived to be over a hundred years old. He left a large part of his capital to the American Unitarian Association, one half of the income to be paid to me during my lifetime, a wonderful bequest.
This account of Uncle Wilmon now ends with a romantic adventure published by the Yankee Magazine in March, 1969.


The Capture of
General Custer's Love Letters

This remarkable story is published here with the kind
permission of Wilmon Brewer, nephew of the Civil War
General, Wilmon W Blackmar who, as a member of
Gen. George A. Custer's staff, risked his life well
behind Confederate lines to do an unusual favor for
General Custer. Years after the war, General Blackmar
described the adventure in a letter to Mrs. Custer, then
a widow visiting friends in Hingham, Massachusetts...

One pleasant Sunday morning in the summer of 1880, probably August 22, 15 years after the Civil War, Gen. Wilmon W. Blackmar was attending service in Hingham, Massachusetts. His attention was drawn to an attractive lady sitting in a pew near by, accompanied by Mr. Lawrence Barrett, a well-known actor. He found himself looking at the lady again and yet again, and he noticed that she was looking at him with interest.
After church he called on his former pastor, the Rev. Edward A. Horton, and who should he meet there but his friend, Mr. Barrett, and the charming stranger, who proved to be none other than the widow of the gallant Gen. George A. Custer.
The meeting was very pleasant and exceedingly interesting to both, particularly when Mrs. Custer found she was talking to a former member of her husband's staff during the Civil War. She told him that during the church service she had seen him and had been trying to place him.
General Blackmar asked her if she "remembered the recovery of her love letters." She exclaimed, "Were you the officer who brought them back? We never knew who it was."
Great was her pleasure to find the one who had rescued her love letters from the Southern maidens, who were reading them aloud for entertainment of their friends. That afternoon Mr. Barrett brought her, with his wife and daughter Mary, to the general's house in Hingham, where Mrs. Custer expressed the desire to hear the complete story of the recapture of the letters. Many years later, in 1896, she requested he put the same story in writing, whereupon the general wrote to her the following letter:

Dear Mrs. Custer,
In answer to your request, I have tried to recall and put in writing some of the incidents attending my recapture of your "Love Letters." Unfortunately I lost my diary containing entries made the last few months of the war, hence cannot give you names and dates.
As you know I was Provost Marshal of the 3rd Brigade of your husband's Division of Phil Sheridan's Cavalry.
One evening near the end of the war, we camped near Petersburg, Va., and one of the prisoners we captured in a fight the day before said he wanted to talk to me privately; so I took him one side and he said I had been very kind to him, had done him a great favor or something. (I think he was just back from sick leave when captured, and was still weak from a wound, and seeing his condition, I had let him ride my horse, while I took a little exercise on foot.) At any rate he said he wanted to do me a favor and could only think of one thing he could possibly do.
I asked him what it was and he answered, "I heard you say you idolized General Custer. Now would you like to do him a favor, and will you take some risk to do it?" I told him I should be most happy, and asked him to tell me frankly what he was thinking of. He answered that I must remember that a year or so before Gen'l Custer's Headquarters Wagon was captured and in it had been found, among other things, a package of love letters written to Gen'l Custer by the lady he afterwards married.
He said he had recently returned to his command from sick leave, and he had been a guest at a house where these love letters were; they had fallen into the hands of a Confederate soldier who read them and found them so beautiful in every way that he would not destroy them but sent them home by a wounded man or some messenger, and the Yankee love letters had become quite famous and were in great demand; they were lent from house to house to be read by the young ladies and were often read aloud for the amusement and edification of young people assembled at sewing circles, parties, etc. at different houses.
He said, "Now if you will trust me, get an extra horse and a Yankee overcoat for me, I will guide you faithfully to the house where the letters were and still are I believe, and when we reach the house, you must do the rest as it will never do for it to be known that I told you of the letters and guided you to the house to get them. You must protect me from suspicion even of doing this and in some way learn of the letters and get hold of them if you can."
The adventure with the possibility of doing Gen'l Custer such a favor struck me very favorably and I looked at my prisoner, steadily, and said, "I will trust you. On your word of honor will you guide me to this house and back to our camp?" "I will," he answered, "and I hope you will get the letters, as I want to do you a favor and show you I appreciate your great kindness to me. I feel under a deep obligation to you."
He said, "It will be a stiff ride and we want good horses and should start about dark so as not to attract attention. I am familiar with the country and shall take you across lots where we shall be much less likely to meet any one."
"All right, I will follow you, but understand one thing, while I shall trust you fully, I think it but fair to remind you, that if you intend to play me false you will hardly live to boast of it, for I shall shoot you the instant I see the least evidence of treachery on your part."
"All right, that is fair, and you will see that I shall keep faith with you."
I got the countersign and about dark my prisoner, mounted and disguised in a Yankee overcoat, rode out past our pickets by my side. He soon took the lead and I followed him through by-roads and over fields until I was completely lost. Finally we jumped a ditch, and went through a patch of woods and came out on a road, from which led a private driveway up to a large house. It must have been as late as nine o'clock in the evening when we reached this house, and dismounting at the broad piazza, he knocked at the door and was recognized by the person who opened it.
We tied our horses and I was invited in and ushered into a large living room, which seemed to occupy a large part of the Centre of the house, having several doors, as I remember, leading from each end and the sides.
I was presented to the man of the house, a Doctor somebody (I regret I have forgotten his name as well as that of my prisoner guide).
The Doctor bade me welcome as one who had done his friend, my guide, a kindness and introduced me to two young ladies, his daughters. I think they gave us some sassafras tea as the only refreshment they could serve and explained that the blockade and the losses of the war had made it quite impossible to offer me anything better.
A young lady or girl of about seventeen joined us and was presented as a younger sister. We chatted on all sorts of subjects: I explained that my prisoner and I were riding by and he requested me to call with him and see his friends, and I was glad to do so especially as it was a rare privilege to meet ladies, as from such society I had been debarred by the war for some years. Time sped rapidly, we chatted on and I was wondering how I could lead up to the love letters without drawing suspicion on my companion.
I asked the ladies how they amused themselves, now that the war had made theatres, balls, parties, and other social assemblies difficult impossible. "Oh," they answered, "We have to content ourselves with little parties at the houses of neighboring families, sewing circles, quilting parties, etc. The blockade compels us to wear our old dresses and the war has taken away most of the men, but we manage to amuse ourselves in many ways."
So we chatted on about how they managed to amuse themselves, I leading the conversation in this channel because my guide had told me one of their principal amusements was reading aloud Mrs. Custer's love letters; but they said not a word of this, until piqued by some remark of mine to the effect that they must find it very stupid, with no new frocks to show, no young men to dance with and no new books to read, the youngest lady blurted out, "Well, when we can't find anything else to amuse us, we read Yankee love letters!!" I controlled my feelings and with assumed indifference replied, "That is simply impossible as Yankees never write love letters; it is against the laws of etiquette for a lady to write to a man not her husband except a formal business sort of note." "Ah, but we know to the contrary, for we have read the love letters of a Yankee lady to her lover and I must admit they are really very fine." "Oh! I will not dispute your word if you say you have actually read some letters, but some one has surely been imposing upon you. Where did these letters come from?"
"They were captured with Gen'l Custer's wagon and are written by the lady he was engaged to and we are told that they are now married." "I assure you," I said, "that you excite my curiosity, but really someone has been playing a cruel joke on you; I assure you the lady you name would never break our Yankee rules of etiquette by writing a love letter to any man; you certainly have allowed your imagination to construe a formal courteous note from a maiden to a man, into what you term a love letter or else you are the victim of a practical joke, and some young fellow has palmed off a lot of his own trash upon you and called them Yankee love letters. Again I assure you, Yankee girls are not allowed to write love letters and never do."
She, the youngest, was getting a little excited and angry at my tone and manner and finally exclaimed, "Well, they are love letters and genuine ones too. We have them in the house now, and I could show them to you." "I sincerely wish you would, and if I am wrong, I will most humbly apologize and acknowledge my error, but I still persist that there is no such thing as a genuine Yankee love letter."
"I will show you how mistaken you are," she cried, and ran out of the room, soon returned with two good-sized bundles of letters in her hands, tied with ribbons.
Holding them up she said, "Here are the love letters of a Yankee maiden. Would you like to hear one?" I kept my seat and tried to appear indifferent, but resolved I would never let those letters leave that room except in my possession. I answered, "Indeed, I should like to hear one," although I felt mean and guilty in listening to the love letter of my friend and General, but I wanted a moment to plan.
She drew out one letter and read it aloud. It was a genuine love letter and a most beautiful one too. It wound up with, "I send you a thousand kisses."
"Did you ever see a kiss in writing?" said the girl. "No, I never did. Please let me see how one is put on paper," and I rose and stepped in front of her and she handed me the letter. All around the bottom and sides of the sheet were a lot of little rings or O's - the kisses.
"Well," said I, "you have defeated me, surely. This is indeed a love letter and it bears the marks of being genuine. Do the envelopes bear the post marks of a northern town?" And I gently and quietly reached down and took the packages from her lap to examine them. When I had them I said, I must acknowledge that I am wrong and you are right, these are Yankee love letters and they belong to my friend and beloved General and I will take them to him," and I thrust them into my blouse over my belt. I suppose my manner changed completely as I straightened up and buttoned the letters inside my blouse and ceasing to be the chattering gallant was once more the Yankee Officer.
The frightened girl gave a most unearthly scream and instantly every door on the sides and end of the room, except the one from the piazza through which I entered, was thrown open and one or more Confederate soldiers appeared in each doorway. Like a flash-light photograph I took in the situation at a glance.
One of them I remember had a terrible wound in or near his eye, as it appeared as if his eye was out of its socket and hanging toward his cheek, a ghastly sight; another carried his arm in a sling &, &. As I glanced around I thought they were nearly all wounded, which my guide assured me afterwards was probably the case and they were Confederate soldiers hiding in this Doctor's house and being treated by him professionally.
After I made this little speech, to which not a word was said in reply, I backed towards the piazza door. My guide, to protect himself from suspicion, began to protest against my act in taking the bundle of letters from the young lady's lap, but I said to him, "This is no affair of yours, sir, you are in no way responsible for my action; but if you are the gentleman and soldier I believe you to be, you will remember that you are my prisoner and you will keep your parole of honor and follow me as you have sacredly promised to do."
"I am bound to do so, however distasteful to me," he answered, and followed me through the door, as I bowed, as politely as I could, to the ladies and the Confederates, saying, "I bid you all good night."
Instantly we were in our saddles and away. "You did that well," said my companion as soon as we were out of hearing from the house. The rest is quickly told.
It was just daylight as we reached our pickets, the counter sign passed us safely through our lines and we rode into camp after an all-night ride, and drawing up before the sentinel on duty in front of General Custer's Headquarters, I asked if the General was stirring yet, and the sentinel answered, "Yes, he just looked out." As I spoke, the door of the little cottage which the General had appropriated for his Headquarters was thrown open and General Custer appeared in the doorway. I saluted him, and taking the bundle of letters from the breast of my blouse and handing them to him, I asked, "Do these belong to you, General?" He took them, making no answer, but laughing and dancing around the room, I saw him toss the bundle of letters towards the other side of the room, and heard him call out "Oh! Libbie see what he has brought me."
I rode away, delighted to see how happy he was to recover his treasure.
I afterwards heard that you had come down from Washington and joined your husband that very evening, after I had left camp in quest of the letters, and that it was into your lap he tossed the letters I had handed him.
Most Sincerely,
Wilmon Whilldin Blackmar