CHARLES READING (REDDING), Company "C"
---
Submitted by James Henderson. Edited by Linda Fluharty.
Charles Reading - also "Redding" - was born near Punxsutawney, Indiana County, Pennsylvania, February 25, 1819. He was the son of War of 1812 Veteran, Samuel Redding, and Barbara Newcome, residents of Perry Township, Jefferson County, Pa. Barbara Newcome was the great grand daughter of Thomas Newcome, inventor of the first steam engine in England. (See "Chambers Biographical Dictionary").
On October 17, 1836, Charles Reading wedded Elizabeth Blose, who was born near Greensburg, Westmoreland County, Pennsylvania on June 15, 1815. Their children were:

Sarah Ann, born June 26, 1837, lived at Middleport, Meigs County, Ohio
Lucinda, August 28, 1840, lived in Jackson County, West Virginia
Margaret, April 5, 1842, lived in Indiana County, Pennsylvania
William H., April 16, 1844 - (11th W. Va. Infantry)
James E., January 18, 1846
Nancy E., June 11, 1848, lived in Wirt county, West Virginia
Charles Scott, June 5, 1850, lived in Roane County, West Virginia
Samuel G., May 16, 1852, lived in East Brady, Clarion County, Pennsylvania
Clark, October 18, 1855
Ora F., June 25, 1857, lived in Jackson County
Charles Reading (or Redding), 43, enlisted at Wirt Court House in July 1861 and was mustered in at Parkersburg on August 30, 1861 to serve in Company C, 1st West Virginia Cavalry Volunteers. He re-enlisted as a Veteran Volunteer on Dec 23, 1863, at New Creek, W. Va., under Gen'l Order #191, War Dep't Series of 1863. He mustered out with the company on July 8, 1865.
While scouting near Snickers Ferry during the battle at Fairfax Court House on May 29, 1863, Charles was wounded in the right thigh and was hospitalized at the Mount Pleasant USA General Hospital in Washington, DC, as of July 1, 1863. Because of this infirmity, he was not present at the Battle of Gettysburg.
Charles' horse was named "Old Bill" and is buried near Henry's Fork.
William Redding, Charles' oldest son, enlisted in 1862 at age 18 in Company F 11th West Virginia Infantry Regiment (Union) and served 2 years, 10 months. William was present at the skirmish at Arnoldsburg that involved the confederate "Moccasin Rangers" that included Peregrine Hays. [NOTE: Both Charles Reading and Peregrine Hays are second great grand parents of Barbara Hays Henderson, wife of James Henderson, the submitter of this information.]
Charles and son, William, were both present at Lee's surrender at Appomattox Court House.
Charles relocated to Roane County, West Virginia in 1870 and then occupied a farm in the Ravenswood District of Jackson County in 1881. He is listed in the special census of 1890 of veterans and widows.
Charles died in 1899 and is buried with his wife in "Latham/Hill" (or Latham Ridge) Cemetery on Bar Run Road near Ravenswood. The cemetery is located 2.1 miles South of the intersection of Rt 56 and Rt 2 in Ravenswood.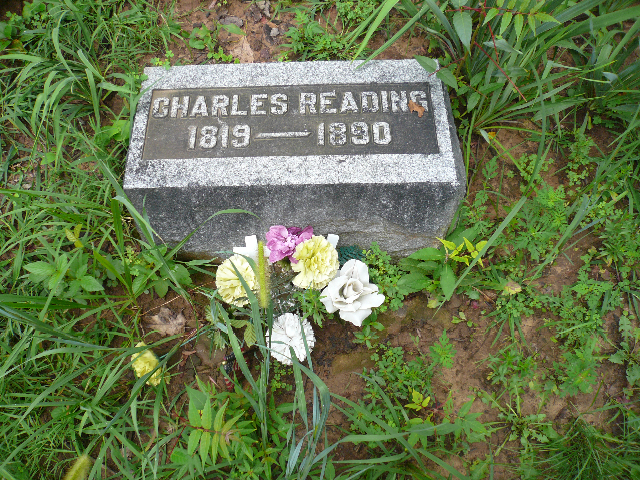 ---