EZRA ROBERTS, Company "I"
---
Submitted by Curtis W. Roberts, gr-grandnephew.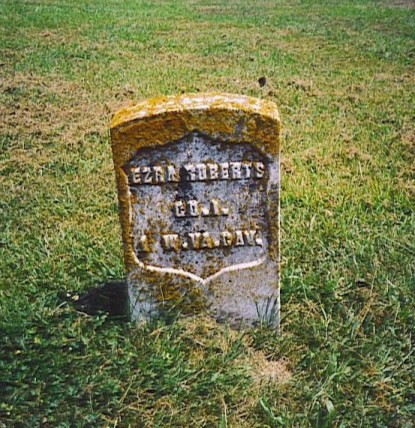 Akinsville Cemetery, Morgan County, Missouri
Ezra Roberts was born in Colerain Township, Belmont County, Ohio, Nov 1837 to Joseph and Martha (Hughes) Roberts. He married Mary E. McConnell 23 April 1862 at Pleasant Grove, Ohio. He enlisted 10 Feb 1864 and was discharged 8 July 1865. Following his service, he resided at Colerain Township until about 1882, then moved to Moniteau County, Pilot Grove Township, Missouri. He and Mary had four children: Charles, Emma, Irena, Minnie. They moved to Morgan County, Mill Creek Township, Missouri after 1900. Ezra died 11 Oct 1905 at Akinsville and is buried at Akinsville Cemetery Row H Lot 29. Wife Mary died 21 Nov 1911. Pension certificate # 616855. Last payment was $8 per month.
---