ENOCH SUTTON, Sergeant, Company "H"
---
Submitted by James T. Sutton, gr-grandnephew.
ENOCH M. SUTTON, the son of Albert F. Sutton, was born in 1833 and was raised on his father's farm in Sulphur Springs, Fayette County, Pa. He enlisted in the 1st Cavalry, Co. H, 15 Jul 1861 in Uniontown, Pa. and mustered into service 2 Sep 1861 at Grafton W.Va.
A Corporal, Enoch Sutton was an orderly to General Geary by 31 Aug 1862. He was captured near Warrenton, Va. on 4 Nov, was confined at Richmond and was then exchanged 24 Nov 1862 at Camp Parole, Md. He was wounded at South Mt., Maryland on 6 Jul 1864 and was admitted to the Frederick City hospital for the next two months. On 29 Sep 1863, he returned from "Missing in Action" at Culpepper, Va.
On 23 Dec 1863 Enoch was discharged by virtue of re-enlistment as a Veteran Volunteer, under G. O. 191 series 1863 War Dept., and was promoted to Sergeant. He was on furlough Jan and Feb 1864. He was captured again 19 Jul 1864 near Winchester, Va. and was imprisoned at Danville, Va. The Adjutant General's report for 19 Jul makes no mention of any activities other than the capture of Sgt. Enoch Sutton and Sgt. James Poston. Enoch was admitted to the hospital 31 Jan and died 4 Mar 1865 of Chronic Diarrhea. He is buried in Danville National Cemetery, plot A-3.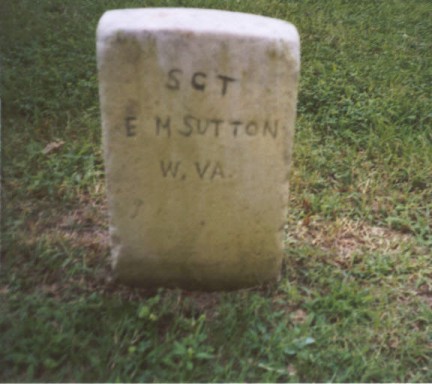 Enoch's brother, Ruben, served in the 97th Pa. Vol. Inf., Co. E, and was my gr-grandfather.
Enoch and Ruben's uncle, Reuben Jr., was serving his second enlistment and was a musician in the 110th Pa.Vol. Infantry when he died from a head wound 7 May 1865 outside Richmond.
Sgt. Enoch Sutton's Class III medal, issued by the State of West Virginia, was claimed from the W.Va. State Archives in 2002 by James T Sutton, gr-grandnephew.
---