(BENJAMIN) FRANKLIN JONES, Company "B" - Corporal
---
Submitted by Dr. William L. Baran.
(Compiled Military Service File 1269)
Cpl. Franklin Jones listed as 22 years of age when he enlisted as a Pvt. 19th day of September 1861 in the town of Wheeling, VA. (later West Virginia).
Not mentioned in his records this soldier was with Pvt's David Howell and Robert H. Carroll at Blooming Gap, VA February 14, 1862, and aided Pvt's Carroll and Howell in capturing three wagons from the enemy. He and Pvt. Howell escorted the corpse of Pvt. Robert H. Carroll's who lost his life in the engagement, back home to his family in Morris Twp., Washington Co., PA (DIV. HEADQUARTERS, CAMP CHASE, VA., Feb. 15, 1862. Special Order, No. 57).
He was mustered into Co. B First Regiment of Virginia Cavalry Volunteers on September 19, 1861at Wheeling, VA ( later West Virginia) and joined the unit for duty August 6th, 1861 at Washington, Washington Co., PA for a period of three years. He was accepted August 23rd, 1861. He was listed with the unit on the company muster rolls Aug/1861-Aug 31, 1863. Enlisted as a Pvt. and was promoted to 8th Corporal July 1862. On Oct 19th 1863 he was missing in action at Buckland Mills, VA. Later listed as taken prisoner until the end of the war. His Memorandum from prisoner of war records states: Captured at Warrenton, VA Oct. 19th 1863; confined at Richmond, VA Oct. 22, 1863; In confinement at Dull Isle Richmond, VA. Jan. 28, 1864 vaccinated age 24. Sent to Andersonville, GA. Feb. 22, 1864. Confined at Andersonville, GA. Paroled at Jacksonville, FL April 28th 1865; Reported to Camp Parole, MD., May 15-19 1865. Sent to CCO May 19, 1865; Reported CCO May 22, 1865; sent to Provost Marshall Columbus, OH May 30th, 1865. Listed on company muster out roll: as 22yrs old (sic) Wheeling, W.VA July 8th 1865 Remarks: Received discharge June 9th, 1865 expiration term of service. A second Individual Muster-out Roll was completed with due soldier $69.14 and remarks: Reported from Camp Chase, Columbus, OH June 2, 1865 for "Muster Out". Prisoner of War. Captured Oct. 19th 1863 and confined at Andersonville, GA. Is entitled to 3 months extra pay in accordance with telegram in regard to provisions dated War Dept. AGO Washington D.C. May 30th 1865.
There is a War Department Notation dated Dec. 16 1889: Application for Veteran Muster is denied. There is an added note (enrolled Aug 6th at Washington, PA) dated May 22, 1912.
There is one note from the Adjutant General's office with the following notes. It appears he may have filed for a pension. No such name on Co. B 1st PA Cavalry. EKL. Borne on rolls as Franklin Jones Co. B. 1st WVA Cavalry. No other man in Co. B 1st W. VA Cavalry to whom report can refer WCP. Oct. 1882. Second case was made and dated Dec. 21, 1889. (I hope he got his pension he certainly deserved it).
---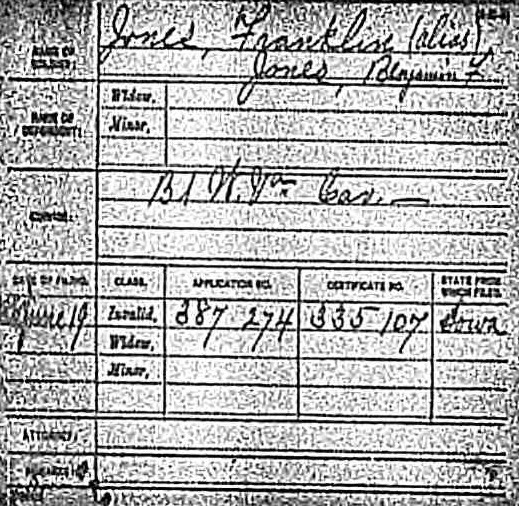 Pension Index Card, National Archives.
---
Linda Cunningham Fluharty, © August 2007
---