THOMAS GRACE, Company "I"
---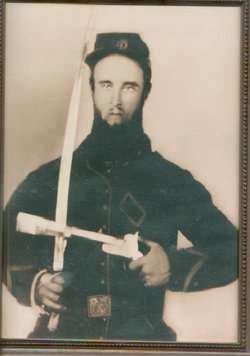 Image of Thomas Grace provided by Ron Banks.



From the West Virginia Adjutant General's Office, as compiled by the West Virginia State Archives: Thomas Grace enrolled at Wheeling, W.Va.; age 27; mustered in 18 Nov 1861 at Clarksburg, W.Va. Re-enlisted as a Vet. Vol., 23 Dec 1863, at New Creek, W.Va., under Gen'l. Order #191, War Dep't Series of 1863. Deserted 24 Apr 1864 at Parkersburg, W.Va.

Note:
Selected pages from the Service Record of Thomas Grace are presented here. Apparently, Thomas Grace was classified a deserter in June 1863, but had been a POW. That seems to have been cleared up. However, he is again listed as a deserter in 1864, and the Service Record does not provide the detail needed to get a clear picture of what happened. However, this soldier applied for a goverment pension and the answers will be contained in that file. He was NOT granted a pension, and a card in the Service Record, dated 1902, rather ambiguously states that his final status was "deserter."
SERVICE RECORD OF THOMAS GRACE - SELECTED PAGES
---