JOSEPH GREER, Company "G"
---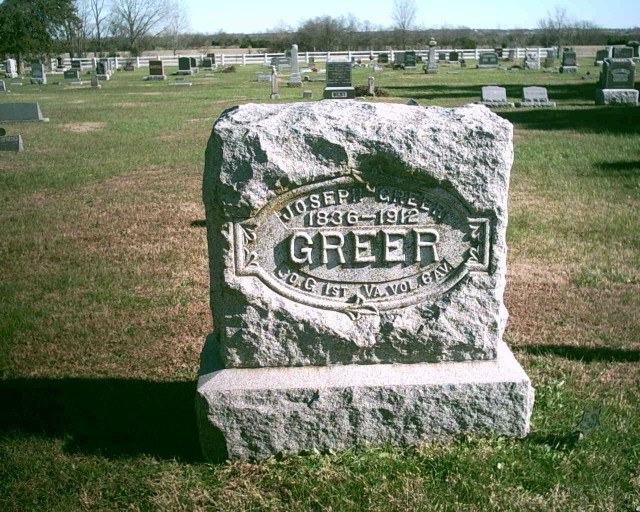 Kincaid Cemetery, Kincaid, Kansas
The Kincaid Dispatch, Friday, Jan. 3, 1913, Pg. 1.
Died: Dec. 29, 1912
JOSEPH GREER - It is with much sorrow that we are called upon to announce the death of Joseph Greer, which occurred at his home near Selma, last Sunday, following an illness of several months.
Deceased was widely known in this section, was a good man and a Christian, a faithful husband and father, and his death is very much regretted by many friends, and those left bereaved have the sympathy of the community.
Joseph Greer was born in Loren county, Ohio, February 2, 1836, and departed this life December 29, 1912, aged 76 years, 10 months and 27 days. His parents moved to near New Castle, Pa, when he was about a year old. In his young manhood he returned to Ohio, where he united in marriage with Lizzie Benson in 1860. He wife died two years later, leaving two children. In 1865 he united in marriage with Mrs. Mahala Cheesman, and to this union ten children were born, all of whom with their mother survive him. He is survived by his wife, eleven children, one step-daughter, 31 grand children, and 7 great grand children.
He served the Union in the Civil war, he being the first of his company to volunteer. He enlisted in Company G, First Virginia Cavalry, and was wounded in the Battle of Bull Run in 1861. Six of his brothers also served their country, two of whom never returned.
Funeral services were held at the M. E. church at Selma, Tuesday afternoon conducted by the pastor, Rev. Ermey, which were attended by a large number of relatives and friends. All of his children were present at the funeral. At the close of the services at the church the remains were brought to the Kincaid cemetery and interred.
Photo & Obit provided by John A. Jackson.
---