URIAH WILSON HALSTED, Company "D"
---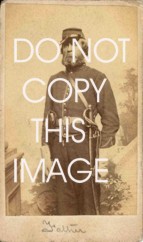 Uriah W. Halsted
Killed in Action
19 Sep 1863, Raccoon Ford, Va.
(Back)
(CDV owned by Linda Fluharty.)
---
Uriah Wilson Halsted was born in New York about 1817. His parents were Timothy Halsted IV, a native of New York, and Rhoda Wilson. They were residents of Cuyahoga County, Ohio in the 1840, 1850 and 1860 censuses, and probably for the rest of their lives. At some point, Uriah embarked upon a career as a school teacher. His given name may have been "Uriel," the spelling found in a number of records.
1850 Census, Cuyahoga County, Ohio
Timothy, 58, Farmer NY
Rhoda, 59, VT
Timothy, 25, NY
John D., 22, NY
Polly Willson, 54, VT?
Edward Knox, 4

Uriah W. Halsted married Sarah C. Woods, 30 Sep 1841, in Cuyahoga, Ohio.
At Belmont County, Ohio, on 4 Sep 1845, Uriel W. Halstead married Mary Jane Grubb, the daughter of Jacob Grubb.
1850 Census, Pease Twp., Belmont County, Ohio
#1541-1566
Euriel HALSTEAD, 32, Merchant, NY
Mary, 26, Ohio
Emma, 2, Ohio
Elizabeth GRUBB, 30, Ohio [Mary Jane's sister]
Rebecca HAMILTON, 38, KY
---