JACOB HAIR, COMPANIES "A" & "G"
---
Jacob Hare was born June 14 1845 at Fayette County, Pennsylvania. He married Catharine Wycoff about 1873; she was born in West Virginia in August 1855, according to census records. Their children were Elzie, born in 1872; Belle M., born in 1874; Andrew, born in Pennsylvania in December 1879; Campbell, born in West Virginia in March 1881.
Jacob Hare is listed as "Jackson" Hare in the 1880 census of Poe District, Hancock County. "Jackson" is also his name in the 1890 census of veterans, at which time he stated "breast crushed by horse" during his service.
At the time of the 1990 census of Hancock County, Jacob Hare, a farm laborer, was residing on Second Avenue in New Cumberland, Clay District, Hancock County, with his wife and sons, Andrew and Campbell. Catharine had given birth to five children, 4 of whom were still living.
Jacob Hare died July 24, 1940 of Pylocystitis at Chester, Hancock County, West Virginia. According to his death record, his mother was Cathryne Darr.
The Class I Civil War medal, issued by the State of West Virginia, was claimed from the W.Va. State Archives by gr-grandniece, Linda Hare Collins. She located Marian Wanner, the great grandaughter of Jake, and gave her the medal.
---
OBITUARIES
(Newspapers unknown)

Submitted by Marian Wanner.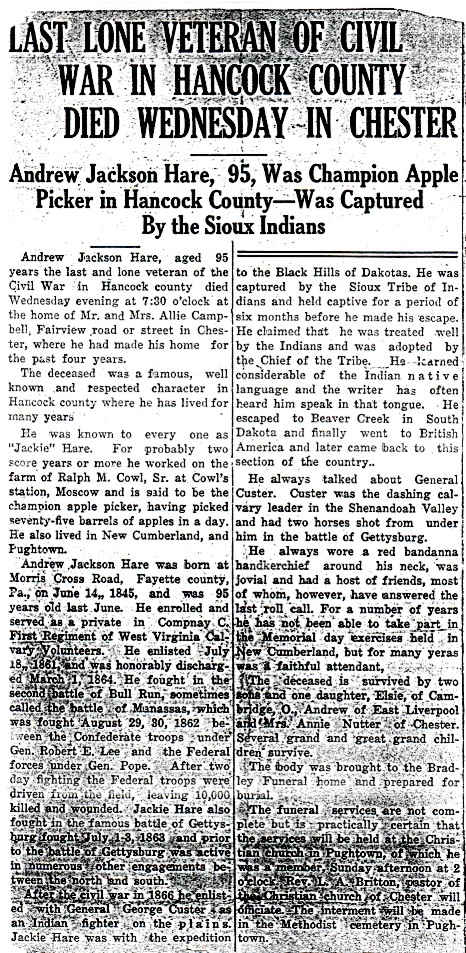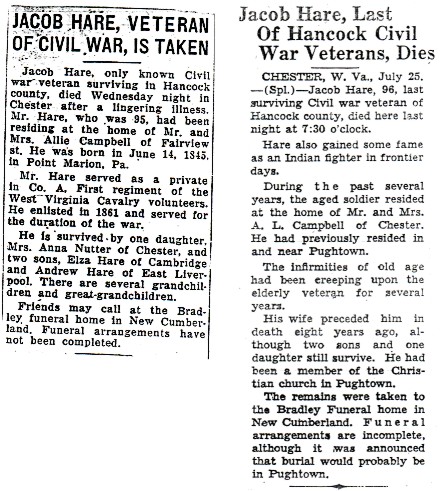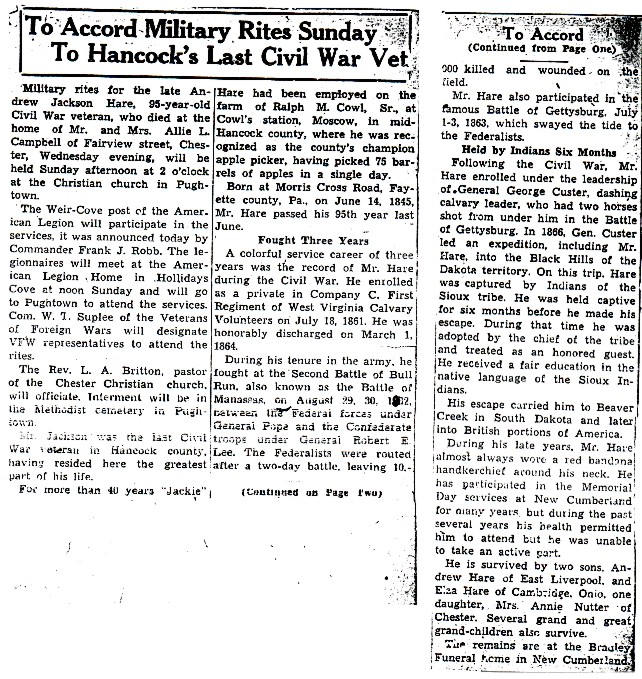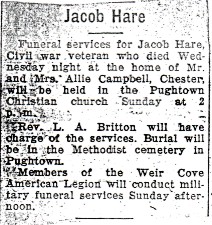 Sixty-five years after his death, on August 20, 2005, Jacob Hare was named a "West Virginia Distinguished Citizen." This was the first time the award was given to an individual not born in West Virginia. Jack Beckner, gr-grandson of the soldier, received the award, held at the New Manchester Christian Church amd the Old Methodist Cemetery, Hancock County, West Virginia.
---