LEONIDAS (LOU) G. & WLLIAM H. HOLLENBACK, Company "G"
Compiled by Linda Fluharty.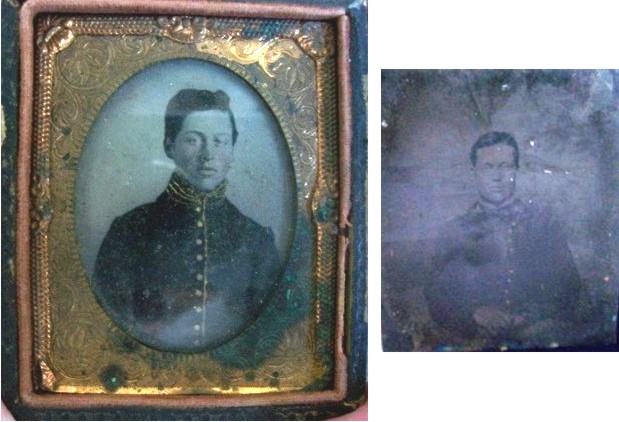 ---
The Hollenback brothers are missing from the West Virginia Adjutant General's Records presented on this site.
Leonidas Hollenback, born in Apr 1840, is probably one of the two men pictured above. The tintypes, as well as THREE diaries written by Leonidas Hollenback in 1862, 1863 and 1864, were owned by Delcia Stodola, who bought them about 1995-1996 at a flea market in California. In addition, she owned some other belongings of Leonidas. One item is a button, allegedly made from the metal of a cannon captured at Gettysburg.
William H. Hollenback, a brother of Leonidas, died of Chronic Diarrhea at Andersonville Prison on 14 Oct 1864; grave #10990. He may be one of the men pictured above.
The contents of the three diaries were not shared by Ms. Stodola, and at last report (Spring, 2006), she was trying to find a buyer, perhaps via an auction house, in California. An offer could not be made by this writer because Ms. Stodola could not differentiate the identities of the two soldiers in the pictures and she did not provide transcriptions or photocopies of the diaries for evaluation of the contents. However, she did say the contents were "chilling."
The following biography provides an excellent history of the Hollenback family.
Portrait and Biographical Record of Iroquois Co., IL; 1893
H. H. HOLLENBACK is one of the early settlers and honored citizens of this county, now residing in Cissna Park. He was born in Cable [Cabell] County, W. Va., December 19, 1813, on the banks of the Ohio River. His grandfather, Martin Hollenback, was a native of Germany, who came to this country in Colonial days, forayed in Virginia, and afterwards removed to South Carolina. He served in the Revolutionary War under Gen. Washington. By trade he was a cooper. His death occurred in Virginia. The father of our subject, Martin Hollenback, Jr., was born in South Carolina, and spent his last days in West Virginia. Throughout his life he followed the occupation of farming. His wife, who bore the maiden name of Ellen Hampton, was a daughter of Dr. Hampton, a native of England and a prominent physician. She was born in North Carolina and was reared in West Virginia. Both Mr. and Mrs. Hollenback were members of the Methodist Episcopal Church, and in politics he was a Whig. Their family numbered nine children: William, now deceased, was employed on a steamboat on the Ohio River; H. H. is the next younger; Daniel, who served in a Pennsylvania regiment during the late war, died in Hendersonville prison; Mathias died at the age of nineteen; John was also employed on the river; Sarah, Mary, Catherine and Eliza were the daughters of the family.
Our subject was reared on the banks of the Ohio, and as soon as old enough to handle the plow, he began work in the fields and was inured to farm labor. His education was quite limited. He went to school three months during the winter season, and his books consisted of a speller and Testament, in which he learned to read. The school was conducted on the subscription plan. Mr. Hollenback remained at home until 1865, and was in the midst of the war difficulties, the country around his home being traversed by both armies. On the 9th of March, 1865, he came to Illinois, locating at Loda, where he rented a farm. He afterward operated another rented farm for three years, and then bought an eighty-acre tract of wild prairie land in Pigeon Grove Township, which he transformed into rich and fertile fields. In 1884, he sold his farm and removed to Cissna Park, where he has since lived retired. He here built four residences, three of which he yet owns.
On the 3d of May, 1832, Mr. Hollenback married bliss Margaret Ann Ricketts, who came of an old family of Eastern Virginia, of English descent. Unto them have been born eleven children, five of whom are still living: Leonidas, who served in the First Virginia Cavalry for three years and four months, is now engaged in the dairy business near Kansas City, Mo.; John, who served in the Fifth Virginia Infantry, also resides near Leonidas, but since the war has been in poor health; William, who was in the First Virginia Cavalry, was taken prisoner, sent to Belle Isle and afterward to Andersonville, where he died; Oliver is living in North Nebraska; James is the next younger; Mrs. Fannie Weddington died in Texas in 1892; and Mrs. Nannie Thornton resides at home. With the exception of the youngest, all were born in West Virginia.
Mr. Hollenback cast his first Presidential vote for William Henry Harrison in 1836, and supported the Whig party until the rise of the Republican party. He voted for Lincoln. Since that time he has been a Republican, and he advocated that party in its early days, when it required courage to support those principles, for men were shot down for advocating such opinions.
Mr. and Mrs. Hollenback have traveled life's journey together for sixty years as man and wife, and the years have but served to strengthen their mutual love and confidence. Their lives have been checkered with sorrow and pain, but the husband has upheld and supported the wife and she has sustained and encouraged him. Together they pass down the hill, but their last years are made pleasant by many friends who join with their children in showing them love, attention and respect.
---
Leonidas R. Hollenback married Emeline Marks on 29 Jan 1865 in Lawrence County, Ohio. Their children were William H., Reuben W., S. Grace, Albert S., Cora, Nellie and Edgar. Leonidas died 25 Jun 1912 in Cabool, Texas County, Missouri.
---