DAVID HOWELL, Company "B" - Regimental Saddler
---
Submitted by Dr. William L. Baran.
(Compiled Military Service File 1133)
Sgt. David Howell was listed as 34 years of age when he re-enlisted as a Veteran 23rd day of December 1863 in the town of New Creek Station (B&O RR) West VA. He had blue eyes, brown hair, fair complexion and was 5 ft 9 inches tall. His occupation was saddler. He was transferred to Regiment (Field and Staff Roll) from Co. B as Regimental Saddler Sgt. June 1, 1864. His enlistment paper states that he was born in Washington Co., PA.
He is listed in the
APPENDIX OF
"THE PRESBYTERIAN CHURCH, WEST ALEXANDER, PA 1790-1890"
(publication by the church for its anniversary)
This church furnished its full contribution of men to the war of the rebellion in 1861. Twenty-six of the number were members of the church; the remainder came from families connected at that time or since with the congregation.
"Brave boys were they,
They came at their country's call."

David Howell, company B, 1st W.Va. Cav.
Also mentioned in the photo and newspaper article on this site, submitted by Lisa Bonar.
Not mentioned in his records this soldier was with Pvt's Franklin Jones and Robert H. Carroll at Blooming Gap, VA February 14, 1862, and aided Pvt's Carroll and Jones in capturing three wagons from the enemy. He and Pvt. Jones escorted the corpse of Pvt. Robert H. Carroll's who lost his life in the engagement, back home to his family in Morris Twp., Washington Co., PA
( DIV. HEADQUARTERS, CAMP CHASE, VA., Feb. 15, 1862. Special Order, No. 57).
He was mustered into Co. B First Regiment of Virginia Cavalry Volunteers on the 1st of January 1864 at New Creek, W. VA. as a Veteran Volunteer. He had previously volunteered for 3 years of duty at Wheeling, VA (later West VA) September 19, 1861 and joined the unit for duty August 8, 1861 at Washington Co., PA. He was accepted Sept. 18, 1861. He was listed on the Detachment Muster-out roll Dec. 31st 1863 last paid Oct. 31 1863 and am't for cloth'g in kind or money adv'd $3.89/100. Remarks: Discharged by virtue of reenlistment as Vet Vol.. under provisions of G.O. 191 series of 1863 from the War Dept. Jan and Feb 1864 David was absent on Veteran furlough, and received bounty of $60 and a second bounty of $50. May and June he was listed a Regiment Saddler and July through Oct 1864 was listed a Saddler Sgt. Nov to Dec. 1864 he was listed absent but remarks state: Pay due for horse and horse equipment from Feb 5th to March 8th 1864. March and April 1865 he was listed as absent remarks: In remount camp, Chapel Point, MD. Appears on the Field and Staff Muster-out Roll as Saddler Sergt. Wheeling W. VA July 8, 1865, mustered-out Date July 8, 1865 last paid to Oct. 31 1864. Due soldier $38.72, Bounty paid $160 due $240 Remarks: Re-enlisted as a Veteran Dec. 23, 1863.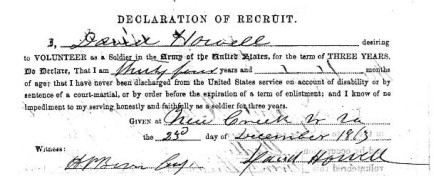 ---
DAVID HOWELL & FAMILY
Compiled by Linda Cunningham Fluharty
According to the following records, David Howell was the son of George Howell and his wife Sarah. The wife of David Howell was Mary Williams, daughter of George Williams, born New York, and Rebecca Higginbotham, born in Fayette County, Pennsylvania. An excellent biography of the family is provided below.
1850 Census, Donegal, Washington County, Pa.
#167/167
David Howel, 23, Saddler, b Pa.
George Howel, 62, $800, Saddler, b Pa.
Sara, 45, b Pa.
John, 29, Laborer, b Pa.

1860 - May have been missed. Would have bene married after 1850 census.

1870 Census, Donegal, Washington County, Pa.
#39/39
David Howel, 42, $1200, $300, Harness Maker, b Pa.
Mary, 30, Keeping House, b Pa.
Charles, 17, b Pa.
William, 15, b Pa.
Mary K., 14, b Pa.
Minnie B., 10, b Pa.
Patty, 5, b Pa.
D. Mac, 9 mos., b Nov 1869 Pa.
George Howell, 87, Making Home, b Pa.
Sarah Howell, 75, b Pa.
John, 49, b Pa.

1880 Census, District 241, West Alexander, Washington County, Pa.
#85/93
David Howell, 52, Husband, Coal Merchant, PA PA PA
Mary Howell, 43, Wife, Keeping House, VA NY PA
Charles S. Howell, 27, Son, Farmer, VA PA VA
William S. Howell, 25, Son, Farmer, PA PA VA
Mary K. Howell, 22, Dau., PA PA VA
Minnie B. Howell, 18, Dau., VA PA VA
Pat Howell, 14, Dau., PA PA VA
Samuel Mc Howell, 10, Son, PA PA VA
Dick Howell, 7, Son, PA PA VA

1890 Census of Veterans & Widows, West Alexander, Washington County, Pa.
David Howell, Saddler/Sergeant, Company B, 1st WVa Cavalry, 10 Sep 1861 to 8 Jul 1865; 3 yrs. 9 mos., 28 days

1900 Census, District 143, Donegal, Washington County, Pa.
#69/79
David Howell, Head, 73, b May 1827, married 48 years, Post Master, PA PA PA
Mary Howell, Wife, 66, b June 1832, 4 children/4 living, PA NY PA
William S. Howell, Son, 25, b Oct 1856, Teamster, PA PA PA
Kathryn Howell, Daughter, 40, b Jan 1860, School Teacher, PA PA PA
M. Birtha Howell, Daughter, 36, b Jan 1864, School Teacher, VA PA PA
Helen P., Daughter, 33, b Nov 1866, P. O. Clerk, PA PA PA

1910 Census, East Main St. District 190, West Alexander, Washington County, Pa.
#9/11
David Howell, 82, Head, Married once for 58 years, Pension, PA PA PA
William Howell, 55, Son, Teamster, PA PA WV
Katherine Howell, Daughter, 54, Single, Public School Teacher, PA PA WV
Helen P. Howell, Daughter, 40?, Single, Postmistress West Alexander, PA PA WV
History of Washington County, Pennsylvania
by Earle M. Forrest, 1926. Vol. III, pages 52-57.
MISS HELEN PATRICIA HOWELL
Miss Helen Patricia Howell, postmistress at West Alexander, is a daughter of David and Mary (Williams) Howell, the latter of whom died in 1900. She was a daughter of George and Rebecca (Higginbotham) Williams. The late David Howell, a veteran of the Civil war and for years postmaster at West Alexander, died at his home in that place, June 5, 1917. He was born May 8, 1827, a member of one of the pioneer families of this region, and was thus in his ninetieth year at the time of his death. When the Civil war came on he enlisted as a soldier in behalf of the cause of the Union, was mustered in as a saddler's sergeant and from 1861 until the end of the war in the spring of 1865 was in service, being mustered out as a member of Company B, First West Virginia Cavalry. After his mar­riage he established his home in West Alexander, was employed at his trade as a saddler, was also a merchant, took an active and helpful part in public affairs, served as a member of the borough council, as burgess and as school commissioner and in 1889, under the Harrison administration, was appointed postmaster of the borough, in which office he continued to serve until his resignation in 1908, when he was succeeded by his daugh­ter, who had been serving as deputy. Reared a Whig, David Howell became affiliated with the republican party upon the organization of the latter in 1856 and was thereafter an active worker in the ranks of that party. During the days of the "underground railroad," in the troublous times preceding the outbreak of the war of the rebellion, he was an active "conductor" on that line and helped on their way to freedom many a fugitive slave. He was an earnest member of the Presbyterian church, as was his wife, and they supported local good works and were highly respected and influential members of the community.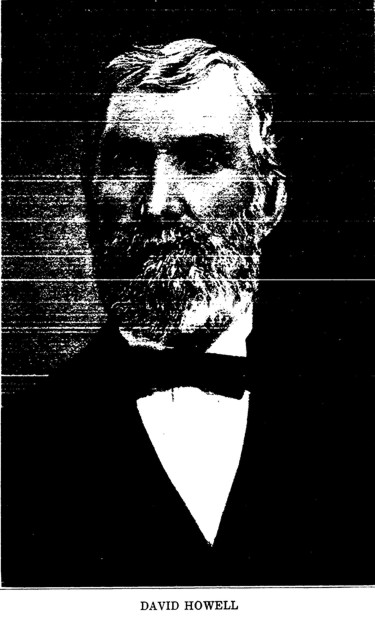 Miss Helen P. Howell was reared at West Alexander and her schooling was finished in the academy there. She early became an assistant to her father in the administration of the affairs of the local post office and upon his resignation in 1908 was appointed to succeed him. In the following­ year (1909) the West Alexander post office was made a third class office and Miss Howell was reappointed postmistress, a position she since (with the exception of the period of the Wilson administration) has occupied and in which she has displayed exteptional administrative effectiveness. Miss Howell's service in the local office has covered the periods of the administrations of Presidents Harrison, McKinley, Roosevelt, Taft, Harding and thus far (1926) that of President Coolidge and she very properly may ber regarded as a veteran of the postal service. Wjile the duties of the office are constantly and increasingly exacting, Miss Howell finds time to attend to her civic duties, in all of which she is greatly inter­ested, ever having given her helpful attention to general community affairs. She is a member of the Presbyterian Church, with which her parents also were identified, the Howells having been Presbyterians from the days of the family's establishment in America: is a member of the Neighborhood Club and has for years been a helpful factor in all com­munity good works. She maintains her residence in the old Howell home in West Alexander that in successive generations of the family has been occupied by Howells since the year 1832.
The Howells of this line in Washington county are of the Scottish stock and are thought to be of the York county family of that name that was established in Pennsylvania in colonial times. The progenitor of the Washington county family was John Howell, a Scot, who with his wife and the children then born to them had come from Glasgow and after a residence in York county, Pennsylvania, had come to this part of the state looking for land and in the latter part of the eighteenth century or the early part of the nineteenth decided on a location here. In 1908 he bought in that part of Donegal township now comprised within West Finley township the farm now owned by John Craig and there resided until his death. This farm later was bought by the grandfather of the present owner, John Craig, for his father, James Craig, and has continued in the Craig possession. The Craigs likely are contemporaneous with the Howells in local settlement, but there seems to have been a general unanimity on the part of those pioneers in ignoring the value of written records in their generation. The settlers of this community were almost wholly of the Gaelic stock, as the little history they left and the tales of the tombs (now far in the process of dilapidation in the old graveyards) disclose. When John Howell, the settler, died is not known, but his dust and that of his consort lie unmarked under the pavement that bounds the old cemetery in the center of the borough of West Alexander, almost opposite the head of the alley that leads to the "commons," also fast grow­ing into a memory.
John Howell left numerous sons and one daughter, Jennie, the latter of whom married John Ruth, widely known in his generation as a stage driver on the old National road and of whose descendants some still are found here, none, however, on the male side. The records reveal that as early as 1780 Abner Howell, perhaps a brother of John, was commissioned justice of the peace for Amwell township, this county. This (Abner) is a family name and is found in successive generations of the Howell line. Alexander Howell was another prominent citizen, near the borough of Washington. He died without issue. James, an elder brother, married a sister of the wife of George Howell, father of David Howell, and grand­father of Miss Howell, and established his home in Wheeling, where he left a numerous progeny. Of the numerous sons of John Howell, the names of James, George, Abner, Alexander and William have been preserved on record. These for the most part were agriculturists who made their homes in Washington county and their descendants in the present generation form a quite numerous family connection.
George Howell, son of John, the settler, and grandfather of Miss Howell, was born in York, Pennsylvania, in the 70s of the eighteenth century and was early apprenticed to the carpenter's trade, a vocation he followed some time after the family settled in this county, a pioneer house builder. He also was for some time engaged in the river trade and in 1811 was on a boat en route from Pittsburgh to New Orleans which ran into the great earthquake in the lower Ohio valley, which was central at New Madrid. The boat rode the great waves created by this seismic disturb­ance but Mr. Howell and others of the crew were thrown into the water, from which they were rescued and in time made their way on down to New Orleans. Upon his return George Howell enlisted as a soldier during the War of 1812 and with the command to which he was attached took part in the battle of Lundy's Lane. He continued in army service until in 1817, was mustered out at Niagara and with a few of his comrades traversed the Allegheny valley on foot, occasionally using a dugout canoe where the river was navigable. George Howell married Sarah Danley, daughter of David Danley of West Finley township, and had four sons, of whom David was the youngest. The others were Alexander, John and George Howell, Jr. The last named took part in the gold rush to California in 1849 and later settled in the Fairfield neighborhood in Jefferson county, Iowa, the pioneers of which community mainly were Washington county people. Alexander Howell enlisted as a soldier at the outbreak of the Civil war and went to the front as a member of Company A of the celebrated "Roundhead" regiment, composed of Washington county recruits, and died in service at Hilton Head, South Carolina. John Howell died in West Alexander in 1875. As noted above, David Howell married Mary Williams, and to that union were born eight children, four sons and four daughters. Of the daughters, Miss Helen P. Howell, the youngest, alone survives her sisters, Kate M., Clara O., Bertha M. being deceased. Charles S. Howell, the eldest of the sons, is a resident of Pittsburgh. William S. Howell continues to make his home in West Alexander. Dr. Samuel McK. Howell, the third son, is a practicing physician in Pittsburgh, and Richard R. Howell. the youngest son, also is a resident of Pittsburgh.
---
Linda Cunningham Fluharty, © August 2007
---