ISAIAH HILL, CAPTAIN, Company "C"
---
CIVIL WAR PENSION FILE, NATIONAL ARCHIVES
Purchased and transcribed by Linda Fluharty.
---
Declaration For Original Invalid Pension
(16 Mar 1880)
State of Pennsylvania
County of Greene
On this SIXTEENTH day of MARCH, A.D., one thousand eight hundred and EIGHTY, personally appeared before me, ---- a court of record within and for the County and State aforesaid ISAIAH HILL aged 54 years, a resident of the TOWN of JEFFERSON County of GREENE State of PENNA, who being duly sworn to law, declares that he is the identical ISAIAH HILL who was enrolled on the 24 day of JUNE, 1861, in company "C" of the 1st regiment of WVa VOLS and was honorably discharged at BEVERLY WVa on the 4th day of APRIL 1862; that his personal description is as follows; Age, 54 years; height, 5 feet 8 inches; complexion, DARK; hair, BLACK; eyes, GREY. That while a member of the organization aforesaid, in the service and in the line of duty at WIRT C.H., in the State of W.Va on or about the 1st day of SEPT, 1861, he received an injury to his right leg and groin causing rupture by his horse becoming unmanageable and rearing and fell back and on Claimant. He cannot retain the rupture by a truss and is disabled for manual labor.
That he was treated in hospitals as follows: In my own house at Wirt C.H. W.Va. and at the Virginia Hotel at some place by a Physician in my company who is now dead.
That he has not been employed in military or naval service otherwise than as stated above.
That since leaving the service this applicant has resided in the County of Greene in the State of Penna and his occupation has been that of a AGENT.
That prior to his entry into the service above named he was a man of good, sound, physical health, being when enrolled a MILLWRIGHT. That he is now PARTIALLY disabled from obtaining his subsistence by manual labor, by reason of his injuries, above described, received in the service of the United States; and he therefore makes this declaration for the purpose of being placed on the invalid pension roll of the United States.
He hereby appoints, with full power of substitution and revocation, W.C. BERINGER of Pittsburgh, State of Pennsylvania, his true and lawful attorney to procure his claim. That he has NEVER received NOR applied for a pension. That his Post Office address is JEFFERSON of GREENE COUNTY, State of PENNA.
Signed by Isaiah Hill
Attest: Jos. F. Randolph & J. L. Yoders
---
War Department,
Adjutant General's Office,
Washington, JANUARY 6, 1882
Sir:
I have the honor to acknowledge the receipt of your request of SEPT 10, 1881, for certain information for use in the consideration of application for pension No. 353.967, and to return it herewith, with the following information from the records of this office:
It appears from the rolls, &c., on file in this office that ISAIAH HILL was mustered into the service of the United States as CAPT CO "C" 1 Regiment of W.Va. Cavy, to date AUG 30, 1861, to serve 3 years, or during the war. On the Muster-roll of Company "C" of that Regiment for the months of SEPT AND OCT, 186-, he is reported present. No Roll for Nov & Dec 1861 or Co and reg'tal records covering service, or evidence of alleged disability on file. Rolls for Jany and Feby 1862 "Present for duty. Co "C" is not accounted for in Regtal Return for March 1862, (first on file)
He was honorably discharged to date April 21 1862 by Special Orders No. 77 para 4. Head(?) Dis Mountain Department of June 19 1862; but the papers on which resignation was based are not on file.
I am, sir, very respectfully,
Your obedient servant,
Geo. Ruggles, Assistant Adjutant General Signed
---
AFFIDAVIT
Elizabeth, W.Va.
Jan. 2nd 1891
The Commissioner of Pensions:
I distinctly remember that Capt Isaiah Hill of Co. C. 1st W.Va. Cav. Vols. was injured by his horse throwing him and falling upon him about the outskirts of the town of Elizabeth Va on or about the 1st of Sept 1861. I remember that Capt Hill made a detail from his Company as a guard for a provision train which was coming from Parkersburg Va and going to Spencer Va and that I was one of the detail of such guard; and that near the outskirts of Elizabeth the horse Capt. Hill was riding because frightened in same manner and commenced rearing and plunging, finally throwing him off, falling upon him and injuring his legs and groin.
I remember also of hearing Capt. Hill complain of rupture after said fall and while he was in the service but I never saw his rupture.
Signed by William Weaver.
(Note: William Weaver also gave an affidavit on 15 Feb 1890; same content. Another Affidavit with the same content was given by Wiliam Worly, also in Co "C", 1st WVa Cavalry.)
---
Declaration for Widow's Pension
Act of June 27, 1890
State of Pennsylvania, County of GREENE, ss:
On this 7th FEBRUARY, A.D. one thousand eight hundred and ninety THREE personally appeared before me, a Notary Public within and for the County and State aforesaid, MARGARET HILL age -- years, a resident of the TOWN of JEFFERSON County of GREENE State of PENNSYLVANIA, who, being duly sworn according to law, declares that she is the widow of ISAIAH HILL who enlisted under the name of ISAIAH HILL at PARKERSBURG W.Va., on the 24" day of JUNE A.D. 1861, in Co "AC" 1" W.Va. Cav. and served at least ninety days in the late war of the Rebellion, who was Honorably Discharged APRIL 21" 1862, and died June 14" 1891. That she was married under the name of MARGARET SPROAT, to said ISAIAH HILL, on the 26th day of JULY 1849, by James I. Brownson Washington Twp Pa.
That she has not remarried since the death of the said ISAIAH HILL.
That she has heretofore applied for pension and the number of her former application is 519.173. Soldier was pensioned under Inv Ctf No 559.035
That she makes this declaration for the purpose of being on the pension-roll of the United States under the provisions of the Act of June 27, 1890. She hereby appoints Josepha Haughton, of Washington, D.C. her true and lawful attorney to preosecute her claim, and she directs that the sum of ten dollars be paid to said attorney.
That her Post Office Address is JEFFERSON, County of GREENE State of PENNSYLVANIA
Signed by Margaret Hill
Witnessed by Isaac H. Smith & Emanuel Turk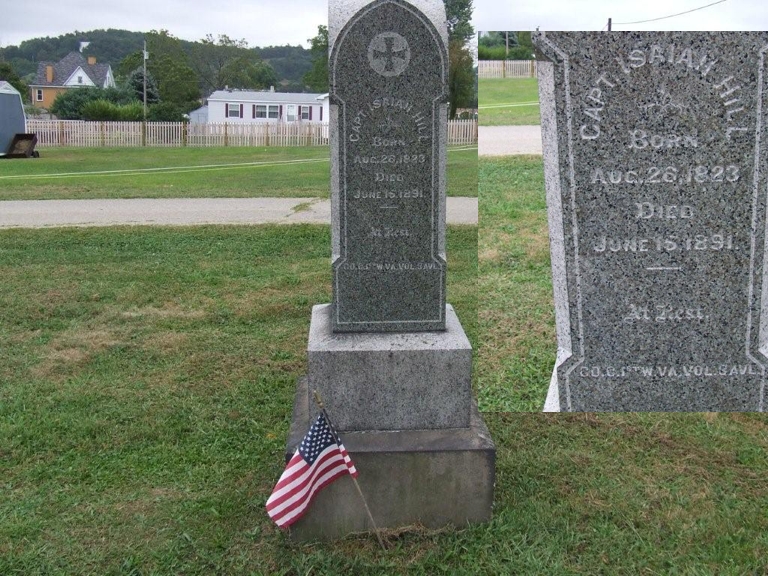 Cumberland Cemetery, Jefferson Township, Greene County, Pa.
Photo by Brad Jarvis.
---