JAMES M. CROSS, Company "B"
---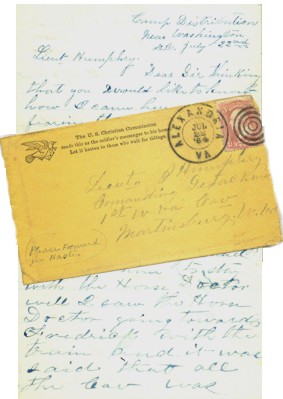 LETTER WRITTEN BY JAMES CROSS, 22 Jul 1864
Owned by Linda Cunningham Fluharty
TRANSCRIPTION
Camp Distribution
Near Washington
D. C. July 22nd
Lieut Humphry.
Dear sir thinking that you would like to know how I came here and fearing that you would consider me a Deserter I thought I would write and tell you, all though I don't know where to Direct it will guess work with me directing well Gilky [Wagoner John W. Gilkison?] said you had ordered him to stay with the Horse Doctor. well I saw the Horse Doctor going towards Fredrick with the train and it was said that all the Cav was going to follow the train for rear guard. But I soon found the mistake. well I can't tell you how I was run around at Fredrick. My ankle took to swelling and I had large Blue spots on my leges I think it was from the vaxination in my arm. well I was our on a scout Milt Smith [Co C], Yates [serveral in this regt], Pry [James D. Pry], Hotten (Wm. Houlton, Comm. Sergt?] & McVoy [Daniel McAvoy?] was along at this time my ankle was swollen so and turned so blue I was scared I went forward and asked the Lieut comdg scout if he thought it prudent for me to be scouting with that ankle and he told me I must go back with an orderly fo Fredrick and report to Doc Stall of 8th Ills Cav I done so and Stall sent me to General Hospital in Fredrick well I was not in Hospital more than 3 hours till every man able to bear transportation was ordered to go to the Depot and take the cars for Anopalis paroll -- Camp so I went and I was not there but a few days till my ankle got quite well but there red splotches on my legs yet. Henry Syfred [Seifred, Co M] & Isaac Hallam [Co C] is here. Excuse this long letter.
Yours Most
Respectfully
James Cross
---
Submitted by Carolyn (Cross) Westberry.


James Madison Cross, s/o Wm and Rebecca (Porter) Cross was born in Allegany County, Md., 15 May 1843. He died 8 June 1895 and is buried at Oak Grove Cemetery, Marietta, OH beside his wife Eliza Lizetta (Hutchison) in section 19, 195, 98. At his death he was buried at the Valley Cemetery just east of Marietta, OH on Rt 7 but was moved beside Eliza at her death in 1907. They married 14 June 1868 in Belpre, OH. She was the d/o Wm and Prudence (Bennett) Hutchison born 12 Mar 1848 by family records but 12 May 1848 by her tombstone. She died 31 Jan 1907 in Marietta, OH.

James Madison Cross was a veteran of Union Services for the 1st WV during the Civil War. Family records list him in Capt Hugh P Boon's WV Mounted Volunteers as a tanner. The First Regiment West Virginia Cavalry Volunteers, Chapter XXIII (Loyal West Virginia by Theodore Lang) lists Hugh P Boone 2nd Lt. Co B, later promoted to Captain.

From his pension files we learn James spent two years in Horseneck, WV after the war and moved to Belpre, OH the following year. He, like his father, was a blacksmith. In 1889 he was so afflicted with "eczema universalis" that he was unable to work. He claimed disability from impure vaccine in Pleasant Valley, Md. His affliction became so severe he was wrapped in sheets to protect himself.

From his pension we learn: 27 Feb 1890 Lucinda Nixon acknowledged James as her brother and stated that she saw him after the war complaining of itching, burning and scald spots. He had lived in the same neighborhood since the war and watched splotches increase until covering his entire body. He thought he could do some light work. The same day W. F. Hutchison acknowledged he was the brother-in-law of James and resided in Rockland, OH. He claimed James bought land next to theirs in 1866 and moved onto it in 1867. The itching and peeling was worse in the winter. WF confirmed his 1889 affidavit that James returned from the army in the spring of 1867, settled in Belpre, OH and that they were "batheing together in the Ohio River" when WF noticed splotches on different parts of James's body which looked like scalds. Spots appeared tender and inflammed. By 1889 the disease was all over his body except the hands and face which were covered only in the winter. WF stated his brother-in-law's skin was so dry and husky that it was necessary to use grease for him to move about.

James is described in his file as 5'9, light hair, blue eyes, member Co. B. 1st WVVC enlisted 26 Feb 1864 age 21; discharged Wheeling, WV 8 July 1865; pension 1889 at age 46. It is also noted in this pension file that his brother (not named but was Isaac S Cross of the 21st Illinois who was taken prisoner at The Battle of Chickamauga, GA; died at Andersonville prison.

James was the apparent namesake of his Uncle James Madison Porter of Frostburg, MD. We can see the family on the 1870 and 1880 Washington County, OH census reports with James listed, like his father, as a blacksmith. From his writing and apparent enjoyment of poetry we believe he was not without education. He appears to have been of some means in his ability to send his son Paul to Marietta College. The writings and pictures impart a sense of warmth and kindness and love of our gr gf whom we never knew. He was only 53 when he died. The last years must have been terribly difficult and filled with suffering. He and the men who suffered long after the War deserve special recognition for the sacrifices they made for their country. James, his brother Isaac who died at Andersonville, and their other brother Thomas Lindsey Cross all served their country at the expense of their health and their lives

The children of James Madison and Eliza Lizetta (Hutchison) Cross:

Ella Florence Cross b 28 Jan 1870 Cow Run, OH; d 15 Mar 1952 Cleveland, OH; m Rufus Addison Underwood b 3 Nov 1869 on 16 June 1893 in Washington County, OH; divorced 1908. Ella is buried at Oak Grove Cemetery in Marietta, OH Section 3 Lot 21.

George Clinton Cross b 29 Mar 1872 by family records but the corrected date is 1875. He died in Marietta, OH 30 Sep 1960; buried at Oak Grove Cemetery in Marietta near his parents in section 19 lot 98. He never married.

Bernard Rodrick (Uncle Bernard always u sed Rodick but his birth record spells Rodrick) b 19 June 1883 in Marietta, OH; d 17 Apr 1976; salesman for Cleveland Tool and Supply; Mason; life member of the Cleveland Federation of Musicians; m Gertrude Ann White 29 July 1905 Marietta, OH. She was b 12 Aug 1886 Albany, OH d/o Thomas and Eddeth May (Rathburn) White. She was a graduate of Marietta Business College and a secretary to Judge O'Neill; Eastern Star; private detective; served on the first jury in Cuyahoga County, OH to seat women. They retired to Florida in 1955 and spent their last years at the Ohio Masonic Home in Springfield, OH. They are buried at Brooklyn Heights Cemetery in Cleveland, OH.

Paul Elmer Cross was b Cow Run OH 7 July 1872; d 15 Oct 1937 Marietta, OH; buried Valley Cemetery on Rt 7 just east of Marietta; graduate of Marietta College 1894; teacher; blacksmith; m Chloe Anna Cutshaw d/o Henry Hoblitzell and Sabra Elizabeth (Robinson) Cutshaw in Marietta 6 Nov 1897.




TRANSCRIPTION OF THE CIVIL WAR JOURNAL OF JAMES MADISON CROSS

Feb 28 1863 List of Travels & Remarkable Incidents while in Uncle Sam's Service by James M Cross of 1st W.Va. Mtd. Vol. Cavalry.

Feb 28 Enlisted and sworn into the services of the United States for three years or (illegible)

March 1 Mustered in the services of US Army March 13 at Wheeling for (illegible)

March 15 Arrived Martinsburg Disembark and camp. April 3 leave Martinsburg arrive Frankstown Maryland Apr 4 leave April 10 arrive near Harpers Ferry April 11 Leave (illegible)

May 19 arrive US Capitol May 20 to Camp Stoneman May 21 left DC June 9 arrive Boliver Hights Virginia June 10 return to Martinsburg June 19 Fall back double quick at the advance of Juble Earley, The Reble from Martinsburg Virginia via Shepherdstown and Antietam Shapsburg and Harpers Ferry. Thense to Fredrick City Maryland where I was sent to Hospital about July 8 only remaining 2 hours until rebles charged hospital. All who were fortunate enough to get to the Depot made escape good for Anapolis Junction. Immediately after passing over Monocoy (illegible) burned by Rebs (illegible) Annapolis Maryland where (illegible) for the time transferred to the invalid corps. After the Evacuation of Maryland by Early we were sent to Washington. Thense to Alexandria Virginia thense to Ft (illegible) where we guarded conscripts then to Camp Distribution then Camp Miselany where we again drew Cav Arme (illegible). Then to Pleasant Valley above Sandy Hook Indiana (illegible) horses seckonnd next day leave for Martinsburg same night. After fordering the Potomac fall back to Williamsport Maryland via Shepherdstown 1864. Advance 23rd to Martinsburg Virginia. Fall back to Potomac 27th Advance to Bunker Hill 29th where I was slightly wounded with fragment of shell to left side. Next fall backkk to Brickletown on Winchester Road. Had about 3 week heavy skirmishing and chargeing in vicinity of Bunker Hill and Stephenson's Depot. This is later July and for part of August. General Advance to Winchester in October - thrash the Rebs there and advance to Fishers Hill - thrash them again. Advance to Stanton Virginia in Shendoah Valley. Burn (illegible) supplies fall back to Browns Gap. Halt and then ran into an ambush raid suffer heavy loss in my Division. Fall back to Harrisonburg. Our invasion there goes down Luray Valley. Skirmish all the way. Halt - 3 days at Luray Gurillas cut 2 mens throats, we take 2 out Bull Run and shoot them in Retaliation by order of Gen. Powell. Now commences the work of destruction and devastation during which (illegible). As far as Front (illegible) Royal a distance of 30 miles. Made 2 trips from Front to (illegible) cross roads Flint Hill & Sperryville. My company being detailed to a dispatch back travel all night Meet many bushwhackers. Hang one to a limb over the road go off and let him hang. We next fall back to Camp Russell get paid and then fall back to Winchester fall back next to Stephensons Depot. Just before Christmas we start on road for Gordonsville via Madison DH and the Rapidan River. 9 days and part of nights in saddle coldest weather ever blowed in same country. Stood dead rebs up against trees frozen so stiff. Fall back via White Sulpher Springs then Winchester with slight loss. Division next goes to Richmond belonging (illegible) to J.M. September I accompany the brigade train to Sandy Hook Indiana. Leave there April 19th 1865. Arrive Washington DC 21 leave for Chapple Point 21st arrive Port Tobacco 25 leave Chappel Point May 21 arrive DC 23 leave May 29 arive below Alexandria for 2 weeks. Leave June 19th arive Wheeling June 23d. Discharged the Service July 19th 1865.

James M. Cross

Transcribers Note: Every attempt to match spelling, punctuation etc. has been made so as not to vary or alter any portion of the original.
---