JOSEPH MOORE, Company "B"
---
Submitted by William Moore.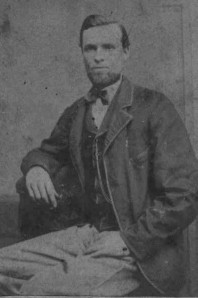 JOSEPH MOORE, the son of Henry and Margaret McCullough Moore, was born about 1838, probably in Washington County, Pa. His siblings were Samuel, Alexander, Sarah, Mary May, Hugh, Nancy, and Henry Charles (gr-gr-grandfather of William Moore).
On June 2, 1880, at the home of the Rev. James A Grier in Bellevue, Allegheny County, Pa., Joseph married Sarah Bedillion of Chartiers Township, Washington County, Pa. Sarah, the daughter of William Bedillion, was born May 20, 1845, in Washington, Pa. They had three children:
Thomas Taggart Moore, born December 12, 1880. He married Gretta Davidson and they had two sons, H. Russell Moore and Oscar Moore, and two daughters, Hazel and Marie. Hazel married William Jackson and moved to Sioux City, Iowa. Marie married Anton Rupar and they lived in Southview, Pa. Thomas died April 28, 1961 in Washington, Pa.
Bessie Moore, born October 8, 1875, died January 20, 1951. She was married to Weir McConnell.
Jennie Wilson Moore, born August 2, 1883, married Jake Dornan; one son Robert Alvin Dornan.
Elva Margaret Moore, born August 2, 1883; died May 2, 1890.
(Adopted) Joseph Richard Moore, born in 1905; died October 6, 1868. He married Leila Larkin and their children were Elizabeth J. Moore, and John R. Moore.

Joseph was enrolled Aug 23, 1861 at Washington, Pa for a three year term of enlistment. He was wounded by a mini ball shot to the right forearm on August 2, 1862 at the Battle of Barnetts Ford (Rapidan?) River, Va. (One account calls it the Battle of Cedar Mountain). He was attempting to repel an attack from Confederate cavalry when the shot entered the back of his arm, shattering the radius and ulna. He was taken to a hospital in Alexandria, Va. for treatment and was discharged near Fort Scott, Va. on October 29, 1862. His arm never healed properly and he spent the last 25 years of his life confined to bed.

In the 1910 census for Chartiers Township, Washington Co., Pa., Joseph was 73 years old, married, a retired farmer, born in Pa. His wife, Sarah was living with him, as well as son, Thomas, and daughter, Jennie.

Joseph is buried in the Chartiers Cross Roads Presbyterian Church Cemetery, 502 Hickory Ridge Road, Washington, Pa. His tombstone reads: Joseph Moore, died November 21, 1912, 1st W.Va. Cav. Company B.

Joseph's brother, Hugh Moore, died November 30, 1861 and is buried in The Cross Roads Cemetery, Washington County, Pa. His marker reads: "It was for my country I fought and died. And for my country my life a sacrifice."

Obituary from the Washington Reporter:


Joseph Moore, a Civil War veteran, who served as a private in Company B, 1st West Virginia Cavalry, died at his home after a protracted illness. He had been an invalid for nearly a quarter of a century and his death was not unexpected. He leaves a wife and two children. The funeral services will be held at the home of the deceased on Saturday at 1 p.m. in charge of Rev. Mr. Bamford, and the intermittent will be in the Cross Roads church cemetery. Mr. Moore was an excellent soldier, and his invalidism was due to a wound received on the Rapahannock, where, and along the Shenandoah, he saw much active service.

Death Certificate:
Date of birth: 7 Apr 1836.
Cause of death: Transition (?) following confinement to bed for twenty five years.
Contributory cause of death: Paralysis results of gun shot would received in Army.
---